Hinging off the design of its larger and better specced forebear, the Galaxy S5 mini is Samsung's answer for users who are drawn to the look of the S5 (review) flagship, but are unwilling to part with the R10 000 it commands.
Drawing inspiration
Sporting a 4.5" Super Amoled display (720x1280), the S5 mini's screen is as bright and vivid as one has come to expect from Samsung of late, registering a crisp 326 ppi pixel density. Along with a brilliant screen that shows no signs of dullness, the mini has taken a few other cues from its bigger brother. Most notable of which is the dimpled plastic back cover. Also included is a IP67 rated waterproofness and dust resistance, placing it on par with the S5 itself.
The new inclusions don't stop there, with a fingerprint sensor integrated into the home button on front, and heart rate sensor located just below the rear camera. These new inclusions do should give users the feeling that their mini is in no way lacking, in terms of added extras compared to Samsung's flagship device. Especially important when compared to the likes of the Sony Xperia Z3 Compact (which comes close to matching the innards of its older brother).
Solid performer
The Galaxy S5 has always proved a processing powerhouse, and although the mini does not sport the same internal specs, it is certainly no shrinking violet in the performance department, proving adept at handling one's multitasking demands. Handling this workload is Samsung's own Exynos 3 quad-core processor which clocks in at a solid 1.4 GHz. Paired with this is 1.5 GB of RAM, as well as 16 GB worth of internal storage. Should the internal memory prove insufficient, Samsung has fitted a microSD slot, good for an additional 64 GB of space.
The S5 mini also runs Android's KitKat OS, 4.4.2 to be more precise, but as has become the case in recent years, the switching between the smartphone's screens reveals a number Samsung-based apps and widgets. The majority of these proved unnecessary, and in a lot of ways detracts from an otherwise pleasant to use UI.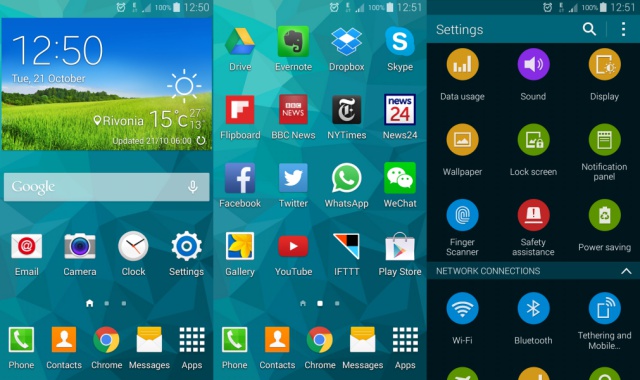 Galaxy worthy
Looking for solid photos? There's an 8 MP camera capable of capturing 3264x2448 images, as well as record full HD (1080p) video. Performing solidly in both high and low light conditions, the S5 mini will not let you down. What we enjoyed most however, is the autofocus, which proved a great aid when taking quick pics on the fly.
Priced at R6 700, the S5 mini is certainly on the higher side of the mid-range pricing scale, a factor brought into sharper focus with the mini sporting the usual Samsung penchant for plastic. Put that aside however and you've a great mid-range device perfectly suited for someone who think modern flagships are just too big.

Speedy performance; Features all the added extras as the Galaxy S5

A tad expensive in mid-range terms; Still has plastic heavy feel