It's confirmed, Microsoft Office 2010 will be released in June. Just last week details of the company's software upgrade programme for Office were leaked by an employee, indicating that versions of Office 2007 purchased from 5 March in the US will be upgraded free of charge to Office 2010 when it's released.

Late last year the company also released a free basic beta version of the suite online, and now we have a Beta 2 version of Office Professional to take a look at. Microsoft Office Professional includes Word, Excel, PowerPoint, Outlook, OneNote, Access, and Publisher. So what can we expect from Microsoft Office 2010?

Basics

The suite will be the first released in both a 32-bit and a 64-bit version, although only hard-core Excel data-crunchers are likely to notice the difference. The big idea behind the 2010 release is to create a familiar Office productivity experience on your PC, phone and browser; the so-called three screens strategy.

Office Web Apps

On the browser side Microsoft has an answer to Google Docs in the form of Office Web Apps. Web browsers will be able to access Web Apps free of charge via Windows Live, and Microsoft claim absolute 'fidelity' between it and the paid for local version.

Web Apps is a trimmed down version of the suite however, offering limited functionality versions of Word, Excel, OneNote and PowerPoint. Web Apps isn't complete as yet, with a fully functional suite set to launch simultaneously with Office 2010. Access to Web Apps beta is not available in South Africa at the moment.

Interface

All Office 2010 applications, including Outlook, use the Ribbon based menu structure, first found in the 2007 version. Microsoft has worked hard though to solve some of the issues users brought up with the interface in the 2007 suite.

The File tab is back in all apps, leading you to a very nifty "Backstage" area giving a succinct look at your current document''s properties and allowing you to manage the document easily on a number of fronts, including printing, sharing and permission.

Here's a quick look at some of our favourite new features in Office 2010 Word, Excel, PowerPoint, and Outlook:

Word

Word 2010 sports a clean interface that packs a whole lot of features under the Ribbon menu. There are new collaborative features which allow multiple users to edit a single document, with Word notifying users of changes and offering the option to sync the document with another user's version. Here are some other highlights:
Built-in PDF writer
Built-in screen capturing
Backstage – easier document/ print management
Seriously improved image tools and editing
An improved navigation pane for headers and searches (lets you jump directly to where you want to be)
Built-in co-authoring tools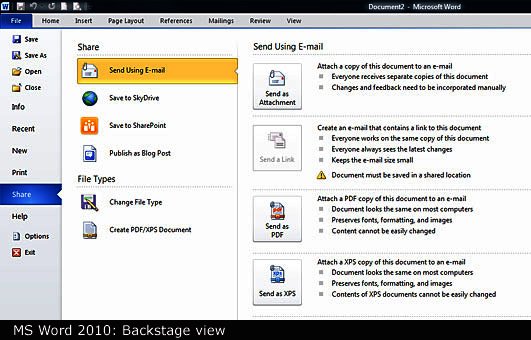 Excel

Excel offers much of the goodness it has before, with a promise of more accurate stats functions and better load times than the 2007 version. The news that a 64-bit version of Office 2010 will be made available should please number crunchers as you will now be able to handle large data sets more effectively.



Excel 2010 also features PowerPivot which lets you scroll through masses of data in seconds, and Picking slices that lets you manage your pivot tables more effectively. For an array of useful Excel tutorial, take a look here.

PowerPoint

PowerPoint 2010 is seriously slick, with much emphasis been placed on video integration, for instance you are now able to embed web video into presentations, although this was a little hit and miss in the Beta 2 version. More features include:
Broadcast slideshows within PowerPoint
Impressive new video and image editing tools
Convert slides to video presentations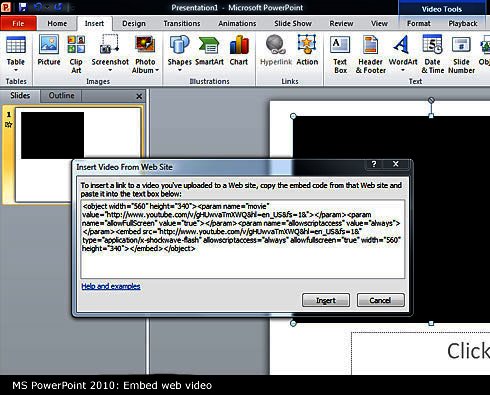 Outlook

Outlook now includes full integration of the Ribbon menu as well. New to Outlook is Conversation view which groups messages for a contact together in a thread, much like modern day SMSing on smartphones.

Its Backstage area is very different to that of other apps in the suite, focusing on managing your accounts, managing your mailbox and setting up rules and alerts.
Quick steps which let you perform multiple functions with a single click
Social Connector that allows you to view aggregated information about your contacts via a People Pane. You can view your communication history, appointments and even activity updates (with SharePoint 2010) about a contact while reading correspondence from them.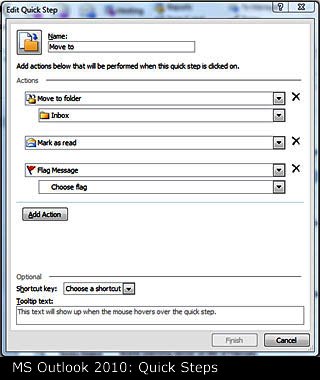 Conclusion

We were impressed by the Microsoft Office 2010 beta and found that the improved interface and updated features offer a more productive experience from the outset. We did find the apps to be resource intensive in the Beta 2 version. They would slow down horrendously at times after right clicking to bring up tools for instance, but this should be resolved come launch. We will have to wait for the final release however to determine if Office 2010 improves on Office 2007's lacklustre speed performance though. Microsoft Office Professional 2010 Beta 2 is available to download here.

Ribbon menu has been applied throughout the suite. 32-bit and 64-bit options available.

Looks to be fairly resource intensive with some unexpected slow downs.