"Are we coming up with ideas that speak to ordinary men and women?" This was the question posed by Lerato Mbele, exchanging her hat as a leading business journalist and anchor to MC the Dell EMC Africa Partner Summit 2018, held at the Westin hotel in Cape Town's vibrant CBD.
She was speaking to the crowd of delegates from eastern, western and southern Africa, many of whom are close partners of Dell EMC. How close? The overwhelming majority of its SADC revenue comes in through partners, up substantially from a year ago - and Dell EMC would like that to grow even larger.
They are helping drive modern transformation across the continent and bring the promise of technology to the lives of people everywhere through the companies and governments that are their customers.
"We cannot do this alone," said Mohammed Amin, Senior Vice President at Dell EMC, talking about the challenge to helping companies change in the modern era. "We need partners - you are an extension of us."
Delivering the event's opening keynote, Amin said that the world has been changing fast and customers rely on Dell EMC and its partners to help adapt to those changes. But this means the traditional way of selling technology no longer fits the mould:
"Hardware will be a commodity in the near future. All of us will need to transform."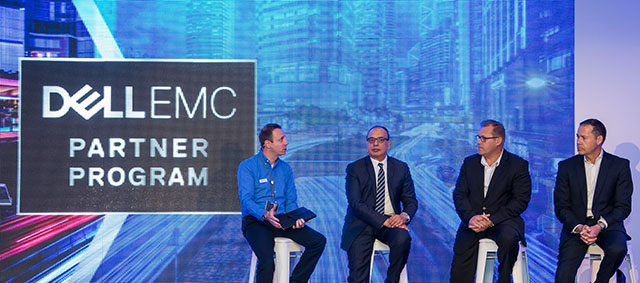 This was at the root of why Dell combined with EMC: to create a true end-to-end vendor that can provide the infrastructure, services and user devices that align with the multi-cloud world. It is a place where the application is the centre of attention and people the centre of business, but it is also causing disarray for companies that find the change impacts them deeply, right into their operational and business models.
"Customers are confused, but they know they have to transform," said Doug Woolley, GM of Dell EMC South Africa. "There's panic, but it's also a great opportunity. We must help partners articulate transformation for customers. It's about understanding the message, understanding customers' needs and cultivating the right skill sets."
Brad Pulford, GM for Channel & Distribution at Dell EMC South Africa, agreed and added that it's up to partners to bridge this chasm, with the support of vendors: "We can help with a couple of things. We tend to keep things too complex in conversations. That must be uncluttered, but we need partners for that. We can't do it without them."
It is a powerful message in particular for the African continent, where a lack of legacy technology can help companies and countries leapfrog ahead. Through offerings such as converged infrastructure, hybrid cloud systems and platforms, ubiquitous security and more, Dell EMC has the technology to help make this possible. But making the move is not simple.
Shams Hasan, Infrastructure Solutions Marketing Manager at Dell EMC META, explained:
"What is the real goal here? Business transformation. But do customers have a rich catalogue of services? Do they know what IT firepower they are paying for?"
Partners are key to answering these questions by helping their customers do things right: understanding workloads, profiling applications and finding the right blend of cloud systems. Shoehorning them into certain fits is not the answer. Nor is selling the same solutions as in the past, because this won't do them any favours. Partners and vendors should adjust to the potential of this new reality through additional service offerings and skills.
This is how everyone can help Africa realise its digital future. Not held back by the technical debt of the past, it is a real opportunity for people and businesses across the continent. There has never been a better time for it. During the two day event, partners are being exposed to the potential of Dell EMC's technologies to help customers realise their digital futures from start to end.
"The changes of the next ten years will be greater than those of the last thousand years," said Amin. "Dell EMC is different because we look at technology differently. We can all help drive human progress with these technologies. That will happen through serving our customers."