The world is changing faster than anyone could have predicted, but it's not due to technology. That is merely a catalyst. The real change is happening through people, empowered by the tools of the digital age. This has enabled a shift in how and where we work, something that Chris Buchanan, Client Solutions Director, Dell EMC South Africa, admitted initially took him by surprise:
"I had to get used to the idea that an unseen employee is still working and productive. Work is not a location anymore."
Today Buchanan sees things quite differently and helps lead Dell EMC's efforts with partners and customers to see the value investing in employees with the right end-point devices. Taking to the stage at the Dell EMC Africa Partner Summit 2018, held at the Westin Hotel in Cape Town, he explained that giving people modern tools and not the hand-downs with crumbs between the keys, is the way to see some real productive results. For example, adding a second screen to someone's desk can boost their output by 19% - that's an extra day!
When Dell and EMC joined to create a unique end-to-end offering for the market, it also decided to invest in its people:
"We made a strategic choice to kit our employees with new devices. It took a lot of work to make the changeover, but in the last 18 months, it's been nothing but compliments. People are much happier."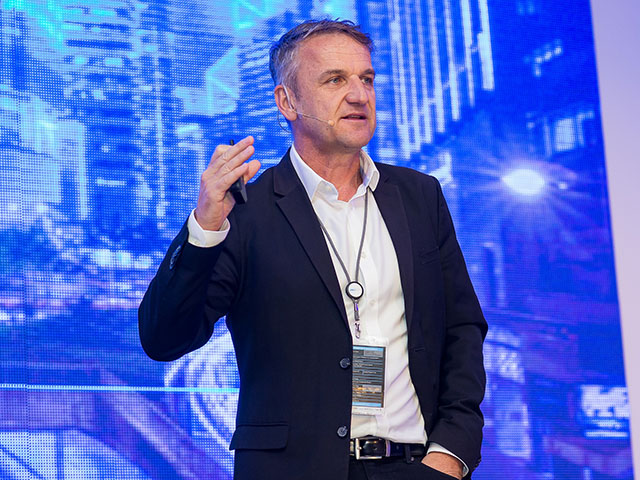 Chris Buchanan, client solutions director, Dell EMC South Africa
This is the broad vision delivered at the summit: transformation isn't about selling machines or even about technology. It's about how Dell EMC and its partners can broaden the horizons of their customers through smart thinking
Smart was the theme that also resonated through Ossama El Samadoni's presentation. The Director of Sales - Modern Data Centre at Dell EMC spoke about the rising tide of data and how this is placing a new burden on many companies:
"Data volumes are growing, the value of data is changing and the velocity of data is increasing. We must help our customers navigate transformation to achieve quantifiable business results. There are a lot of unrealised opportunities out there that companies aren't aware of."
He cautioned that the threat awaiting companies is not immediate obsolescence, but the inability to take advantage of new opportunities when they arrive. Companies must create the flexibility to move workloads and adjust to change because they don't know what will happen. Making this poignant is the statistic that 85% of job types in 2030 don't exist today. With such unpredictable change looming, everything from businesses to cities to governments needs to be capable of adapting with speed and confidence.
A major part of this transformation will be led by SMEs, said Bradford McKenzie, Dell EMC's Director Channel Services Sales EMEA. A very large portion of revenue across Africa is being generated by small and medium enterprises. It is important they have access to the right tools:
"It's about enabling their success with services. Change is happening fast and small businesses are able to respond to that quickly. We should support that."
Change is definitely in the air. Doug Woolley, GM of Dell EMC South Africa, concluded the summit by remarking on the mood among companies:
"We live in a changing world. There is panic among some businesses. Companies realise that if they don't change, they will be left behind. But I firmly believe that transformation can do great things and technology can help with that transformation."