Dubbed 'The Little Giant', the FUJIFILM X-T30 is the coming together of features developed over four generations of X Series mirrorless cameras. This includes enhanced image quality and processing speed using the combination of the latest X-Trans CMOS 4 sensor and X-Processor 4 image processing engine, in an even more compact and lightweight body.
Following on with the tradition of the FUJIFILM X-T10, released in June 2015, and February 2017's FUJIFILM X-T20, the new FUJIFILM X-T30 offers the X Series' signature dial-based manual operability and is equipped with the Auto Mode Selector lever that allows you to instantaneously switch to the fully-automatic shooting mode. This means the camera caters to a broad range of users from professional photographers to first-time beginners, delivering premium-quality pictures with ease.
Great body, awesome imaging
The X-T30's compact and lightweight camera body weighs just 383g and offers not only a coveted retro design, but also outstanding basic performance, thanks to the use of the latest image sensor. It ups the 24.3 megapixel resolution on the previous model to 26.1 megapixels, while the camera includes fast high-performance AF, made possible with phase detection pixels placed across the entire frame (100%). The improved sensor and processing engine combine to offer silent continuous shooting capability of up to an impressive 30 fps*.
Other advanced features include the game-changing Focus Lever for shifting a focus point easily, intuitive operability of the tilting 3" touch-screen panel with dramatically improved response, and body design that promises holding stability even when the camera is mounted with a large lens. The camera includes a 2.36 million dots OLED Electronic Viewfinder to see exactly what you are capturing.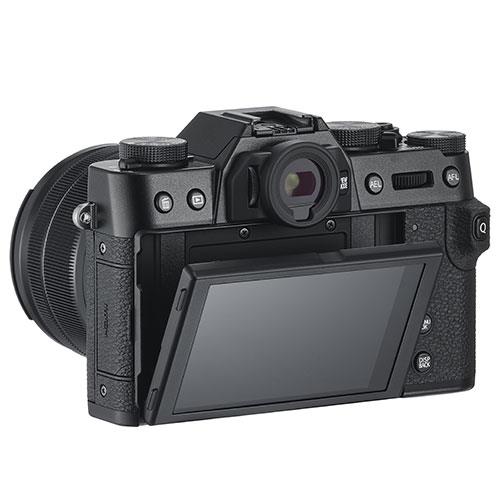 Improved Autofocus
The AF algorithm has been further improved from that used in the flagship FUJIFILM X-T3, released in 2018, so that this 4th generation model in the X Series can deliver even more advanced AF-tracking performance. This is seen in enhanced accuracy in face/eye detection and the introduction of the Face Select function to provide priority auto-focus on a selected subject.
The evolution of AF performance is evident not only with still photos but also during video filming. Video performance itself has been improved to offer versatile applications, offering high-resolution audio recording and smooth 4K/30P video recording in Film Simulation modes, based on FUJIFILM's colour reproduction technology.
As has become expected of cameras these days, the FUJIFILM X-T30 can be paired with a smart device with Bluetooth® for always on connection, enabling automatic transfer of pictures you take to share quickly on social media. The connection also enables other functions, such as remote shooting from a smartphone/computer, viewing of pictures taken on your device, and printing direct to an Instax printer.
The FUJIFILM X-T30 will initially be available in Silver and Black, and later in Charcoal Silver. It is set to arrive in South Africa at the end of March 2019. Unfortunately no local pricing is available at this stage.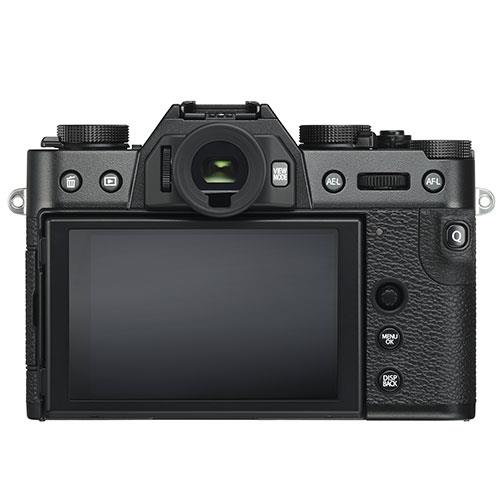 A new lens and compact camera too
Apart from the new X-T30, FUJIFILM has announced a new wide-angle lens. The FUJINON LENS XF16mmF2.8 R WR weighs just 155g, and boasts high-speed AF performance, making it ideal for casual snapshots and landscape photography. The new lens has the maximum aperture value of F2.8 and focal length of 16mm (equivalent to 24mm in the 35mm film format), delivering edge-to-edge sharpness.
There is also a new rugged compact camera in the form of the FinePix XP140, the latest addition to the XP Series of digital cameras designed for outdoor sports and other leisure activities. The XP140 is waterproof to the depth of 25m, shockproof when dropped from a height of up to 1.8m, freezeproof to temperatures as low as -10°C and dustproof design against the entry of sand and dust.