EURO 2012 DLC coming
With Europe's top teams competing later this year for the title of EURO 2012 champ, EA will be offering a major DLC pack for
FIFA 12
in the form of the UEFA EURO 2012 pack.
The DLC will not be limiting gamers to only those teams that actually qualified for
this year's tournament
, since all 53 UEFA member national teams will be accessible, as well as the eight official stadiums that will host the championship in Poland and Ukraine from 8 June to 1 July.
The expansion pack will become available on 24 April for the PlayStation 3, Xbox 360 and PC for £15.99 (around R196) on Sony's PlayStation Network (PSN), 1800 Microsoft Points on Xbox LIVE or 2500 FIFA Points on the PC.
After kick-off in the real world tournament takes place 70 days from now, a live service will deliver real-life storylines within the game. These will be based upon the actual qualifying campaign and matches from the tournament itself.
A new expedition mode is also available as part of the UEFA EURO 2012 pack. This mode will allow gamers to build, manage and compete with a customised team against other European nations. Players will get to choose their favourite European player or employ their FIFA 12 Virtual Pro to captain their customised team. When a match is won, the losing team's best player is up for grabs.
Unreal engine heading to real frontiers
Epic Games' Unreal gaming engine is frequently used by game developers to create their games, with some of today's most popular titles employing this engine including
Mass Effect 3
, Batman: Arkham City, as well as the Gears of War franchise. The latest "firms" signing on to utilise this engine aren't from amongst the usual game making suspects though.
According to the
BBC
, the FBI as well as other US government agencies have signed a deal with Epic Games and the company's partner Virtual Heroes. Both companies referred to it as a "long-term" agreement that spans support of their gaming technology on web browsers, consoles as well as handheld devices.
Although the full financial terms of this deal has not been disclosed, a statement said that a deal with one of the agencies alone, the
Intelligence Advanced Research Projects Activity
(IARPA), is worth over $10 million (around R77 million).
IARPA is going to use the unreal engine to
construct
"Serious Games", designed to assist its intelligence analysts to eliminate instinctual biases that may distort their findings. The FBI's training academy will use it to develop a virtual multiplayer crime scene. The bureau's agents will carry out training simulations within this virtual crime scene.
Naughty Dog teases new multiplayer maps for Uncharted 3
Apparently, Naughty Dog, the developers of blockbuster action adventure title Uncharted 3, have not been resting on its laurels. The studio has
teased
new DLC for its multiplayer via Twitter, which should arrive early next month (hopefully just in time for the impending long weekend).
At the moment though, the studio is only showing off several images of maps for the Old Quarter, with no other details being released as yet.
The screenshots do suggest that gamers should become accustomed to being left in the dark – although in a good way. As long-time fans of the franchise, we cannot wait for Naughty Dog's latest additions.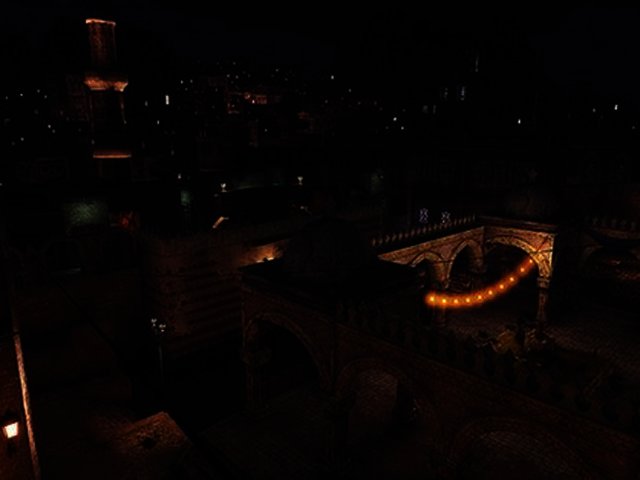 THQ announces new direction for Warhammer 40 000: Dark Millennium
THQ has confirmed that its Warhammer 40 000: Dark Millenium, which was previously planned as being a massively multiplayer online game, has instead become a single player experience.
Brian Farrell, President and chief executive officer of THQ has been
quoted
as explaining: "As previously announced, we have been actively looking for a business partner for the game as an MMO. However, based on changing market dynamics and the additional investment required to complete the game as an MMO, we believe the right direction for us is to shift the title from an MMO to a premium experience with single and multiplayer gameplay, robust digital content and community features."
He added that "because we believe strongly in the high-quality and vast creative work that is in production, this is the right decision for both our portfolio and for gamers devoted to this powerful property."
The bad news though is that the decision has resulted in some 120 employees of the company's studies in Austin, Texas and Vancouver, British Columbia, being retrenched.
The company stressed though that it will continue to focus on another highly anticipated title, Darksiders 2, which is on track for release in middle of the year.
See the Transformers losing their home planet
Besides
Transformers Prime
, which is targeted at a younger market, Activision will be releasing the follow-up to 2010's
War for Cybertron
, called Transformers: Fall of Cybertron later this year.
According to
Gamespot
, this title will be released on 28 August for the PlayStation 3 and Xbox 360. The third-person shooter is being developed by High Moon Studios follows the events of War for Cybertron, with the Autobots battling to defeat the Decepticon army in the war for control over their home planet of Cybertron. Check out the trailer posted below.
Temple Run makes the leap to Android
The highly popular free game, Temple Run, which previously only iOS users could enjoy, has finally leaped its way onto Android.
The game, which is available on
Google Play
, is still free like its iOS counterpart, and no less addictive. Essentially a running game, players steal an idol from a temple and must escape hordes of pursuing monkey, as they leap over and slide under obstacles (by sliding up or down respectively), and make quick decisions about which way to go, by swiping left or right.
Adding a little more complexity to the game is that players can simultaneously tilt their device from side to side to collect coins, the game's currency, with which to buy upgrades and power boosts.
As testament to the game's popularity, it has consistently ranked in the top tier of Apple's app market and has garnered in excess of 45 million downloads to date. The game runs on Android 2.1 and up.
Forthcoming Forza 4 DLC bringing new cars to your virtual garage next week

Forza Motorsport 4 players will soon be able to get behind the wheel of new rides, when they download the latest DLC pack next Tuesday (3 April), in the form of the April Alpinestars Car Pack.

Ten new vehicles, whose release dates span from 1959 to 2012, will be unlocked via this DLC. The pack will be available for 560 Microsoft Points, but will be free to players who have already purchased the Forza Motorsport 4 Season Pass that provides gamers with access to all six DLC packs when they are released.

Check out the full list:
2012 Jaguar XKR-S
2012 Scion tC
2011 Aston Martin #009 Aston Martin Racing AMR One
2011 Maserati Quattroporte Sport GT S
2011 Mercedes-Benz #35 Black Falcon SLS AMG GT3
1997 Volvo 850 R
1995 BMW M5
1985 Mazda RX-7 GSL-SE
1972 Mercedes-Benz 300 SEL 6.3
1959 Cadillac Eldorado Biarritz Convertible