Nathan Drake and his wild exploits have never looked better, as Uncharted: The Nathan Drake collection brings the three games together in beautifully remastered 1080p glory.
The Uncharted franchise holds a special place in my heart, as the games blend the kind of pulp action adventure I love, with plenty of exploration, strong storytelling and endearing characters. Thus, when news that Uncharted: The Nathan Drake Collection would bring together the first three games in a single collection for the PS4, I had high hopes it would do one of my favourite gaming franchises justice. The good news is that Bluepoint Games, no doubt under the watchful eyes of developer Naughty Dog, have done just that.
The collection bundles together the three games onto one disc, and also brings a few tweaks across the board. The first of these is an increased resolution to 1080p, and a smoother frame rate of 60 fps. On both fronts, this ensures the games look up to scratch.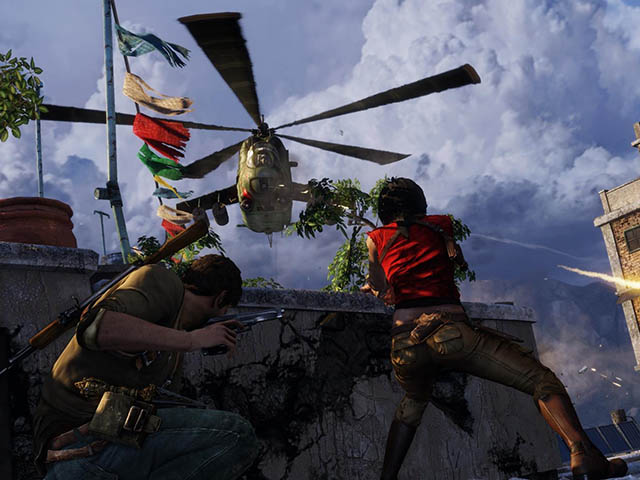 "Don't you think it would have been useful to tell me that your ex boyfriend is insanely jealous and owns a fleet of attack helicopters?"
Getting old but still going strong
Be warned though, there is a hefty 1 GB update file to download to enable network features. Thankfully though, you can at least start playing while this downloads in the background.
Even as the first entry is now eight years old, it still holds up well, and is the most reminiscent of an Indiana Jones type of adventure, particularly as it throws you into exploring dusty ruins and ancient tombs pretty much from the outset.
Light but consistent puzzle solving, copious amounts of climbing and the inevitable collapsing platforms are par for the course, but where the remaster really makes the first adventure shine is in its lush island setting. This is beautiful and inviting on the PS4, with crisp, clear ponds of water, well detailed foliage and the various ruins/tombs you come across seeming to pop off the screen.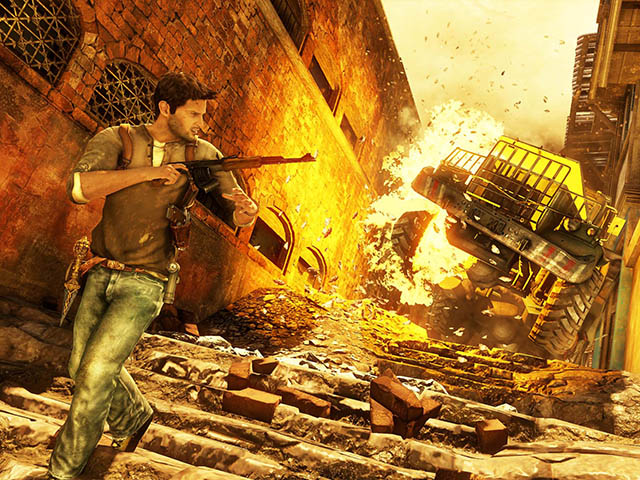 "Jeez, when they told me Johannesburg drivers were aggressive, they weren't kidding."
Less is more
As well, the increased frame rate of 60 fps makes for silky smooth action sequences, of which of course there are plenty. On this one though, sometimes less is more, and the remaster does away with the gimmicky sixaxis controls that were incorporated into the PS3 version. It's a welcome omission, and makes throwing grenades less of a bother.
The story remains unchanged, with likeable treasure hunter Nathan Drake on the trail of Sir Francis Drake and finding himself on the receiving end of competing treasure hunters who have no problem dispatching copious amounts of bullets his, and journalist Elena Fisher's, way.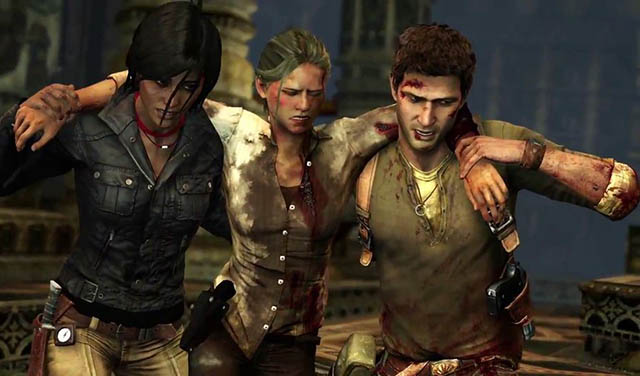 "I understand that a blister on your toe is kinda painful Elena, but dont you think you might be overreacting a tad?"
The other kind of Man of Steal
While Uncharted: Drake's Fortune set the stage, introduced us to the characters, and offered a good pulp-action adventure story, Uncharted 2: Among Thieves really upped the ante in every way. The environments are more varied, the story is more ambitious (seeing Nate in shady company going after Marco Polo's treasure) and it brought us the most harrowing train ride ever. That's not to mention the collapsing building which you would have received a taste of if you had played the Uncharted: The Nathan Drake Collection demo.
To its credit, while the game introduced a couple of new characters, it still brought back old favourites in a smart ways, and speaking of smart, offered more tantalising and inventive puzzles to solve.
Perhaps because it already looked much more impressive on the PS3 than its predecessor, the visual difference isn't quite as noticeable. That's not to say though that Uncharted 2 here isn't gorgeous, it is, but the PS3 version was already a stunning looking game. That being said, I did find a couple of the cutscenes a bit over enhanced, like when you over embellish a photograph in Photoshop just a tad.
Uncharted 2: Among Thieves is still to my mind the gem of the collection, providing a vaster array of environments, one spectacular sequence after another that would make Michael Bay envious, superb pacing, a gripping story and faultless acting. It might be an older game by today's standards, but it's no less of a blast to play.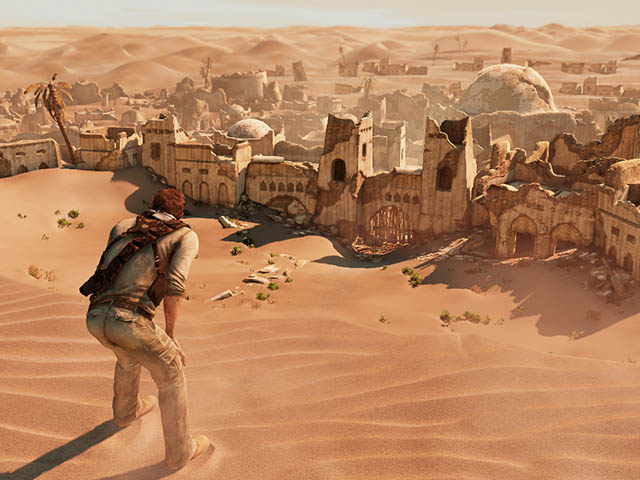 "Well, that is the last time I use a dodgy travel agent who promises me a "cheap beach like vacation"."
From small beginnings...
Capping off the collection of course is Uncharted 3: Drake's Deception. Much like Uncharted 2 and 1, it similarly looks and plays beautifully. This one though took a slightly different turn, exploring Drake's background and most specifically his relationship with father figure Sully. It also offered a tighter story but was no less compelling as Drake and co followed in the footsteps of T.E. Lawrence in search of the Atlantis of the Sands.
Of the collection this one actually looks the best, not much of a surprise since it was the one that had the most benefit from a learning curve when it landed on the PS3. Its most memorable parts are, like Uncharted 2's, tough to pick from. I would have to say it is an equal split between causing havoc on and narrowly escaping a yacht, a horse ride through the canyons I never wanted to end, and a really extreme way of disembarking an airplane which you are definitely not going to want to try in real life, ever.
Good made better
One major improvement across the board are the loading times. The first two games in particular had painfully load loading times when trying to get into the game – there is so much of a spinning coin or dagger you can stand to see – but that takes a fraction of the time here.
In terms of other new modes, there's not too much to write home about. You can opt for a continuous speed run and both easier or greater difficulty levels if you want a more accessible or more challenging trip respectively.
Alas though, the multiplayer modes on the PS3 versions are not on offer here, considering how much fun these were, it's a pity they weren't brought into the fold here. There is one compensation though, in that the collection brings with it access to the Uncharted 4 multiplayer beta when that goes live come December.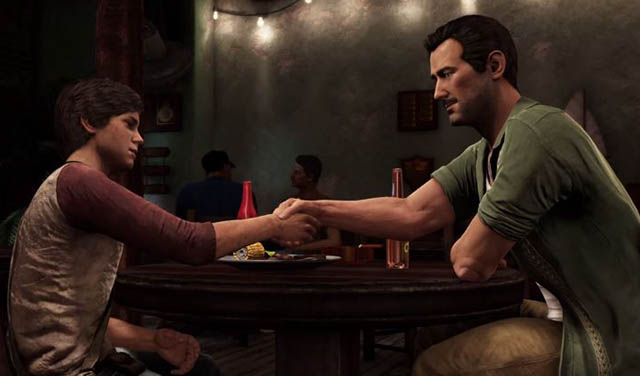 "So it's a deal. I will show you how to use Twitter, and you will teach me everything you know about using firearms, breaking into museums, flying small aircraft and destroying entire ancient cities."
Competition on the horizon
Since Nate last left us in Uncharted 3 in 2011 (and yes, it really has been four years!), we have seen another treasure hunter step up and reclaim her crown as a globetrotting finder of artefacts and trouble. Thus , it's tempting to compare it to the rebooted Tomb Raider, as unfair as it might be.
Tomb Raider had more extensive customisation, a huge amount of collectibles and definitely is a more modern game in that sense. However, what both Uncharted and Tomb Raider have in common is that the storytelling of two very different types of treasure hunters are both top notch and easy to dive into for a second, third, or in my case, sixth or seventh time.
That being said, it is perhaps no coincidence that Lara Croft and Nathan Drake will be going head to head in the months ahead, with the former leading the charge on the Xbox One in Rise of the Tomb Raider, and Nate, apparently in his swan song, following close behind a few months later in Uncharted 4, of course only on the PS4.
An old friend beckons
If you played the Uncharted games on the PS3, returning to them with the Nathan Drake collection is like reuniting with a great old friend who lost some weight, hit the gym and seems to have gotten healthier with age.
If you didn't, it serves as a terrific way to get yourself up to speed with Drake, Sully, Elena and the gang ahead of Uncharted 4: A Thief's End. Either way though, it is definitely the way I would advise playing the series to date.
I'm inclined to chalk this particular remaster up as a treasure to keep and return to in the years ahead. The good news? You don't even have to go to the ends of the Earth, get shot at umpteen times, or have multiple near death experiences in a single day in order to find it. RRP: R800.

Entire trilogy on one disc, Still terrific games, Tweaks offer worthy improvements

Some difficulties switching between the titles from the main screen, No multiplayer components