Logitech has managed to impress us of late with both their G500S gaming mouse (review) and G19S gaming keyboard (review). How does its 7.1 channel gaming headset, the G430, fare?
To start with these are certainly headphones that you will not misplace in a hurry, being both quite large, with a fair amount of heft, and noticeable thanks to its blue and black aesthetic. There is also an ample amount of blue foam employed on the headband and the large, swiveling over the ear earcups.
That being said, once we put them on, we were pleasantly surprised to discover that the weight (255 g) and size belied the comfort they offer. On our head, the G430 were most noticeable around our ears, as the aforementioned generous amount of foam around the cups effectively cut out a good amount of ambient noise in our environment. This is obviously a boon when one is playing a game and desires maximum immersiveness; stop playing though and you get the slightest sensation of being in a sensory deprivation tank, shielded from most noise around you.
However, the downside is that the cushioning wasn't quite as soft as we would have liked, as we could definitely feel the earcup cushioning pressing against our head at its first usage. However, we wouldn't rule out this changing over time, as the headphones are used more frequently and the cushioning is worn in.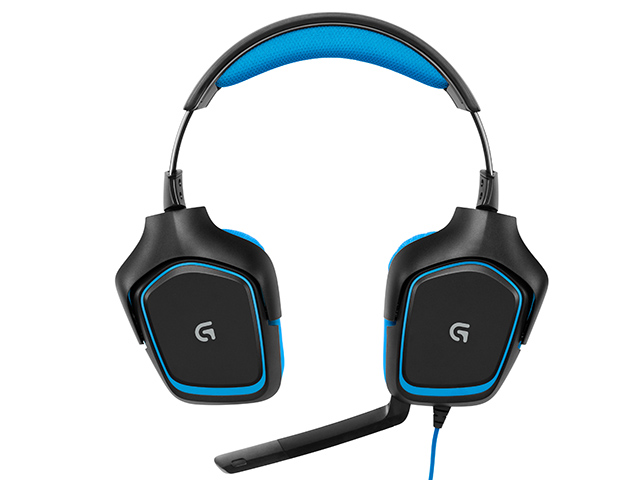 Despite its size and weight, the G430 is actually surprisingly comfortable for the most part on one's head.
Big head? You're covered
As to build quality, it's all hard plastic, although the headset felt sturdy enough, provided one doesn't subject it to extreme or careless handling.
We were a bit bemused to see how much you could adjust the size of the headband itself – we could only imagine the maximum being employed if you truly have a massive noggin, if your head swelled to epic proportions after climbing the Call of Duty leaderboards, or your Halloween pumpkin attained sentience and insisted on immersing itself in your games collection. For everyone else, only minimal to slight adjustments will be necessary.
As has become a staple on gaming headsets, the G430 boasts a rather nice, retractable and flexible microphone, which you can pull down and curve towards your mouth when you feel the need to scream commands (or just as likely, obscenities) to your mates during a heated session.
To its credit, the G430 headphones do sport a couple of nice touches. The first of these is the inclusion of inline controls on the cord – which can also be clipped onto your lapel for easy access. Here, you can adjust the volume and both enable and disable the microphone as your needs dictate.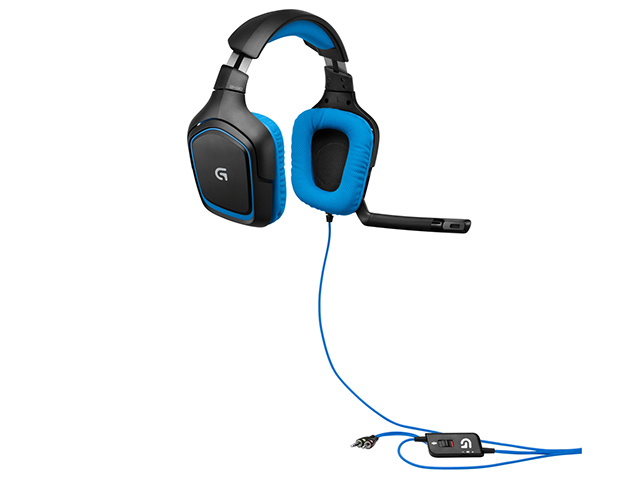 A thoughtful touch is the easily accessible inline controls on the cord, for adjusting the volume and either enabling or disabling the microphone.
Sound at a distance
Additionally, the G430 should provide plenty of room to maneuver, as the headphones boast a 2 m long cable, which terminates in two 3.5 mm jacks, one for the audio and the second for the mic. Exactly why your average PC gamer may need such a long cord was lost on us; thankfully though, you can also curtail its length with the integrated Velcro strap.
However, included in the box is a USB dongle, into which you can just plug both inputs and then connect the G430 into an available USB port. That is about as complicated as setup of the headphones become, meaning that they were pretty much ready to go out of the box.
We were glad to see that, by unplugging the headphones jack from the connector, we were then able to plug the headset into other, non-USB devices, such as our iPod, smartphone, tablet and PS Vita. On these devices, sound quality was pretty good and certainly loud enough, although to our ears, the presence of bass definitely dominated audio reproduction.
Additionally, in conjunction with the free, downloadable Logitech Gaming Software, users can further customise the volume levels of each independent headphone channel, as well as the bass and treble up and down 12 db.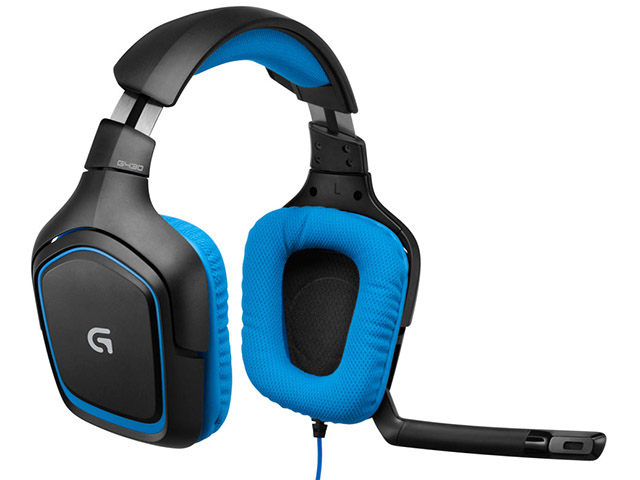 If you have a thing for blue foam, then here's some good news: the G430 has plenty of it.
Hear yea, hear yea
However, that is all well and good, but how does the 7.1 surround sound functionality work? In a nutshell, eerily well. The G430 faithfully reproduces the surround sound effect in supporting games; which goes a long way to creating a more immersive experience overall. For example, in one of our older, but still favourite titles, Crysis 2, we thoroughly enjoyed how well the headphones conveyed everything from the 'ratatat' of machine gun fire, to the heavy clumping of our footsteps as we landed on and stealthily crept across some gravel. For first person shooter games in particular, we loved being able to identify our opponents with greater accuracy merely by the direction of their incoming fire.
In another segment, water realistically sounded as if it was dripping and splattering on the floor nearby, while a seagull's cry echoed seemingly behind us in the distance. Then, of course, there was the ambient music, which seemed to encapsulate and enfold us in its stirring, but not overwhelming, score.
Conclusion
Suffice to say, all of this certainly enhanced our gameplay experience several fold. In the final analysis, we were actually very impressed with the G430 headphones especially with regards to the sound they delivered, in games in particular. They have a RRP of R1 150, which makes them considerably more affordable than Razer's Tiamat Elite 7.1 Surround Sound gaming headset, which costs R2 000.

Terrific surround sound reproduction, Retractable and bendable mic, Well cushioned earphones and headband, Comfortable to wear, Earphones and mic levels can be finetuned to your liking

Earpiece cushioning a bit stiff, All plastic build