ALSO READ:
Gamers tend to be a critical bunch, often with very high standard, and thus creating a gaming orientated keyboard is certainly a brave feat. Does Logitech get it right for the discerning PC gamer with its G19s keyboard?
To start with, the G19s is certainly an attractive and sleek piece of kit, with subtle silver accents and the occasional backlighting, dotting the keyboard's chassis.
On the former, Logitech made a bit of a fuss about the "advanced surface materials" employed across the palmrest and the double UV coating on the keys to prevent one's hands from sticking and increase durability respectively. We can say this – the keys in particular definitely feel more luxurious to the touch. We don't tend to sweat inordinately through our hands so the feel of the palmrest was welcome, rather than revolutionary.
With regards to the latter, Logitech has taken a more classy, rather than garish approach, less Las Vegas strip at night and more evocative of The Michelangelo during the day.
Lock and load
Beyond these first impressions, the keyboard does require a bit of a setup. An optional strip for a broader palmrest, which we attached, is included in the box, although depending on your preference you can elect to leave it off altogether if desk real estate is at a premium.
Even with it on though, the keyboard itself is not gargantuan but actually a decent size. The keyboard requires both a USB port as well as a nearby power point for extra juice. These connections from the keyboard run off the same cable, so at least they can be tucked behind your screen and PC as one.
Presenting a little bit more effort was Logitech's Gaming Software, not included in the box and which needed a visit to Logitech's site to find. Trying to install the keyboard as plug and play and trusting Windows 7 to find the necessary drivers for the keyboard, which consists of a few modules (the small LCD screen, macros, the keyboard itself) on its own, was a hit and miss affair. However, after a not too hefty download, the software proved its worth, but more about that a bit later.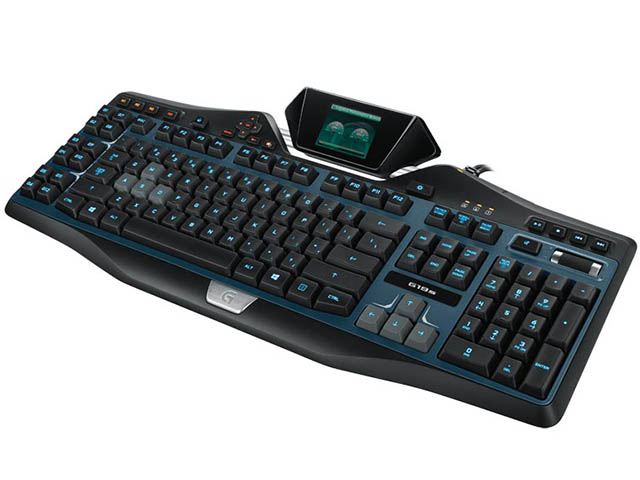 In general terms the G19s is both an attractive, and very well designed keyboard.
Moving into position
On the functionality side, a key part of any keyboard is the depth of its press and the springiness - how quickly it returns to its original state – and on this front, we have to say the G19s was a pleasure to use and type on. Granted, this may be a gamer's keyboard, but in its broader usage, including extensive typing, the keyboard also showed that it is more than up to the task.
Additionally, various functions are well thought out and accessibly laid out. For example, you have media keys occupying its own little patch on the upper right, just above the full numpad, a solitary keyboard light button to turn on and off the backlighting and directional keys that were similarly easily accessible.
Not forgetting its gaming orientated missive, the all important WASD keys are highlighted in a different colour and have a slightly different texture to the rest of the keys, making them easier to identify by touch alone in the midst of a darkened room or in the heat of a frantic virtual battle.
The customiser is always right
However, that is not the only trick the G19s in its arsenal, far from it. Firstly, there is a level of customisation on offer, which is where the aforementioned Logitech software shows its stripes.
You can, for example, change the colour of the key backlighting to your liking, with a broad palette of colours from which to choose. Furthermore, you can also save up to three profiles with their own backlight customisation, perhaps if you, for example, want one backlighting for playing action titles and another for MMOs and yet a third for first person shooters. Alternatively, this could also come in handy if you tend to share your PC, and want to offer each player in your home a degree of personalisation of their own.
Additionally, the twelve G keys on the left hand side of the keyboard can be assigned a plethora of commands; used to reload or switch between weapons; access important in-game items; sprint; command your squad; or each key can be assigned to an important MMO macro.
Indeed, via the software, users can also download and install game-specific profiles for these G keys, which offer up genre-relevant alternatives that can be used to map to the keys of one's choice. Up to six of these profiles can then be saved onto the keyboard itself, to be transferred between PCs.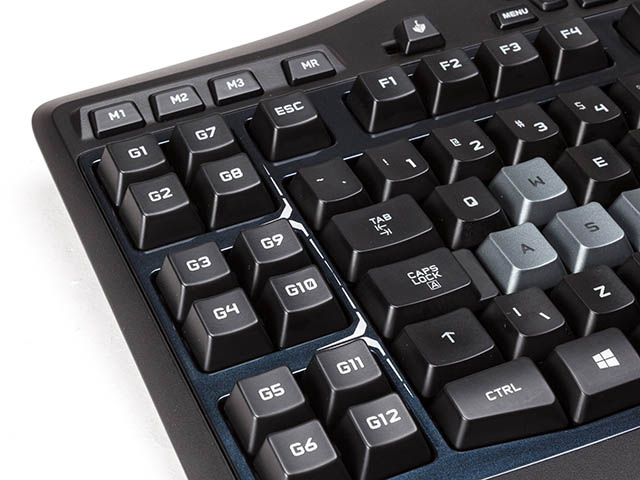 It is these innocuous keys which offer the greatest degree of customisation to players, in conjunction with Logitech's software.
Heads up
Another feature on offer is the small, 2.6" movable LCD screen. Surprisingly, Logitech does not reveal its resolution, but suffice to say, for its size it offers a decent enough image.
This can be set to display several types of information via applets, including a clock, presumably to let you know when that just one more hour of play has mysteriously become 4 am in the morning; a movie or picture viewer; a video player (not that any self-respecting gamer would ever resort to a walkthrough video of course); an RSS reader and a PC performance monitor.
Another welcome addition is that, although you sacrifice one USB port to connecting the keyboard, you do gain two USB 2.0 ports on the back of the keyboard itself, a feature we particularly liked considering the fact that we are forever plugging one USB peripheral or another into our setup.
Room for improvement
As we mentioned earlier, gamers are a critical bunch by nature, and thus, as much as we liked the G19S there were certainly areas that offer room for improvement.
To its credit, there is not a great deal we could find to dislike about the G19s. Rather, the few niggles that we did have were things we would have liked to see Logitech improve on. These though, were minor.
For example, the 'legs' on the bottom of the keyboard which tilt it up slightly could definitely be better and offer a higher angle. Yes, you can remedy this yourself by propping the keyboard up on a couple of small books or some other 'make-do' solution, but you shouldn't have to.
Additionally the cable running from the back of the keyboard is rather thick, and we suspect that the Logitech engineers could have designed a neater way of being able to tuck it out of the way.
Finally, we would have liked to have seen the detachable palmrest strip being a bit thicker down its base. This would have made it more comfortable to rest our hands for long periods, rather than feeling as though our hands was constantly on the verge of falling off the base of the keyboard.
To the point
However, in the final analysis, the G19s is a fine keyboard that was a pleasure to use, as much for general work as for play. We particularly appreciated how well laid out and organised its features were, and really, can't imagine too many a gamer, fussy as they may be, being remotely dissatisfied with what is on offer here. It has a pricey RRP of R2 450.

Great level of customisation, Comfortable keys, Rich features in conjunction with the dedicated software

Base could offer better support, Higher legs would have offered better angle of tilt