Razer's keyboards and mice have for quite some time been a very viable choice for players seeking a premium experience from their peripherals, and with the Blackwidow Chroma keyboard, it's all too easy to see why this is so.
Admittedly, there are a number of options for players seeking gaming-orientated keyboards, with the likes of the Logitech G910 Orion Spark (review) and Cougar 200K Scissorswitch (review) for those on a budget, coming to mind. Chances are, though, if you are a discerning PC player, Razer is a name that will crop up early on as a brand to watch out for. The reason for this is that its products have a bit of a reputation for being excellent. The latest to cross my path, or rather, claim its place on my review desk, is the Blackwidow Chroma keyboard, and it was hard not to be mightily impressed from the outset.
Key to my heart
The reason for this is multifold. First, the keyboard is very solid and particularly durable. In fact, it might be the heaviest keyboard (at 1.5 kg) I have tested, which meant it rested solidly on the desk and never moved around no matter how frenetic or frantic the use of it became.
However, the keyboard does lack a roomy palmrest, for those who like that. However, I found this minimised its footprint on my desk and is definitely a pro for those who have limited space to work with.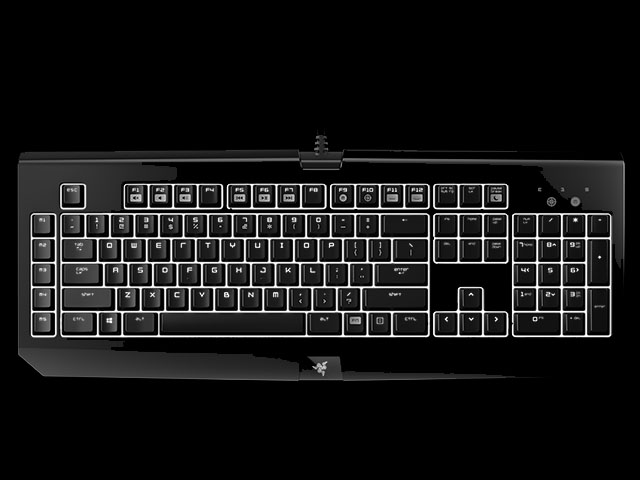 The write stuff
Beyond the terrific build quality, the second feature that the Blackwidow brought and which I thoroughly enjoyed, was the responsiveness and depth of the mechanical keys, thanks to Razer's own switches. These boast high actuations, and make satisfyingly sharp clacks when pressed, ensuring that you are never in doubt over a key being pressed fully.
Generally speaking I tend to prefer deeper rather than shallower key presses, and on this front, the key depth and its distinctively tactile sensation, were both satisfying and a pleasure. More so though, was the responsiveness of the keys, which jumped back to their original position without hesitating.
Not only is this a boon in playing games, in which faster key presses translates into better game responsiveness, it also makes for a more enjoyable typing experience (this review was typed on the Blackwidow keyboard rather than my usual one, was blazingly fast, enabled me to put thought to word processor noticeably quicker and thus made writing a joy).
As an aside, while it is aimed at gamers, I would also wholeheartedly recommend the Blackwidow to writers and those who spend several hours thrashing out articles/novels/documents of whatever nature for that reason.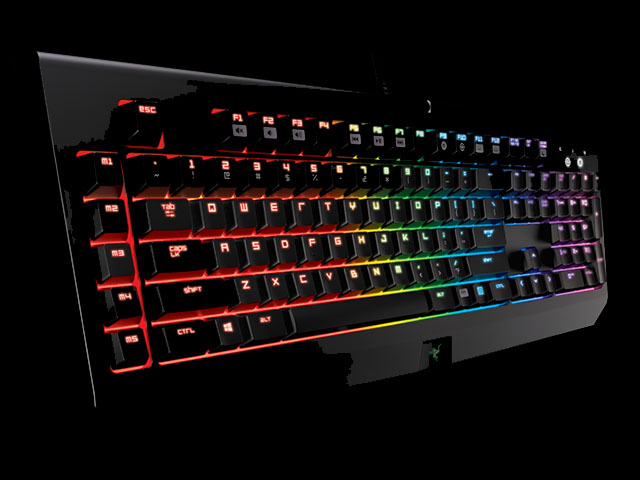 Show off
Indeed, I would rank this responsiveness as the most important part of a keyboard experience, but for a gaming orientated user, it's simply essential. No less so, particularly for MMO players, are the five macro keys, which are conveniently and accessibly placed in a row on the keyboard's left hand side. Combine the solid build of the keys themselves with their superb responsiveness and you have a clear winner. Beyond that, there are a few more features that similarly won me over.
A full numpad is joined by quick media controls, but, even more thoughtfully are the included audio-out and microphone-in jacks, and a USB port on the keyboard's right hand side.
Last, but certainly not least, the Blackwidow's backlighting is very capable of putting on a light show that would make The Strip in Las Vegas blink twice. Users can customise the device's lighting scheme from amongst nearly 17 million combinations, which means they will expire long before their options do. Additionally, by default, the keyboard gently pulses with different colours, cycling through them every seven seconds. My advise: try not to be mesmerised.
Fatal attraction
One warning – the Blackwidow is a hungry beast, devouring not your spouse, but perhaps something even more valuable depending on your relationship - two of your USB ports. It is also corded, so, although it may help you slay the competition, you won't be able to cut the cord, metaphorically speaking; for better or worse, you are wed to your PC/notebook. That being said, the Blackwidow's merits far outweigh its paltry flaws.
In a nutshell, it's all too easy to fall in love with the Blackwidow – although you would think that the name would be a deterrent given its namesake spider is famous for killing its partner after, as Sheldon Cooper would put it, coitus.
On the upside, if you do take the plunge, at least you don't have to contend with a faux Elvis presiding over your nuptials or newly acquired in-laws watching your every move. Rather, we suspect, at a LAN it would be your rivals eyeing you enviously. It has an RRP in the region of R2 000.

Mechanical keyboard is terrific, Responsive, Superb build quality, Lovely backlighting

Expensive, Requires two USB ports