<< PREVIOUS PAGE
NEXT PAGE >>
At the moment, the pickings for a decent Windows 8 tablet aren't as abundant as many may hope. Can Asus' VivoTab Smart rectify that, and is this the tablet that Windows 8 users have been waiting for?
Asus has a knack of producing well built, solid devices, and on that front, the VivoTab Smart is no exception.
The 10.1" tablet feels comfortable to hold and reassuringly well built in the hand, despite weighing in at a modest 580 g. In fact, it felt a bit like a larger Nexus 7 in some regards, at least on the surface, which, considering how much we enjoy holding that tablet, certainly counted in the VivoTab Smart's favour.
Beyond skin-deep
Design wise, there is not too much to comment on, as the device is completely robed in black, broken only by the silver Asus logo on the black. This, however, is not necessarily a bad thing. As Amazon's Kindle's have proven, there can be an advantage to a device feeling like it disappears in the hand, in deference to the content it is hosting.
This is certainly the effect the VivoTab Smart goes for, and achieves, particularly when consuming media on the device.
To this end, and the one design choice we were happy to see implemented, is that the device offers a nice, spacious bezel, which made holding it in one's hands without inadvertently touching the screen a breeze. In fact, while one handed, smaller tablets, such as 7" devices can get away with a thin, nearly non-existent bezel, the same does not hold true for 9.7" and up devices, which one naturally tends to hold with both hands and thus need space to rest one's thumbs.
While the device does get a bit warm after a while, this is certainly not uncomfortable or to the degree that would have you reaching for the oven gloves. 
Navigation is accomplished by a singular capacitive Windows key, which returns users to the Metro-style home screen. This then becomes the hub from which one launches apps, web browsing and the like.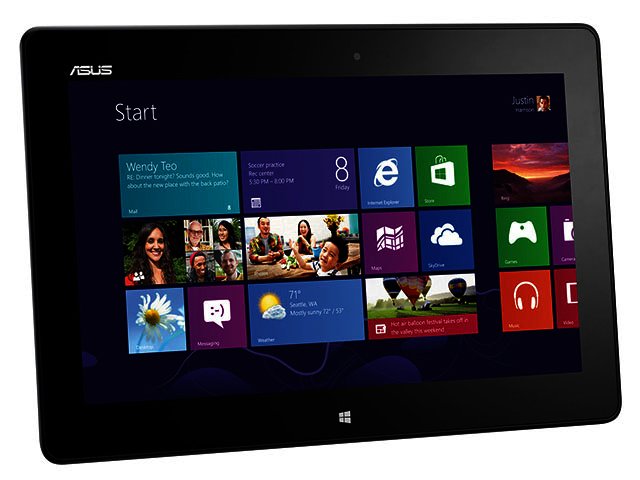 Sharp screens have become common to many of Asus' devices, and on this front, the VivoTab Smart
is no different.
Beauty shines
Another staple of Asus' offerings has been – and on the VivoTab Smart, remains – sharp screens. Its screen resolution of 1366 x 768 fares quite a bit better than it does on a 15.6" or even 13.3" notebook or ultrabook, and we certainly had no complaints about the contrast or clarity of fonts on offer.
Worth noting though, is that like the
Asus FonePad (review)
, the glossy screen is quite reflective, and thus attracts fingerprints that would make a Crime Scene Investigator smile. The solution to this is pairing the device with a nice cloth (we find the ones obtained at optometrists work beautifully).  
On the plus side though, it is also very bright and boasts some lovely colours. Suffice to say, this meant viewing pictures on the device was particularly enjoyable.
If OS experiences were ice-cream, then our time with other Windows 8 would be better described as a Rocky Road than a smooth Dulche de Leche. However, we're happy to say that much like on the Asus Zenbook Prime (review), Windows 8 on this tablet isn't bad at all - perhaps a good Cookies and Cream.
In fact, we dare say after spending some time with this tablet, we started to get a bit more used to, and less frustrated by, Windows 8 than we have on notebooks.
Nonetheless, the quirks and idosynchisities that plague Windows 8 for the most part vanished on the VivoTab Smart, with the exception of the fact that it still doesn't break up the keyboard automatically when you indicate that you want to start typing (such as entering URLs in your browser). Worth noting is that, unlike Windows RT based tablets, on the VivoTab Smart users can install full Windows software.
No guts, no glory
Moving on to the internal guts of the device, the VivoTab Smart opts for Intel's Atom Z2760 Dual Core processor, along with 2 GB of memory and 64 GB of storage. On this front, we found that Intel's processor managed to cope quite ably for the most part with regards to general performance. 
Playing a game or browsing the web, for example was fine, until we ventured into playing videos from YouTube. Then, it seemed like the processor struggled a bit, eventually freezing and necessitating a restart.
However, this, we discovered, seemed to be mostly due to the choice of browser used on the device. Surprisingly, Internet Explorer performed far better than Chrome, where scrolling through media-rich web pages wasn't quite as smooth as we have enjoyed on other devices.
Additionally, the latter's lack of accommodation of pinch-to-zoom within pages meant users would be stuck with the font size on offer, which could be difficult for those with spotty eyesight.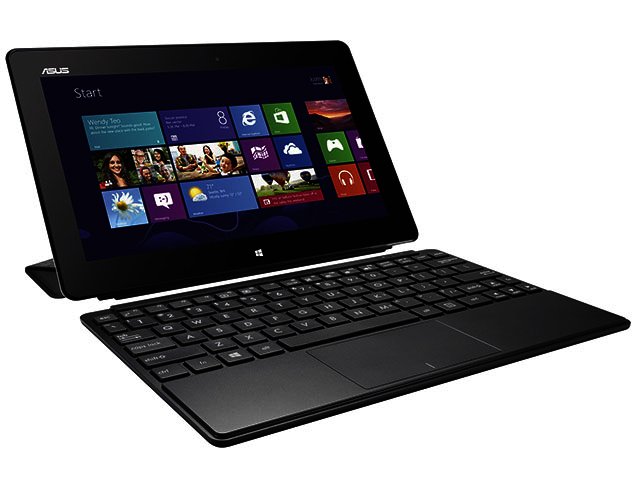 Pairing the tablet with a keyboard, either Asus' own or a third party
offering extends the Windows 8 device's usefulness.
Speak up!
Instead, the one unavoidable negative for us was the sound. While the audio quality was alright, we couldn't help but feel the VivoTab Smart would have been better served with two speakers rather than just the one on its left side when held in landscape orientation.
This meant that sound quality always seemed a little too soft, even with the volume cranked to its maximum, necessitating the use of headphones.  
Also onboard was a micro HDMI and micro USB as well as a microSD card reader, along with a two megapixel front snapper for teleconferencing and an eight megapixel back snapper.
The battery life front wasn't bad at all either. We found that we get garner at least ten hours from the device with average usage, and charging it from sapped to 64% took just under an hour.
Add a third party, Bluetooth keyboard though, such as Logitech's Illuminated keyboard K810 or Asus' own keyboard, which can be bought for R800, and the device is very quickly elevated to something imminently more useful, particularly when Microsoft Office 2010 (included, but still requiring a product key) is activated.
Then, it becomes an able ultrabook alternative for light productivity work such as creating Word documents, editing spreadsheets or at a pinch, even working on an odd PowerPoint presentation.
To the point

For those holding out for a full Windows 8 tablet that's capable of running regular Windows 8 programmes, the Asus VivoTab Smart is what you are looking for. With an LTE version available as well (not tested here), as far as Windows 8 tablets go, the VivoTab Smart is a very decent offering. It comes in at a not too bad price of R7 000.

Pros
Beautiful screen
Well built
A pleasure to hold
Decent battery life

Cons
Poor sound
Occasional performance hiccups
<< PREVIOUS PAGE
NEXT PAGE >>

Beautiful screen, Well built, A pleasure to hold, Decent battery life

Poor sound, Occasional performance hiccups