Amid a tablet landscape that seems to only be becoming more complex and increasingly packed with tempting offers, we were half hoping the Samsung Galaxy Note GT-N8000 - and its note taking facilities - wouldn't extend the love-love relationship we have with its smaller progeny, the
5.3" phablet
, or worse yet, substantially improve on it.
It would also make things easier if the Samsung Galaxy Note 10.1 could have easily been written off as a failed experiment in revitalising that oh so under-appreciated stylus.
Alas, our 'hopes' were dashed. The Samsung Galaxy Note does all of the above, and actually, made us ask more than a couple of times: why can't/don't/ all other tablets do this?
Suffice to say that while last year's
Galaxy Tab 10.1
may have led the charge for 10.1"
Android
tablets, and garnered its fair share of acclaim, the Samsung Galaxy Note 10.1 really brings something distinctive to the table. Most particularly, this is due to the fact that it merges and refines the pen input functionality offered by the Galaxy Note, with a larger screen.
As can be gleaned from the name alone, the Galaxy Note 10.1's main claim to fame is its capacity to accommodate handwritten digital notes and sketches. While many tablets offer stylus input, few, if any, centre the entire tablet's functionality around the dance between tablet and stylus quite like the Note 10.1.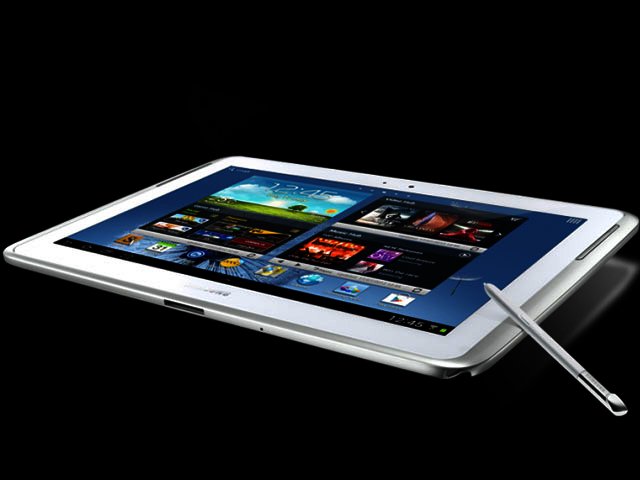 The Galaxy Note 10.1 is more than just a bigger Galaxy Note - there are some key refinements
in use here that make it a viable writing and drawing companion.
Stroke of genius
For example, removing the decently sized (115 mm) S Pen from its slot automatically prompted a choice between using Samsung's S Note, S Planner, Polaris Office or the excellent Photoshop Touch applications.
More importantly, the device had no problem keeping up with us as we scribbled pages of notes at a conference using S Note, while the results could very easily be shared with our other devices, by saving our notebooks as PDFs.
Sketches and digital paintings were similarly easy to create; and we particularly appreciated how shape match made short work of tidying up our rough attempts at drawing a myriad of shapes.
For those for whom writing with a pen of sorts in hand is second nature, the benefit of having a thin tip and near perfect responsiveness when writing or sketching makes a massive difference, rather than the crayon sized tips that most stylus, employed by other tablets, seem limited to. As impressed as we were with the S Pen in use, we would have preferred a slightly longer, ideally even little heavier stylus, which would have more accurately replicated the weight and feel of a fine writing instrument.
Up to scratch?
However, innovative features would count for naught if the device lagged behind. Thankfully, this was not the case, as performance in general, and writing on the bright 10.1" (1280 x 800, 149 ppi) resolution screen in particular, was extremely fast and responsive, thanks to 2 GB of memory and the presence of a
Exynos Quad-core
1.4 GHz processor.
While the screen may not quite give the new iPad a run for its money, the latter does the company's flagship smartphone, the
Galaxy S3
proud, and performs no less ably on the Galaxy Note's
Android Ice Cream Sandwich
(ICS) OS.
This was born out by our benchmark tests, as the Samsung Galaxy Note 10.1 smashed the competition in AnTuTu, delivering a score of 12 415, as compared with Google's latest quad-core tablet, the
Nexus 7's
score of 10 636. Interestingly, it even bested the Galaxy S3's score of 11 887.
Smartbench 2012 results were no less impressive; as the Galaxy Note 10.1 scored 4 941 on the productivity index and 1 772 on the gaming index. By comparison, the Nexus 7 garnered 3 818 on the former and 2 672 on the latter. What makes these scores most compelling is that the Nexus 7 and the S3 both offer superlative performance in real world terms – as does the Galaxy Note 10.1.
Sweetening the Galaxy Note 10.1's pot even further is the recent announcement that apparently it will receive a welcome upgrade to
Jelly Bean
in the months to come. If our experience with Google's latest version of Android on the Galaxy Nexus tablet is any indication of what other users can look forward to, when it does, the tablet will become only stronger.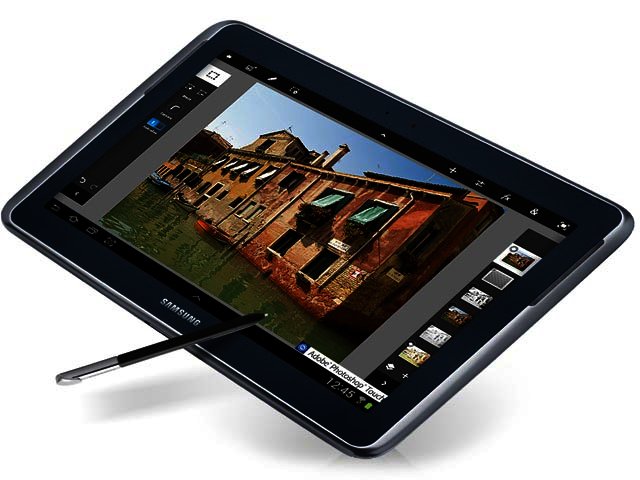 The tablet is certainly no slouch in the looks department. Expect fingerprints for
frequent company though.
With these features, you're set
Our review model offered 3G connectivity and 32 GB of storage, although this could be further expanded by up to 64 GB using the microSD card slot. Additionally, the camera connection kit (which consists of USB and SD card adapters) that worked with the Galaxy Tab 10.1 also works with the Galaxy Note 10.1, which means it accommodates and opens further storage media that are plugged in as well.
The Exynos processor is not the only technology that the Galaxy Note 10.1 has borrowed from the S3. Features ushered in by that luminary and on offer here include Pop up Play, which allows users to resize their video player in order to continue watching movies while surfing the web, and Smart Stay, which instructs the tablet to monitor your eyes and refrain from dimming the screen while you are still busy working on it.
Another of the Galaxy Note 10.1's standout features is the way in which it accommodates multitasking. The screen can be split into two, allowing one to browse the web in one pane, for example, while taking notes or checking email in another.
The good, with the bad
The caveat is that this only works with multi-mode compatible apps, which are the browser, Polaris office, S Note, email, the photo gallery, and video player.
The one area where we felt the Galaxy Note 10.1 was somewhat of a let down is in its build quality. While the device is a light 600 g, and slightly heavier than the Galaxy Tab's 585 g, it felt less substantial and sturdy in our hands than that venerable tablet; a pity, since the tablet is actually considerably better in other respects than its build quality suggests.
On the ergonomics and design front, we can't complain; the tablet has gentle curves, a well-sized bezel and a gentle robing of silver.
Also on the up side, battery life was outstanding, reaching past the ten hour mark on a single charge, while the strength of the device's Wi-Fi connectivity, and loudness of its speakers, bested that found on the
iPad 2
.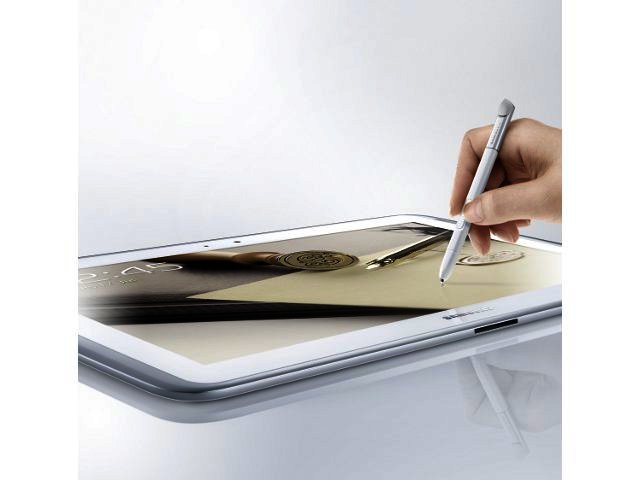 The heart of the device is the S-Pen, and with it, its writing capability.
To the point
Using the device for any extended period of time made it quickly apparently that this tablet is a boon for writers, journalists, students and artists in particular, as well as for those for whom typing just doesn't feel as smooth or quick as writing.
We found the Galaxy Note 10.1 therefore, has quickly become the first device we are tending to reach for when the urge strikes to scribble a quick idea, sketch out a rough concept, or make a note of some sort.
For those users who have been waiting for a viable digital alternative to the ol' pen and paper, in a speedy and powerful device, this is it. More importantly, users who have been waiting for an Android tablet that brings something fresh and innovative to the mix, should consider this due 'Note'-ice.
The Wi-Fi and 3G 32 GB Galaxy Note 10.1 (reviewed here), has an RRP of R8 500.
Where to buy? Purchase this unit from LivDigital for R8 000, call 010 590 9281 for more info.
Pros
Excellent note-taking and drawing experience
Superb performance
Unique and distinctive for an Android tablet
Expandable storage
Cons
Note quite as good a build construction as the Galaxy Tab 10.1
Expensive

Excellent note-taking and drawing experience, Superb performance, Unique and distinctive for an Android tablet, Expandable storage

Platicy build construction lets it down, Expensive