It used to be that unboxing and opening up a new notebook was a bit of a novelty, spurring excitement at what new designs, features and performance a particular manufacturer's latest offering would boast. As the market became increasingly flooded with more notebooks, more ultrabooks, and a growing number of hybrid tablet-notebook offerings, the once delightful experience became a bit passé.
HP's Spectre x360 brings one full circle back to the beginning, brushing aside the cobwebs of jaded familiarity and evoking a sense of appreciation once again. This, it does, on a number of levels. The first of these is the design of the notebook itself. The Spectre x360 is a solid slab of silver, thin, at just under 16 mm, with graceful curves and clearly excellent build quality, from the steel hinges to the unibody design.
It's actually the kind of notebook I would expect to come out of Apple's stable, with design clearly being given plenty of consideration. Suffice to say, it's a stunner.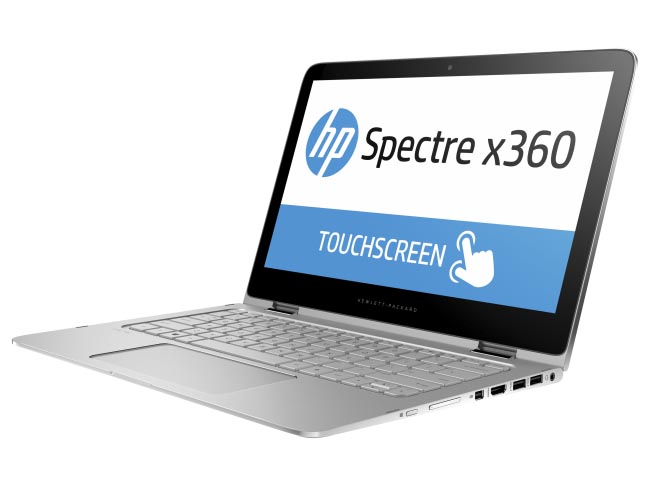 Stand to attention
Looks, though, are not the 13.3" Spectre x360's only strength when it comes to design. Much like Lenovo's Yoga, the notebook's screen can similarly fold down and back all the way, converting itself into a large 13" tablet. Additionally, the Stand orientation is another posture it can perform, which bring the screen front and foremost while pushing the keyboard out of site, for movie watching.
The Tent mode, which would be familiar to anyone who has gone hands on with the Yoga, similarly tucks the keyboard away from the touchscreen, a function that HP envisions is best suited to those who want to play games or have an unhindered touch experience.
As with most larger convertibles, I am less enamoured by the idea of holding a 13" tablet, especially since the Spectre X360 is not the lightest for that purpose, but, for those who don't mind handholding a larger tablet, the option is there. However, for movie watching, the other orientations appeals a great deal more, thanks to the presence of a beautifully sharp and rich 13.3" screen. Helping matters is a luscious 2560x1440 resolution, which, on this size screen, rivals the iPad's Retina display in its clarity.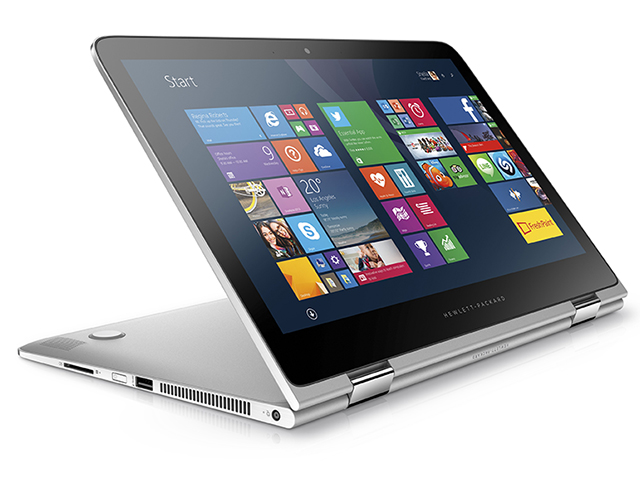 Lights out
Along with a terrific design and aesthetics, and with a luscious screen, the Spectre's keyboard is similarly appealing. For starters, the chiclet keys offer a good balance between depth and springiness. These may not be the deepest keys out there, but nor are they overly shallow. The only downside is a bit of an odd one. HP has opted for silver keys against a silver base, although thankfully the letters themselves are black, which makes them stand out sufficiently in ordinary typing conditions.
Turning on the backlighting, however, turns the key letters white. Against their silver background, this makes them a little more difficult to make out at a glance in ordinary lighting, and thus you will likely only opt to turn on backlighting when the room conditions are sufficiently dark.
However, there is another noticeable point of distinction on the notebook that sets it apart from the 'been there, done that' fray, and this is a positive point in the Spectre's favour. More specifically, this is its generously sized and larger than usual clickable trackpad. This is about one and three quarters larger than the usual trackpad size, and stretches between both the left and right palmrests, wasting no space.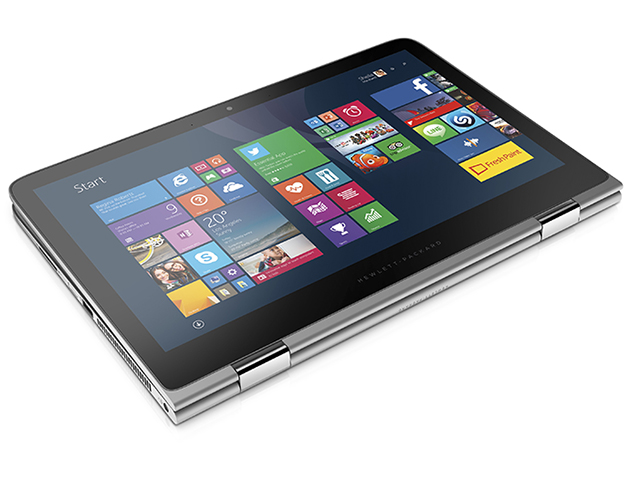 Powerful too
As good as the Spectre may look, as beautiful as its screen may be, without the chops to back these up with great performance, any notebook will invariably end up disappointing as you push it harder to do more.
The good news is that the Spectre X360 has the innards to deliver both. Beating at the heart of the review model is no less than a Core i7 (5500U) clocked at 2.40 GHz (although one can apparently configure it with the more economical Core i5) along with a decent dollop of 8 GB of memory. Added to this a decently sized 512 GB SSD and an Intel HD 5500 handles the graphics here, and certainly sufficient for light to medium gaming (with a Heaven score of 126, don't bank on pushing that much though).
So how does the Spectre perform across the board? Admirably well. Navigating the touch screen is lightning fast, and general usage (web browsing, media playback etc) is equally as satisfying. In short, given its thin frame and smaller size, this, more than anything, makes the Spectre feel like a powerhouse of a PC.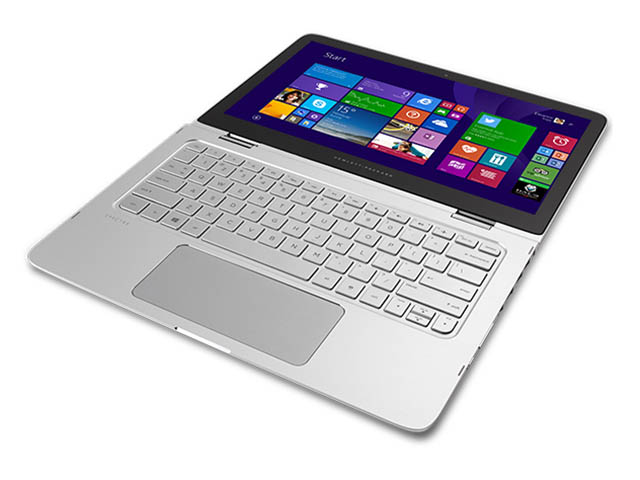 The sound on offer from its speakers is crisp without becoming tinny when pushed to the maximum, and certainly more than loud enough to justify neglecting your headphones if need be. Also gaining a plus in the Spectre's favour is the bevy of ports on offer – three USB 3.0 ports, an HDMI port, a DisplayPort and an SD card slot.
What is missing, besides from the optical drive, is the old faithful Ethernet connection, although I would seriously wonder who uses it anymore when Wi-Fi is available. As to the latter, the Spectre supports both 2.5 GHz and 5 GHz connection speeds; I certainly had no complaints in this regard.
Final thoughts
In the spirit of saving the best for last, I would have expected that, with the high performance Core i7, the notebook's battery life might have taken a bit of a dip. Not so here, as the battery life is simply outstanding. You can expect up to 12 hours on a charge, in other words, enough to get you from here to Heathrow, presuming you plan on working non- stop. This at least takes some of the edge out of the fact that the battery is non-user replaceable, possibly a bit of an adjustment for those accustomed to charging and carrying a spare in their notebook bag.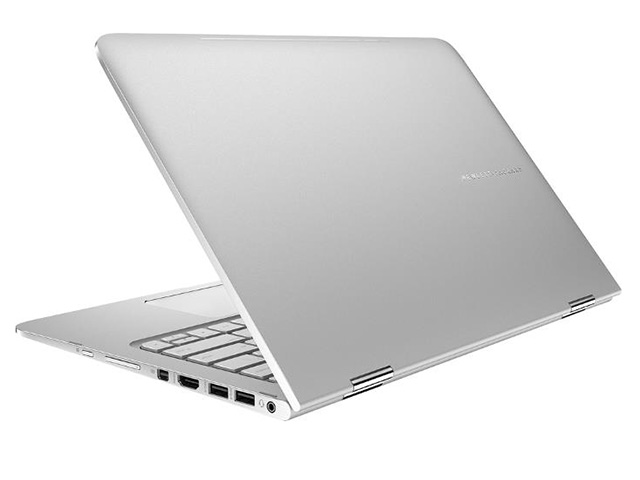 That aside, the Spectre's many virtues left me with a quandary – as finding the product's flaw/s became a particular challenge, leading me to conclude there are no glaring oversights that drag it down. In the final analysis, HP has knocked the ball out of the park with the Spectre – it is simply one of the best notebooks I have come across in a long time. For those seeking a terrific convertible Windows 8 notebook, look no further; the Spectre x360 is it. It has a costly RRP of R26 000.

Beautiful,Terrific screen, Thin and portable, Great battery life

Batery not user replaceable, No Ethernet port