As more and more tablets are entering the market, it's to be expected that manufacturers will start targeting different market segments with entry-, midrange and top end offerings. Chinese company Huawei is gunning for those who have up until now been put off by cost.
As is the case with HTC's Flyer, the S7 Slim's 7" screen provides a lot more screen real estate than a smartphone, but without going overboard in size. Unlike many tablets it allows for both Wi-Fi and 3G connectivity, with the option to call people, albeit via speakerphone or headset use.
Looks
The S7 Slim's black bezel contains the Android soft buttons on the left hand side, while a front facing one megapixel camera can be found in the top right corner. Both the back and sides of the device are white, stylishly interspersed with a silver brushed-aluminium strip. Striking also is the tablet's strange height of 109 mm compared to the BlackBerry PlayBook's more standard 130 mm. It gives the tablet a slightly elongated appearance even though its width is basically the same.
Along the side of the device you'll find a microSD card slot, necessary seeing that the device only comes with about 5 GB of onboard storage. You also have a HDMI connection, but like almost all the tablets with this feature, no cable is included to support this. There are two sufficiently loud speakers on the side while you'll also find the headphone and power jack on top and next to the side of the device respectively. There are also a power button and volume rocker, both which could have been slightly more pronounced to make it easier to find and use.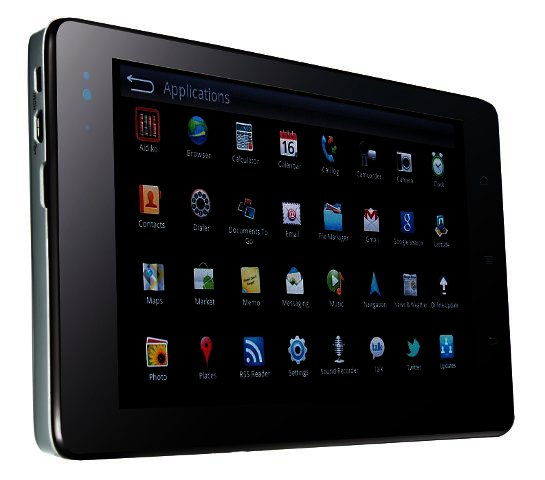 Screen
It looks like entry-level tablets are bound by the same restrictions as entry-level smartphones, namely a drop in screen quality and processing power. For example, pixel count on the S7 Slim is 480 x 800 pixels compared to the Flyer's denser 600 x 1024 pixels, also on a 7" screen, while you also have 256 000 colours instead of 16 million as on the iPad 2. This lower resolution is most noticeable on the rendering of font on website, which in smaller sizes gives a slight pixelated appearance.
Performance
The tablet makes use of Qualcomm's zippy 1 GHz Snapdragon QSD8250 processor, but with only 512 MB worth of RAM. Compared to the Tegra 2-powered Acer Iconia A500, which scored 2318 (Productivity Index) and 2364 (Gaming Index) on the Smartbench 2011 benchmark, the S7 Slim scored a lower 1121 and 848 respectively – a rather sharp drop in performance, especially on the gaming side.
It must be said though that we did manage to play Need for Speed SHIFT with only slight stuttering here and there, although the more intensive Samurai II: Vengeance threw a bit of errors our way. Both these games come preinstalled, while our test-model also came with Tiki Towers 2, MiniGore, Pinball HD and MUST.EAT.BIRDS onboard.
Android 2.2
Doing the operating is Android 2.2.2 (Froyo) and not 3.0 (Honeycomb) as found on some of the latest 10" tablets. We don't think the smaller 7" models fare too badly on this non-dedicated tablet platform, with Huawei customising it quite a bit. In all you'll find ten screens, two each under five different labels, which include Home, Web, Entertainment, Communications and Favourites. To be honest, we barely made use of this setup, rather opting to paste our most used apps on the opening screen.
We liked the Info icon in the top right corner – press it and you are taken to all your quick options (Wi-Fi on/off, screen brightness, etc.), notifications (updates to downloaded apps) and tasks (recently opened apps being multitasked). This conglomeration worked very well, making it easy to manage your tablet from a central position.
Personally we've found that we simply don't make that much use of tablets' photo or video capturing capabilities, which on the Huawei are not so strong anyways. But we would have liked to have seen better video playback support on the device, seeing that it cannot play popular .avi or .mkv files, rather opting for H.264 and MPEG4 formats (we recommend downloading the arcMedia app to play more formats).
The S7 Slim makes use of a power adaptor and a rather intricate cable that also includes a micro USB and charge jack all on the same cable. Unlike the Flyer and PlayBook that can recharge off microUSB when connected to the PC, you can't do the same with the S7 Slim.
Conclusion
If you want a smaller tablet to browse with, check your Facebook, read some eBooks on and send the odd email here and there, the Huawei S7 Slim is your man. It's not the most powerful tablet available, while its 7" screen resolution is basically the same as found on 4" smartphones, but it offers a decent tablet experience for those not wanting to cough-up for a Galaxy Tab or HTC Flyer.
Pricing ranges between R3299 and R3799, which is considerably cheaper than the 7" HTC Flyer at R6360. It still feels a bit high, seeing that the iPad 2 16 GB Wi-Fi goes for R4399 (that is if you can actually find one), and we would have liked to have seen the S7 Slim leading the charge at the sub-R2500 level.
Pros:
3G and Wi-Fi, good price point, HDMI connectivity, lots of games included.
Cons:
Screen resolution could have been better, more RAM would have helped, power button difficult to find.


3G and Wi-Fi, good price point, HDMI connectivity, lots of games included.

Screen resolution could have been better, more RAM would have helped, power button difficult to find.