Make no mistake, budget and midrange tablets certainly have their place, and Acer's latest 10" Iconia A3 proves this without a doubt.
While premium tablets that also carry a premium price gobble up headlines, there is certainly a market for budget and mid-market offerings, as the likes of the 7" Iconia B1 and the Nexus 7 handily proved. Following on from Acer's 8" Iconia A1 debut earlier this year, the company has now launched a 10" mid-market tablet offering, running on Android 4.2. From a looks perspective the tablet looks like a bigger A1. It is certainly pleasant to hold and light (560 g) in hand, while still feeling sturdy and durable enough.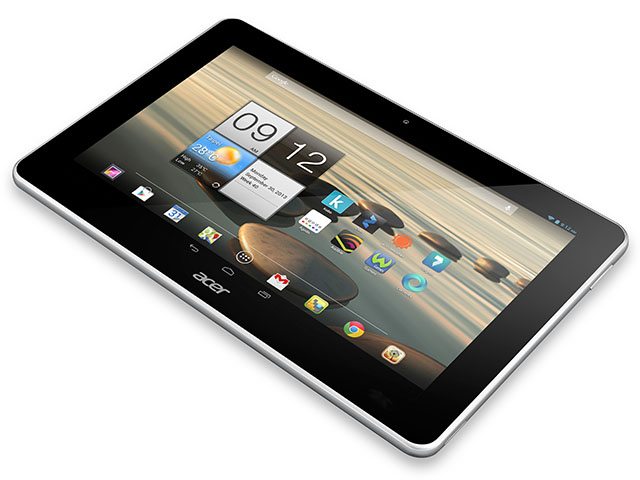 In many ways the Acer Iconia A3 seems perfectly positioned at the mid market; it may not be competing with the iPad Air, but for those on a budget, it's worth a look.
Grips and gripes
Roomy, but not overly wide, bezels surround the screen, which offers a serviceable enough, if not exemplary, resolution of 1280 x 800 (149 ppi). Despite this, we still enjoyed watching videos on the device. However, the one area that we were less impressed with was the sound on offer, which while sufficiently loud, lacked bass and verged on sounding a bit tinny.
Furthermore, the placement of the speakers on the bottom left and right hand corners when held in landscape mode meant that our hands ended up covering the speaker grills, and necessitated us actually turning the device upside down (with screen orientation on, obviously) for the best audio experience.
Speaking of screen orientation, Acer has packed the Iconia A3 with a particularly intelligent accelerometer technology called IntelliSpin, which results in the screen rotating according to the user's needs, and not seemingly on a whim.
On the up side….
On the performance front, we had no complaints, as the tablet makes excellent use of a 1.2 GHz Cortex-A7 quad-core processor and 1 GB of memory to offer up speedy and responsive performance across the board. In its favour, and not something the vaunted Nexus 7 can claim, the Iconia A3 not only sports a microSD card slot for expanding storage, but also boasts handy onboard cellular connectivity and brings a microHDMI port to the mix as well.
In the final analysis, the Iconia A3 is certainly worth a look for those seeking a 10" tablet without breaking the bank. RRP:R5 000.

Light, Decent screen resolution, Sturdy and Durable

Awkward speaker placement, Audio lacks bass