The first thing one notices about the Sony's premium thin and light offering, the VAIO Z, is how thin it is. At 16.6 mm thin, the VAIO Z is in the same leagues as the
Macbook Air
and
Samsung 9 series
notebooks. While the Series 9, at 15.7 mm is still thinner, the VAIO Z nonetheless beats the MacBook Air's 17 mm height.
This thin frame also makes the VAIO Z remarkably lightweight. At 1.165 kg, it is certainly a notebook that can be easily carried around for extended periods without weighing one down. It proved even lighter than the Samsung 9 series already featherweight presence of 1.31 kg and lighter still than the MacBook Air's 1.35 kg.
As on the MacBook Air and
Samsung 9 series
, the VAIO Z sports a solid state drive, which accounts for exceedingly quick boot times (13 seconds in our test). This is a major appeal for notebooks of this ilk, which are designed for near instant on access and for consistent mobility.
Design

The VAIO Z's appearance and design are on the minimalistic side, with an all black carbon-fibre full-flat body that is only broken by the silver VAIO logo on the top of the cover. This is not necessarily unwelcome, as minimalistic can be attractive and appealing in its own right.
The best way to describe the VAIO Z's looks therefore, would be classical. However, the notebook would certainly have benefited from a more metallic and modern, if not futuristic style, which is something we have come to expect from Sony.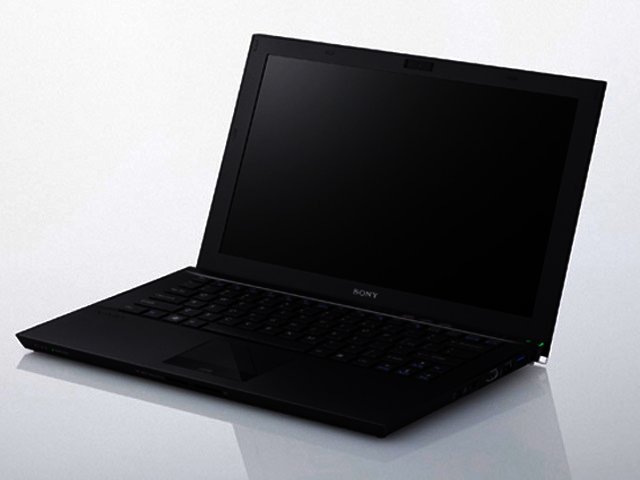 The VAIO Z's looks are very minimalistic.
However, the 13.1" full HD screen, with its 1920 x 1080 resolution, is anything but ordinary, offering up rich colours and great clarity. Even when watching a streaming video off YouTube, we couldn't help but be impressed by the capability of the VAIO Z's screen. Additionally, the matte finish meant that the screen's rich colours weren't interrupted by distracting reflections.
One aspect of the screen that took us a while to become accustomed to was that, when open, the base of the notebook was raised a few millimeters, resting on the screen's edge, which tilted the keyboard up ever so slightly. This was neither a negative nor a positive, but rather a little unusual as compared to most notebooks that find their way into our hands.
Keyboard and Trackpad
The VAIO Z sports an uncluttered chiclet keyboard with full size keys. These however, had quite a shallow depth, and extruded very slightly above the keyboard base. According to one's typing preferences, this could either hinder or help in speed typing, depending on whether you find deep, springy keys or shallower ones more to your liking. While we fall into the former camp, the keyboard was such that we did not feel cramped when typing on it as the keys are decently spaced apart.
Additionally, backlit keyboards are always a welcome feature – particularly for those who don't want a darkened
room to prevent them from typing or working on their notebook. On the VAIO Z, the backlighting automatically lights up when its built-in sensor detects a dark environment, a feature we loved on Samsung's 9 series and that was no less appealing on the VAIO Z. While only the letters on the keys are illuminated, we found this to be more than adequate.
The trackpad, unfortunately, was not one of our favourites. We have become accustomed to working on medium to large sized trackpads, and on this count, the VAIO Z's was smaller than what we like. Additionally, it almost seamlessly blended into the base of the notebook, as it was almost level with the palm rest. While this could be easily bypassed with the use of a mouse, on a portable mobile device, we still feel that all components – including the trackpad – should be comfortable to use on their own.
One small touch that enhanced the notebook in our eyes, and that was conveniently placed above the keyboard, was the presence of a physical on/off switch for the notebook's wireless connectivity. As wireless is one of the main culprits (next to the screen) of battery life consumption, being able to turn on and off our wireless as appropriate through the use of the switch was imminently useful.
While it is a small touch, it is most often neglected on notebooks, and yet being able to quickly access our wireless is the one notebook feature that we find the most consistent use for.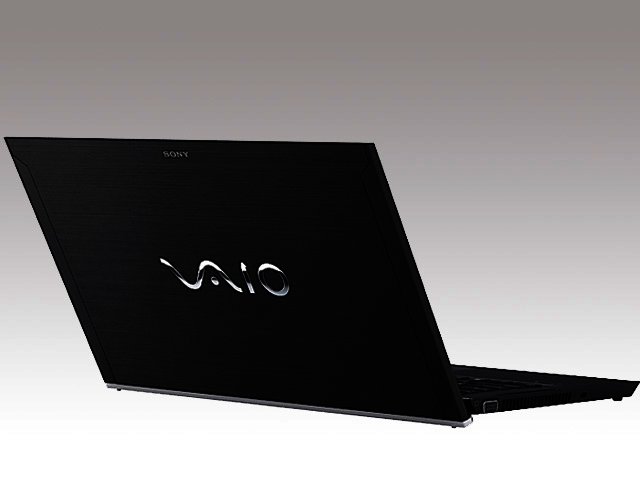 At 16.6 mm, the VAIO Z is one of the thinnest and also lightest notebooks available.
Performance
Looking at the notebook, if you had to judge it by its size you may suspect that it would be running an i5 or even an i3 processor. You would be wrong on both counts though. On the specifications side, Sony hasn't held back. The VAIO Z runs a second generation Intel Core i7 processor, clocked at 2.7 GHz, which is accompanied by eight gigabytes of memory.
We found this accounted for the notebook's general speedy responsiveness and all round faultless performance – whether playing videos, browsing the internet or running applications. Even with the notebook's integrated graphics, it still earned a respectable 6.4 on Windows Performance Index. (it should be noted that the power dock improves on the graphic card with a far beefier solution).
The VAIO also had two hard drives on board – a 256 MB Solid State Drive and a 500 GB SATA drive. This configuration in our opinion offers the best of both worlds. Loading the operating system from the SSD (as was the case here) offers faster boot times, while the roomy 500 GB second drive affords far more space for files and meeting general storage requirements.
In our benchmark tests, the VAIO Z scored 4577 marks in 3D Mark 6, easily and
solidly thrashing the
Samsung 9 series
' score of 2955, which was expected, considering the latter sports a Core i5, but not quite reaching the heights attained by the
Asus U36S
's 4857 score.
Another area of performance well worth noting was the sound offered by the notebook, particularly when paired with a good set of headphones (in our test, Sennheiser's equally portable PX100's). Sound, when played through headphones, was outstanding, offering rich and deep bass, and well as defined tones throughout the range. In short, playing music and movies through the VAIO Z on headphones was superlative. Without headphones, the results were not as spectacular, with music sounding mostly tinny on the VAIO Z's speakers and distorting past the 75% volume mark.
Power Dock
The performance of the notebook however, can be further extended, by connecting the included power media dock. This adds a Blu-ray drive to the notebook as well as boosting graphics performance and is connected to the notebook via an optical cable.
According to the company, the power media dock can manage up to four displays via a combination of HDMI and VGA outputs. For graphics professionals, multiple display output can be a boon, and such a feature was rather high end for a thin and light notebook.
Even so, we did find the inclusion of the Power Media dock to be a somewhat odd design choice by the company. On the one hand, the VAIO Z's strength is in its portability and lightness, and yet this is somewhat compromised by having to carry along an additional notebook add on if you want extended functionality, along with the notebook charger, which always effectively adds a little extra weight.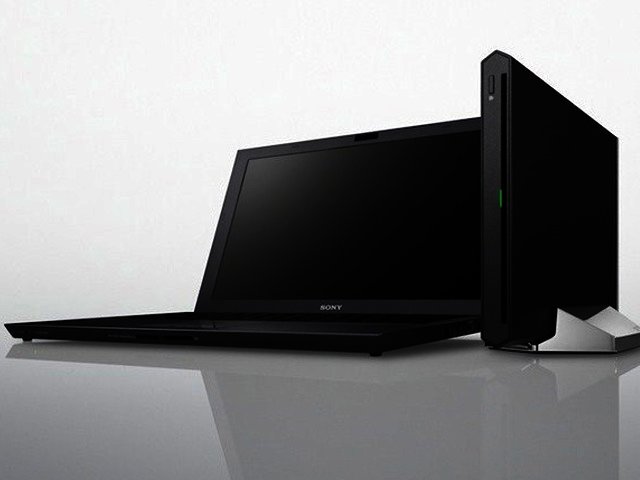 The notebook's features are augmented by the use of the included power media dock

Charged with Battery

One of the main requirements of thin and light notebooks in particular is a long battery life, and in this regard, the VAIO Z didn't disappoint, offering up six and a half hours on a full charge. This can be further extended to thirteen hours by attaching an optional sheet battery, which can be charged separately from the PC.
Two AC adapters are also included in the box – which we found to be a nice touch, and enables one to leave one adapter at one's desk and tuck the other into one's notebook case. Two USB 2.0 and one USB 3.0 grace the notebook, as does HDMI out.

Conclusion

While the VAIO Z has several nifty features going for it, whether you love the VAIO Z and invest in it, is going to depend on your style of working and personal preferences. There was much here that impressed (weight, screen, battery life, storage configuration), and other aspects that didn't (keyboard, trackpad, sound through the speakers).

Also, it should be noted that Sony has billed this as a premium product, which includes a very expensive price tag of R30 000. Even so, it's actually good to see some companies taking risks with their notebooks and doing something different, because the VAIO Z is most certainly unique.

While the VAIO Z pulls ahead in certain respects of two other highly regarded thin-and-light notebooks, namely the MacBook Air and the Samsung Series 9. Here is how those two offerings fare in the price stakes in comparison:

MacBook Air (Core i5, 4 GB, 256 GB SSD) R15999
Samsung Series 9 (Core i5, 4 GB, 256 GB SSD) R14999

Pros

Very light
Beautiful non-reflective screen
2nd generation Core I7 processor, so very powerful for a thin-and-light
Included power media dock

Cons

Heavy price tag
Poor sound when played through speakers

Very light, Beautiful non reflective screen, Included power media dock, 2nd generation Core I7 processor

Heavy price tag, Poor sound when played through speakers