While we have been on a
steady diet
of ultrabooks this year, Toshiba had been conspicuously absent. That is, until the Z930 graced our review desk. Most noticeable about the 13.3" ultrabook, at least at first, is how incredibly lightweight it is.

In boxing terms, at 1 kg, this ultrabook would step into the ring with other light flyweight contenders, as it can confidently claim the title of being the lightest ultrabook available to date. This had us reaching for it time and again, picking it up, comparing its weight with the lightest tablet we could find, only to set it down and compare it with an even lighter device.
In the Z930's case, light in weight does not equate to feeling plasticky or poorly made, as the materials used (magnesium alloy) are typical of Toshiba; more specifically, very good. Accompanying this featherlight mass is an equally impressive thin profile of 17 mm. Nonetheless, we could not coax any creaking or flex out of the chassis – always a reassuring sign.
The one area of concern was that the screen did waver when typing vigorously, quite possibly owing to the thinness of the screen itself, and Toshiba's cutaway hinge design.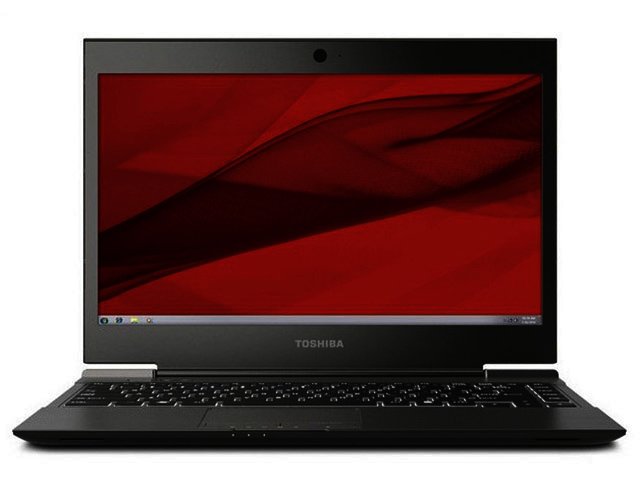 The Z930 certainly feels, as well as looks, the part of a well constructed machine.
Compelling performance
Beyond this though, the Z930 certainly had enough to offer to compel us to continue exploring. For instance, this small device boasts some impressive specifications, and certainly should help of taking on taxing computing tasks.
At its heart you will find an Intel Core i7 (3667U) CPU, clocked at 2 GHz, 4 GB of memory and 238 GB of usable hard drive space on the solid state drive. It hardly needs to be said, but like so many other ultrabooks, an optical drive is not present. While there isn't a discrete graphics solution, the Intel HD Graphics 4000 is certainly capable enough in its own right, at least for most graphics task and some light gaming.
We weren't at all surprised to see the Ivy Bridge i7 processor breeze through general computing tasks; while browsing the web, running applications, playing videos feels like driving in the middle lane of the highway when using a Core i5 based notebook, doing so with the i7 more closely brought to mind driving a sports car in the fast lane. Somewhat fittingly, our review unit sported an evaluation version of Windows 8, further cementing it as being ready for the latest software upgrades as well.
In our 3DMark06 benchmarks test, the Z930 scored a very good 4 276 marks, which is considerably better than the
Lenovo U300s
' score of 3 392, and even bested the
Asus Zenbook UX31's
score of 3 681.
The premium processor though comes with a price; at R18 000 the Z930 is rather expensive, and left us wondering whether Toshiba shouldn't instead have opted for the more wallet friendly Core i5. While we have often been struck by how well the Core i5 balances performance and price, we can't say we feel the same about the the Core i7.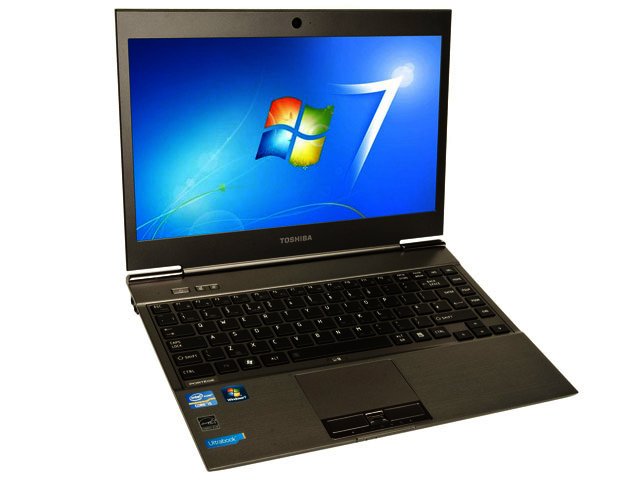 Despite having a matte screen, which kept reflections away, colours were punchy and contrast was very good.
Reflect on this
However, performance wasn't the only facet of the ultrabook that impressed. Much like the
Asus N56VM
, the Z930 also hosts a matte screen, which dramatically reduces reflections and glare, yet still offered up superb colour saturation and contrast. Like Asus' offering, it similarly managed to avoid the overall dullness that plagues some other matte displays while being more restive on one's eyes than glossy screens.
Viewing angles don't fare quite so favourably, although, we must admit this didn't bother us much as one is more likely to use a 13.3" notebook solo when watching movies as compared with larger 15.6" notebooks. Even though its maximum resolution is 1366 x 768 (118 ppi), on a display of this size, that still delivers sharp text and crisp images, and did not elicit any complaints from our side in general use.
Onto the keyboard...
The Z930 sports a rather nice, chiclet keyboard, which offered firm, well spaced and mostly full sized keys, if somewhat shallow key presses. Nonetheless, typing on the keyboard was still a decent experience, even if the Z930 didn't provide the best keyboard experience we have had to date.
This though, is going to depend on personal preference; those who find shallower keys help them type faster are more likely to enjoy typing on the Z930 than those who are used to and prefer deep, springy key presses.
While the indented trackpad was responsive from edge to edge it was supported by two firm mousebuttons, which we found a little too stiff and shallow for our liking.
The sound on offer is decent, proving to be both loud and crisp, without undue distortion when the volume is pushed to its maximum. This meant that we had no problem watching movies and YouTube videos without having to resort to headphones, even though the standard headphone jack does make that an option too.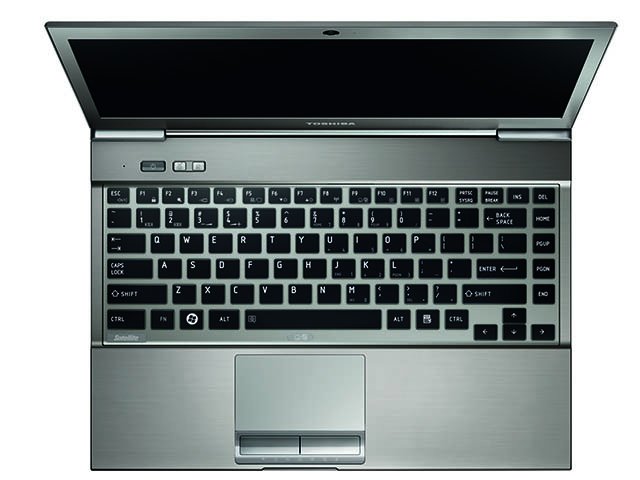 How much you enjoy the Z930's keyboard is going to largely depend on how you feel about shallow
key presses.
Small touches, Big differences
Like much else on the ultrabook, it felt to us as though Toshiba has made a concerted effort here to deliver as thin and light an ultrabook as possible, while still ensuring that users felt like they were receiving the kind of quality they would expect. On this front, the company succeeded, as it was really in the small touches that the Z930 won us over.
For example, the company has opted to place its fan on the back and thus keep warm air away from the left and right sides, while keeping the palmrests cool as well. On a processor of this power, one could easily imagine getting lightly toasted if fan placement wasn't taken into due consideration, but the Z930 does not fall into that trap.
Continuing with the good placement theme, we were happy to see that the two USB 2.0 ports, one USB 3.0 port, HDMI, an SD card reader and an Ethernet port, were evenly spread across the back and sides of the machine.
Additionally, battery life proved to be in excess of seven hours (a few minutes shy of seven and a half hours, in fact), which would account for almost a full working day, or an intercontinental flight.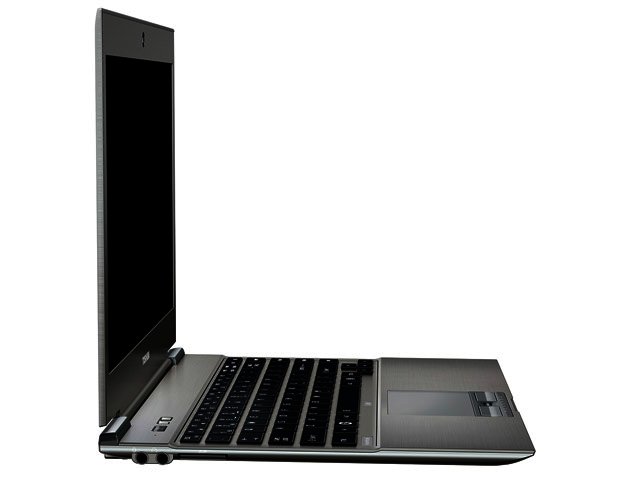 The Z930 really lives up to the phrase "thin and light;" which, along with its dreamy seven and a half battery life, makes it ideal for road warriors.
For business users, the very good battery life is not the only appealing factor on offer. Businesses and enterprises will no doubt appreciate the fact that there is a fingerprint scanner onboard for added biometric security, which is not something that too many other ultrabooks can claim.
Another facet we liked is that the power brick is both small, and light, and thus doesn't burden or mitigate the ultrabook's lightweight appeal.
To the point
The Portege Z930 may not be perfect, but it is still a very capable and powerful ultrabook in its own right, and one we can easily see a business executive opting to rely on. It has a pricey RRP of R18 000.
Pros
Exceedingly light
Great battery life
Solid construction
Fast performance
Excellent colour saturation for a matte display
Cons
Shallow key presses
Screen wavers under heavy typing
Expensive

Exceedingly light, Great battery life, Solid construction, Fast performance, Excellent colour saturation for a matte display

Shallow key presses, Screen wavers under heavy typing, Expensive