It is a song and dance that has become familiar over the past year – as we have unpacked an ultrabook or tablet from Asus, and promptly found ourselves impressed.
The Asus N56VM notebook continues in this vein, but rather than turning our heads with its lightness of being, instead it is the sheer muscle of this beauty that accounted for our positive first impressions.
Indeed, with its elegant combination of black and chrome, the N56VM is certainly attractive, and has both the looks, and feel of a luxurious and premium notebook.
One thing the notebook does have in common with the likes of the
Asus Zenbook
, the
Transformer Prime
, and the
Transformer Pad Infinity
, is that as on those devices, the design is impeccable and the build quality is a clear indication of the fact that no shortcuts have been taken.
If you are hoping for a cheap plastic chassis, that creaks and flexes, you will be disappointed; the notebook instead flaunts a solid body which does neither.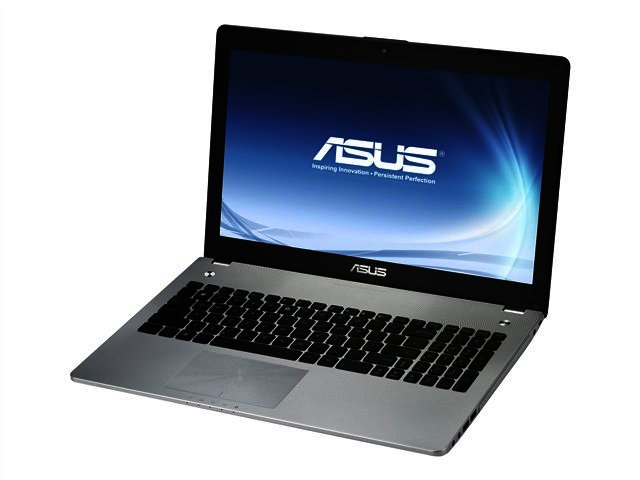 Asus' N56VM certainly has no deficits in the looks department, even exhibiting a subtle patterning on the touchpad. Thankfully, we quickly discovered that in this case, its performance backed up its beauty.
Key features
The gunmetal cover, well secured by sturdy hinges, opens to reveal a spacious chiclet keyboard, with a numpad, and generously sized trackpad. The keys themselves have quite a decent press, with a fair amount of depth and springiness. While they seem to be a little smaller than average, we still found they provided a comfortable, and accurate typing experience overall.
The trackpad was no less impressive. Even though we prefer trackpads that don't sit completely flush with the keyboard, as this notebook's does, we couldn't fault its end-to-end responsiveness, nor the smoothness with which it implements multi-touch.
It is worth noting though that the mouse buttons are built into the trackpad, and not dedicated buttons of their own. That being said, it certainly didn't act as a deterrent to using the trackpad when navigating the computer owing to how responsive both were.
Asus also has to be given kudo's for deftly navigating our pet peeve that too many notebook keyboards with numpads succumb to; even though the touchpad is positioned to left of centre, one does not feel like one's left hand is falling off the edge of the palmrest, as there is enough space to comfortably rest both hands when typing.
Finally, the last feature that moved the notebook's keyboard to the top of our Christmas card list, was its very good and bright backlighting. This illuminates the letter of the keys, and the adjustable brightness allowed us to dial in the degree to which we wanted our keys to shine with the use of function keys. Very nice.
Performance
Past the keyboard attraction, yet another important thing that the N56VM notebook has going for it, is that Asus has clearly spared no expense and cut no corners on the sheer grunt that this notebook can deliver.
A Core i7 (3610QM) Ivy Bridge processor clocked at 2.3 GHz beats at its heart, along with 4 GB RAM and 2 GB video RAM. With regards to the latter, users can take advantage of the Geforce GT630M GPU for gaming, or resort to the less power hungry Intel Graphics 4000 when the more powerful graphics solution is not needed.
Indeed, its benchmark scores were very good, as the notebook offered up 9 523 marks in 3d Mark 6, just a little short of Samsung's
Chronos 7
's score of 10 056 and just below the
HP Pavilion DV7
's 10 991. It also delivered 1 123.4 in our Passmark benchmark, almost matching the Chronos 7's score of 1 433, and 294 in our Heaven benchmark.
Additionally, our review unit packed two hard drives – one of 300 GB and the second a little larger 350 GB. While we suspect that multimedia users will have plenty use for the space, we would, quite frankly have preferred to have seen an SSD drive handling start up speeds instead.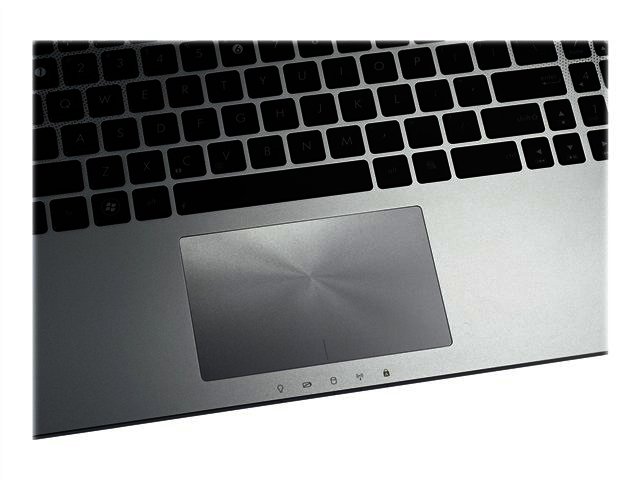 Admittedly, the keys are rather small, and the trackpad sits flush with the palmrests. This didn't deter us from typing or navigating the PC quite easily though.
Screen dreams
Further complementing what the notebook's innards have to offer is a very good screen. We were a little surprised, though not unpleasantly so, to see that Asus had opted for its 1080p 15.6" display to sport a matte finish rather than a glossy one. However, this provided a welcome respite on our eyes, and a reflection-free view for a change.
Its maximum resolution of 1920 x 1080 ensured that photos and movies, as well as text, was pin sharp, and we simply loved the colour fidelity and contrast on offer; a worthy achievement when you consider that matte displays have a tendency to mute colours somewhat.
Viewing angles were quite good, and the display was certainly bright enough, although not overwhelmingly so when pushed to maximum. In short, it seems to us as though the notebook's display is primarily concerned with offering a more restful, rather than eye-popping, impact on one's eyes.
Beautiful noise
So how does it perform in actual usage? In a word, beautifully. There seemed to be little that we could throw at the notebook that it couldn't handle with aplomb. Whether browsing the web, watching videos on YouTube, working on productivity programmes or playing music or Blu-ray movies via the integrated drive (we told you no expense has been spared), the notebook coped excellently.
It is on the audio output though, that we were really bowled over. The notebook boasts Bang and Olufsen speakers, which, on their own, issued full and beefy sound, with deep and impressive bass and superb range. If Asus had stopped there, we would have been satisfied. Instead, the company includes an external compact subwoofer with the package, which elevates the sound on offer from impressive to superlative.
Indeed, the sound, along with the Blu-ray drive, clearly marks this notebook as an entertainment maestro, that was as much a pleasure to use for entertainment as it was for general use.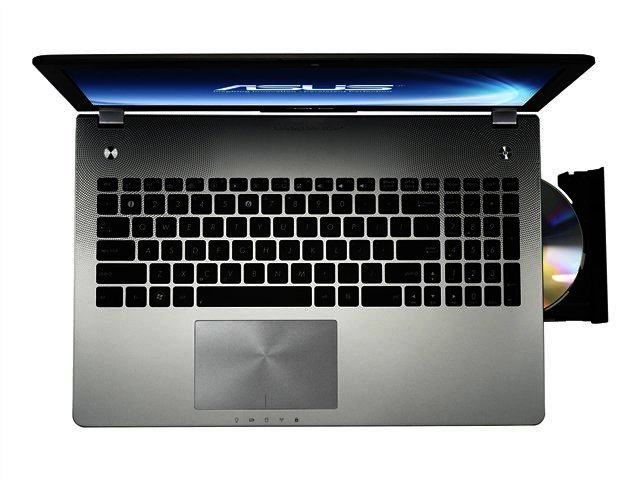 Yes, it does bring a Blu-ray player to the notebook party, and suffice to say video looks,
and sounds, fantastic.
Also worth mentioning...
Four USB 3.0 ports and HDMI port that are liberally spread across the notebook's left and right hand sides, and an SD/MMC card reader, which is discretely located beneath the trackpad can be found.
If we had to find fault, it would be with the fact that the fan does blow a fair amount of hot air from the left hand side when under load, while the palm rests can get a bit warm after a while as well. However, it's certainly not to scalding levels.
To the point
Nonetheless, in our final analysis, the 2.7 kg notebook is a solid (in the many meanings of that word) all rounder, that offered up an extremely good, and rather luxurious computing experience in its own right. In a year in which almost every mobile device to land on our desk has been either a tablet, or an ultrabook, the Asus N56VM proved that the notebook still has what it takes to impress, and even show up the competition, and that is certainly no mean feat.
It has an RRP of R15 000 for the Core i7 model (reviewed here) or R13 000 for the Core i5 model.

Pros
Excellent keyboard
Superb sound
Very good performance
Cons
Quite heavy
Can get quite warm

Excellent keyboard, Superb sound, Very good performance

Quite heavy, Can get quite warm