It's not easy for an Android tablet to distinguish itself these days, and retain a unique enough appeal to make it stand head and shoulders above the tablet crowd.
As the first tablet with the Tegra 3 processor onboard, Asus' Transformer Prime manages to do just that.
When we reviewed
Asus's Zenbook ultrabook
, we loved the design and build, and in many respects, the Transformer Prime shares several of those qualities.
For starters, although it is a quad-core 10.1 Android tablet running Ice Cream Sandwich (more about that in a moment), the Transformer Prime also docks into its included keyboard so firmly that you would be forgiven for thinking it's a slightly smaller Zenbook, another ultrabook or perhaps even a high performing netbook.
However, it's none of these. Instead, it is an extremely sturdy, well constructed and exceptionally stylish Android tablet that, judging by appearances alone, hints to having the chops to take on the
iPad juggernaught
.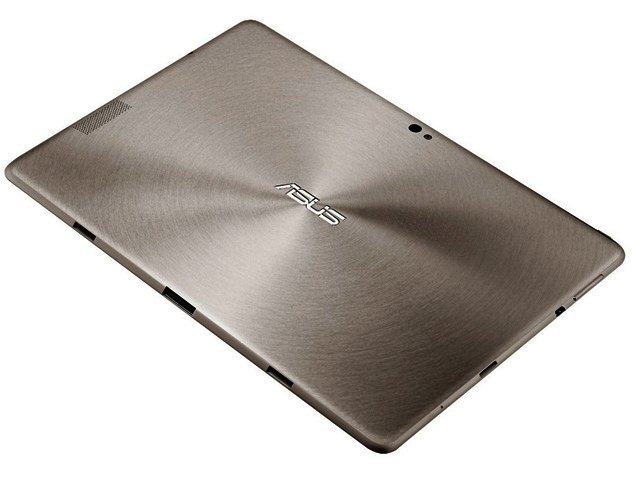 The back of the tablet, or when closed if attached to the dock, is more than a little
reminiscent design wise of the Asus Zenbook.
Design
On the appearance side, the same circular patterning adorns its brushed metal shell, lending it a very modern if not futuristic aesthetic. The same styling is kept through the tablet portion of the device, the keyboard, as well as the hinge which connects the two in wedded bliss.
This makes the keyboard seem less an afterthought or tacked on accessory and rather, an integral part of the Transformer Prime experience; there when you need it and detachable when you don't.
Both pieces boast a generously and smoothly curved shape, while the lip of the tablet extends just slightly over the keyboard when closed to make it easy to flip open.
Ergonomically, the tablet is a pleasure to hold. It is light, comfortable and smooth to the touch. Despite being 10.1", we had no problem holding it for extended periods in one hand in portrait mode. This may well be due to its slightly wider bezel, which meant holding it in this manner didn't register as accidental screen touches.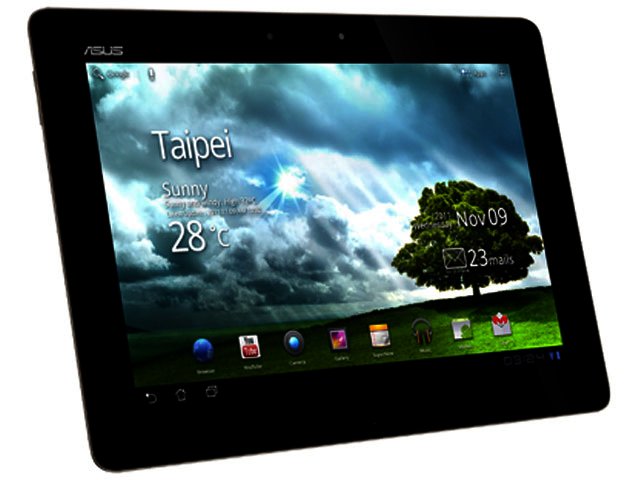 It may not boast a Retina display, but make no mistake, this screen is beautiful nonetheless.
Performance
However, the most interesting part of the Transformer Prime comes from its performance, most particularly in light of the fact that it sports a quad core processor and the latest Android operating system (OS), Ice Cream Sandwich. On this front, we were pleasantly surprised by how quick the tablet is. In fact, swiping between different screens proved to be quite a bit faster than swiping between the
iPad 2
's screens, which is no slouch by any means.
In our Smartbench 2011 benchmarking, the Prime Transformer returned a very impressive score of 4500 on the productivity index, and a respectable 2523 on the gaming index.
This easily bested both the
Samsung Galaxy Tab 10.1
's productivity index score of 3368 and gaming index score of 2377 and the
Galaxy Note
's scores of 4410 and 2457 respectively. Clearly, in so far as benchmarks are concerns, the quad core processor makes a significant difference.
In general use, it bears out the high scores. Opening and running games, browsing the Internet, playing videos, typing documents, drawing sketches and reading an ebook were all as smooth and as responsive as we could have hoped for. Indeed, the
Tegra 3 quad core processor
and 1 GB of memory made short work of all of the above.
However, it needs to be noted that the Transformer Prime isn't the quickest to start and be ready for use from a completely off state. It took a full 45 seconds for the device to be ready for action in our test, although, from a sleep state, this was not an issue.
Screen
Equally worth mentioning is the Transformer Prime's beautiful screen. Admittedly, it is not a Retina display, and instead offers a 1280 x 800 resolution. However, it was still clear and crisp,while offering up vivid colours and proving bright enough to cope with moderate sunlight outdoors and still be clearly visible.
In fact, the menu has a Super IPS+ mode for this very purpose, and on our use, it worked like a charm. The one caveat to this is that in sunlight, reflections are clearly visible and quite distracting. Nonetheless, we found the screen to be imminently visible, if slightly on the higher contrast side.
In the brightness stakes indoors, the Transformer Prime's screen gives the
iPad 2
a run for its money, and is certainly as good if not slightly brighter than the excellent screen found on the Galaxy Tab 10.1.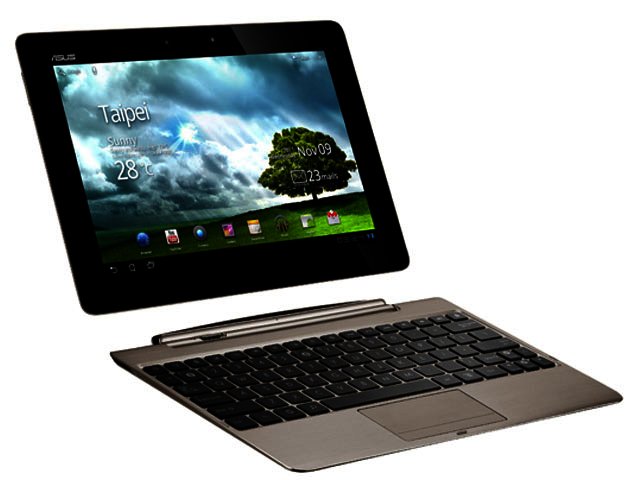 The device's distinction comes from the solid way in which it connects to its keyboard/dock.
Keyboard
However, as previously mentioned, the Transformer Prime's particular strength is how quickly and sturdily it transforms from being a 10.1 tablet into a tablet/ultrabook type hybrid. Sliding the tablet into a slot on the keyboard (or dock) strongly locks the screen in place, and suddenly the full sized QWERTY keyboard, with trackpad, is ready for action.
While the chiclet keys don't offer the deepest press we've come across, presumably in the interest of keeping undesirable bulk at bay, they offered enough depth to be comfortable to type on. We were less of a fan of the touchpad, which although responsive, was a little too small for our liking.
However, this could be forgiven, as docking the screen into the keyboard afforded extra battery life, up to the region of close to 17 hours, while adding a USB port and full sized SD card slot to complement the micro-SD found on the tablet.
Other Considerations
Another impressive aspect of the Transformer Prime was its sound. Despite coming from a single speaker on the back of the tablet, we found that it was clear and distinctive, and surprisingly loud both when playing movies and games.
However, the one area where the Transformer Prime falls down in our opinion is in its price, costing R5999 for the 32 GB version and R6999 for the 64 GB model. Additionally, and particularly disappointing, is the fact that the keyboard dock is an optional accessory that adds an further R1599 to the price.
This certainly does not compare favourably with the iPad 2, which has recently had a pricecut, and pushes the 64 GB Transformer Prime closer to the price territory of a premium device rather than affordable alternative to its competition.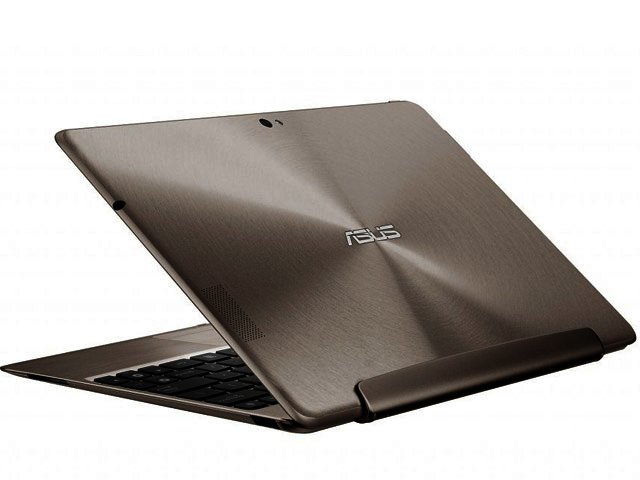 Once docked, the device resembles an netbook or ultrabook far more so than a tablet.
To the point
From a pure product perspective though, the Transformer Prime is one of the most impressive Android tablets we've tested in a while. Its sharp screen and general build quality impressed us no end, and we loved how quickly and easily the tablet transformed not just from a tablet to an an almost ultrabook, but also into an Android tablet that is anything but run of the mill. Best of all, the Transformer Prime manages to do it without a Witwicky, Shia LaBeouf or Michael Bay in sight.
Pros
Beautiful and solid construction
Keyboard firmly connects to screen
Fast and responsive
Cons
Expensive
Keyboard dock is not included in the price
Touchpad a bit small
GOS issues
ADDENDUM
Asus recently responded to complaints about the device's GPS functionality by offering a free external GPS extension kit to boost the Eee Pad Transformer Prime signal reception.
"Although the Transformer Prime is not a professional GPS device, as part of our unwavering commitment to customers we are offering all Transformer Prime owners a free external GPS extension kit, called a dongle, which may help improve signal reception and optimize the user experience," stated the company.
"We are pleased to announce this offer as part of our commitment to customer service, but it does not replace, alter or amend any existing warranties you may have." Users seeking more detailed information about this offer, can
visit this site
. They were also encouraged to contact the local ASUS customer support hotline directly if experiencing GPS related problems.
"ASUS prides itself on delivering an unrivalled user experience, and we offer our sincere apologies for any inconvenience that our customers may have encountered," it added.

Beautiful and solid construction, Keyboard firmly connects to screen, Fast and responsive

Expensive, Touchpad a bit small, Keyboard dock is not included in the price