As Lexus is for Toyota, Qosmio is the premium brand product wing of Toshiba. The range has always prided itself in releasing performance focused notebook computers, in recent years moving into the gaming arena as well. We recently got our hands on the luscious Qosmio X500 gaming notebook, with the only question in our mind being, is it strong enough to take down the mighty Alienware M17X?
Design
The Qosmio X500 features quite an aggressive design, with blood red accents found throughout the device, making it clear that it's been developed to appeal to gamers. Glossy black and red plastic covers the notebook, which gives it an attractive appearance, but also means the palmrest in particular is going to attract some fingerprints. The back lid of the X500 features a subtle black pattern with the red Qosmio logo emblazoned in the centre.
The touchpad on the X500 sports a textured feel which helps prevent sticky fingers from slipping on it. It also supports multi-touch gestures and two separated keys for left and right clicking. Throughout use we were less than impressed with the touchpad though, with its responsiveness definitely not being the best in its class. But seeing as the X500 is basically a desktop-replacement, an attached mouse would most probably be accompanying it.
The keyboard on the X500 was also a mixed bag. Looking very beautiful from the outside and offering decent comfort, the flat keyboard didn't always perform as well as one would expect. While typing on the keyboard itself wasn't too uncomfortable, the flat keys (as opposed to chiclet keys) were still prone to some finger overlapping (pressing the wrong keys by accident). In addition to the standard keys, the keyboard also includes a numpad and some satellite media controls situated to the left of the keyboard.
These touch activated buttons came in very useful for controlling media applications, but during gaming for example it's easy for your fingers to slide over them by accident, suddenly muting the sound as you're sneaking through a dark corridor for example.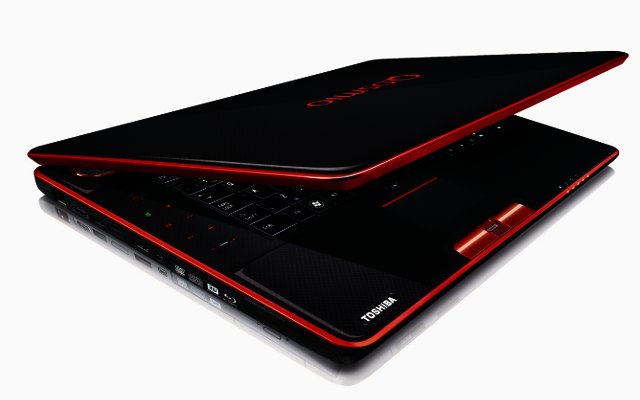 Display
Perhaps the most impressive aspect on the Toshiba Qosmio X500 was its display, in all its 1080p full HD splendour, this screen really blew us away. Already substantially larger than a standard notebook display, the 18.4" (46.7 cm) LCD display features TruBrite technology, is fully HD compatible, has a 16:9 aspect ratio and sports a maximum resolution of 1920 x 1080 pixels.
Credit to Toshiba for coupling this screen with a Blu-ray drive then. When watching Blu-ray titles the screen displayed wonderfully bright and colourful images time and again with no lag whatsoever present during playback. Add satellite media controls and dedicated video playback software from Toshiba into the equation and it's clear to see that the X500 is a movie buff's best friend.
Luckily the notebook is also blessed with a pair of Harman Kardon stereo speakers which provides audio quality far above that of an ordinary notebook.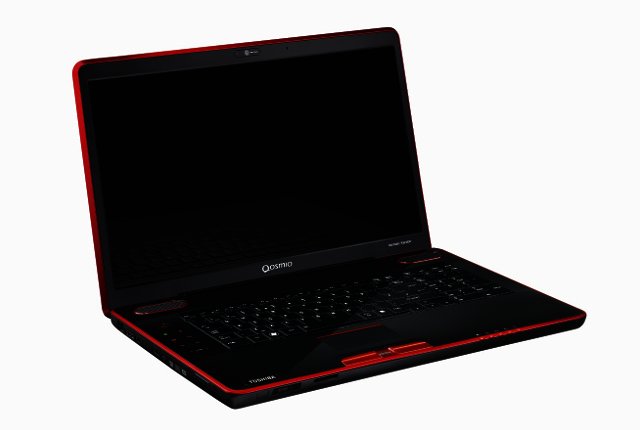 Features
So now we know that the notebook has a very impressive display, but that's not all that's required from a performance notebook. Internally the X500 is also a very capable machine, sporting some monster specs of its own to contend for its place in our performance rankings.
Doing duty on the processor side is a quad-core Intel Core i7-720QM CPU clocked at 1.6 GHz, while a massive 8 GB of DDR3-SDRAM and an included Nvidia GeForce GTS 360M GPU completes the main performance indicators.
These impressive specs proved they had the bark to back up their bite, with the X500 scoring a total of 9590 points in 3DMark06. This allowed it to climb up to second place in our performance rankings, with only the
Alienware M17X
posting a higher score (10874).
This great score was achieved in large part due to the advanced memory and GPU present on the device. So to get a more CPU-centric score we tested the device in Passmark where it scored a CPU score of 2958, a very high score, but one which pales in comparison to the 6212 which the
Asus N43SL
and its second generation Sandy Bridge i7 CPU recently managed to score.
As far as data storage is concerned, our test model was equipped with two 640 GB hard disk drives, but the X500 is also available with a 64 GB SSD if you want some real disk performance. Three USB 2.0 ports, one eSATA/USB combo port, one HDMI port, a VGA port, SD card reader and 5-in-1 bridge media port with FireWire completes the connectivity options. Our test version ran Windows 7 Home Premium 64-bit.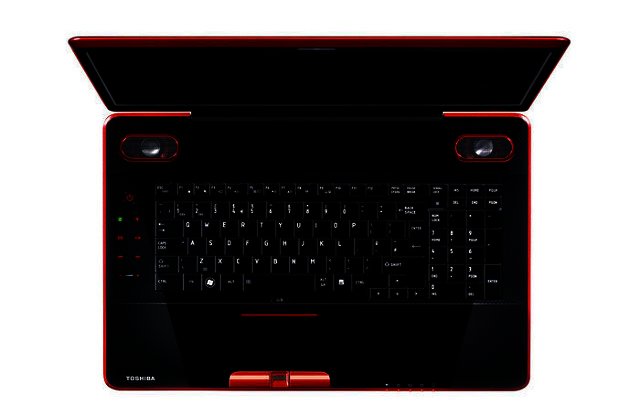 Additional features
A fingerprint reader is also wedged in between the touchpad's two keys, enabling users to introduce added security in the form of fingerprint logon if they wish. This can also be used in conjunction with the X500's HD webcam to set up a Bond villain-proof fingerprint and facial recognition logon feature.
A suite of Toshiba software also ships with the device. ReelTime helps you keep up to date with your multimedia assets by displaying a sliding history of what you've watched, Toshiba Assist attempts to simplify wireless connections while the Toshiba Eco Utility helps you conserve energy by displaying current consumption levels compared to levels when Eco Mode is activated. The device's eSATA/USB port can also be configured to allow devices to charge from it even when the notebook is in sleep mode.
The battery on the X500 fared quite well, giving us a tad over four hours of life on a single charge. During the test Wi-Fi was turned on and a couple of basic applications were open as well.
Conclusion
The Toshiba Qosmio X500 is a highly capable notebook which should be able to fulfill all of your multimedia and most of your gaming desires. With impressive specs and an aggressive design, it's sure to appeal to many performance notebook users. However we feel that some of its power will be waning in the coming months as the world makes room for Sandy Bridge. If you're looking for a decent gaming machine and an exceptional notebook for movie enjoyment, the X500 is it. It is currently selling for a recommended retail price of R21 999.

Great display delivers supremely beautiful 1080p Blu-ray enjoyment.

Its first generation i7 CPU, as impressive as it is, is going to start feeling dated quite soon.