For PC gamers it's a toss up between which is the more important input peripheral – the mouse or the keyboard. Logitech has already impressed us with its mice, such as the G500s (review) – and the G510s addresses the latter of these, bringing an array of nifty features to bear.
To start with, the keyboard is typically Logitech – attractively designed, without going overboard; solidly built but not excessively cumbersome. Indeed, from an appearance perspective, the G510s favours a sleek aesthetic as opposed to a heavy duty cumbersome one. It's also particularly ergonomic and logically laid out; another hallmark of the peripheral company that has been in the game for longer than we would attempt to calculate.
The keyboard is corded rather than wireless, and the cord was a decent enough length so that we didn't have any strain with it plugged into our rig. Nor though, was it so overly long that we found ourselves with excessive wire cluttering the desk or trailing around our feet.
All keyed up
We were also happy to see it only demanded one USB port, unlike the also excellent gaming keyboard from Razer, the Deathstalker (review), which eliminated two free USB ports right off the bat.
Along with a full numpad on the right hand side of the keyboard, the first thing you are likely to notice are the 18 'G' (customisable) keys on the left hand side. These are neatly arranged and separated into groupings of six keys each, and are intended to help players customise a slew of macros for use in MMORPGs for example. The twist here is that users can designate three macros per key, and switch between these on the fly using the M1, M2 or M3 buttons that are conveniently located just up the G keys themselves. This gives players up to 54 different possibilities in total (good luck remembering all of them though).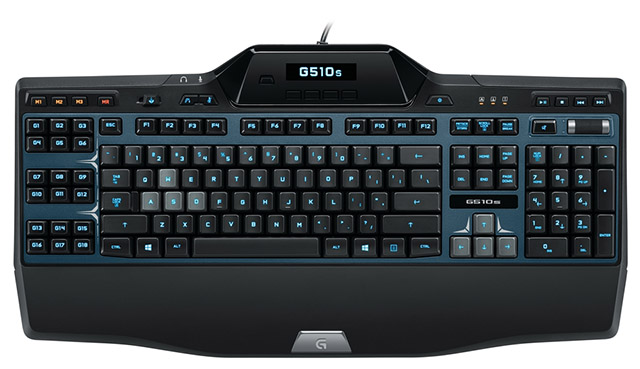 The G510s is a slick looking, and well thought out peripheral that we could certainly recommend to gamers, particularly those who have plenty macros in mind.
Moving on, it wouldn't be a gaming keyboard if there wasn't backlighting on the keys, and here, it was rather nice. Alas, it is either fully on or fully off; so it's a case of love it as it is or turn it off altogether. For our purposes, we elected to leave it on; the advantages of good backlighting on the keys far outweighed the disadvantages, especially in a dimly lit room. We were though quite frankly happy about the fact that the keyboard is not wireless and doesn't require penlight batteries, particularly as we imagine the backlighting and small LCD screen would otherwise make short work of our battery budget.
With regards to the screen, it's not too much to write home about, just a small, simple screen which displays your active user profile or displays alternative functions, including a stopwatch, clock, CPU and RAM usage and news headlines.
Key features
As for usability, the keyboard was very nice indeed. The keys have a satisfyingly deep press and a fair amount of springiness. The all important WASD keys and the directional arrows are not just a different colour from the rest of the keyboard, they also yield an entirely different tactile sensation, a bit like smooth rubber. This is for good reason – it helps them stand out from the crowd and helps users find them on the keyboard without having to look for them. It also is meant to enable greater grip from those who suffer from sweaty hands – not an affliction we have full need to test.
Nonetheless, we could feel the difference from a grip point of view, which can quickly become imperative in the heat of a multiplayer battle or good first person shooter. Logitech calls this their hydrophobic coating, a fancy way to say it's sweat repellant.
The keys also seemed to stand up well under heavier presses – as may be typical for players in the midst of a furious ingame battle, and registered the lightest of taps as well.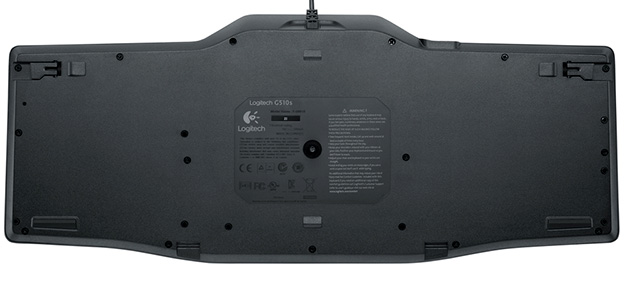 Our main, in fact, our only gripe with the keyboard was the size of its tiny legs on its back, which hardly raised the keyboard at an angle.
The devil is in the details
We further appreciated the small, useful extras that adorned the G510s – such as a responsive audio scroll wheel, a mute sound button, media buttons (play, pause, stop and skip) and thoughtfully, onboard jacks for headphones and a mic. Alas, there is not an additional USB port or two on the keyboard itself; a pity, because that is always a useful feature.
As you have no doubt gathered by now, we found the G510s to be a great all rounder, if you will pardon the pun, across the board. The one slight let down to us was that the back legs only gave the keyboard the most minor of lifts. For those who prefer typing and using their keyboard flat on their desks, this is not an issue, but if you prefer your keyboard to be at a slight angle and thus closer to your fingertips, you may end up being a little disappointed on this front.
That being said, the G510s is still a fantastic keyboard and certainly up to the usual high standard we have come to expect from Logitech's peripherals. In a nutshell, the G510s was a pleasure to work on, and it was easy to see how for those players who live and die by their macros, those programmable G keys would be a boon. The keyboard doesn't feel cheap, and nor is it; sporting a somewhat pricey, but not unreasonably so, RRP of R1 650.

Comfortable, deep keys, Responsive, Well built, Logically and accessibly laid out

Tiltable legs hardly lift the keyboard off the desk