<< PREVIOUS PAGE
NEXT PAGE >>
Much like gaming notebooks seemed to lead the way for PCs some years back, it seems like peripherals inspired by the rigorous demands of gamers are leading the peripheral space at the moment. A prime example of this is the Mionix Zibal 60, a keyboard designed for gamers, but that excels, if you will pardon the pun, across the board.
First off, keyboards take a fair amount of abuse, and not just from dirty fingers, but from users who like to strike the keys hard. They are also prone to a good amount of intensive use, especially if you are a gamer. For these reasons they need to be sturdy, and the Zibal 60 is certainly that.
Rest well
At 1.5 kg, the base is thicker and a fair bit heavier than most keyboards out there, which means it rests sturdily on one's desk. Additionally, it actually comes in two parts – the keyboard itself, and the detachable palm rest, a boon for those who have limited desk real estate to work with.
What I was happier to see is that the small feet on the underside of the keyboard lift the keyboard up a bit, so that it doesn't have to rest entirely flat on the desk surface, with keys being closer to one's fingers. And yes, it is the little details like this that make a big difference in daily use.
However, excellent build quality aside, it's really the keys themselves that are the star. The Zibal 60 boasts deep, responsive  key presses, I could definitely feel the Cherry MX black mechanical switches beneath each key doing their thing, providing for smoother strokes in both gaming and general use. It does though take a bit of energy and oomph to press them and get the most satisfaction. If you are the kind of gamer accustomed to shallow presses, then this might take a bit of getting used to. In my experience though, I loved being able to really slam the keys a bit, whether playing or more commonly, crunching out this review.
Additionally, each key seemed to offer considerably more traction than I have experienced on a standard keyboard, and an ever so subtle curved surface, which comfortably accommodated my fingers. What all this adds up to is a more luxurious experience overall, and certainly a far cry from what I had become accustomed to on other keyboards.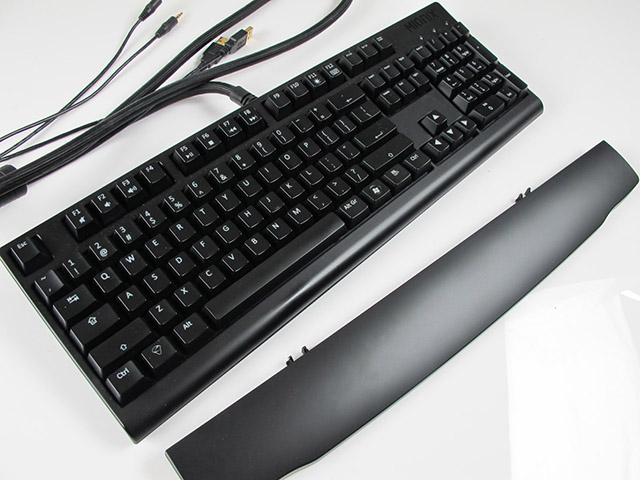 Ready for a fight
Some of the keys seem to protrude slightly higher than the surrounding ones, making them seem more accessible. Examples of this include the backspace key, the shift, enter keys and arrow keys, which here at least are given considerably more attention than most commonly found.  
Also on offer is backlighting, and on this front, the Zibal gives a bit of choice. You can either switch the keyboard backlighting off entirely (so long as you promise to explain why you would want to), light up just the WASD keys, or illuminate all the keys. Furthermore, the brightness of the illumination can then be fine tuned in three levels, from dim, medium to bright.
While the keyboard requires two USB ports to operate, at least it effectively returns them to you, sporting two USB 2.0 ports (unfortunately not USB 3.0) on its underside, along with 3.5 mm microphone and audio ports.
This is certainly convenient if you tend to shove a large rig under your desk, providing immediate access to somewhere to plug in headphones without getting caught up in the resulting tangle, annoying at the best of times but much more so in the midst of a heated gaming session.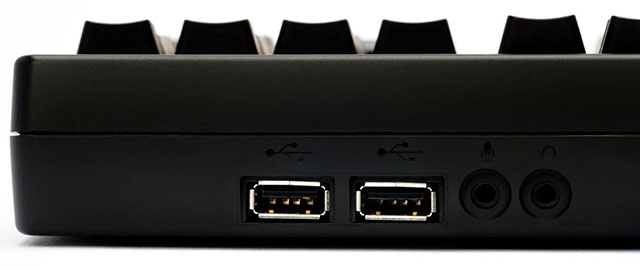 Put a tail on him
As a wired keyboard, the Zibal 60 comes with quite a 'tail' at 1.5 m. It's one of the thickest cords I've seen in a while, and it contains both USB connectors as well as the audio and mic inputs. That being said, I didn't find it as much a bother as a corded mouse can be; and simply tucking it out of the way behind my PC meant it didn't get in my way.
Surprisingly, the keyboard doesn't boast dedicated macro keys, although this is compensated for by the presence of a six key rollover enabling up to six simultaneous keystrokes with all keys. That being said, I suspect that the keyboard is most targeted at dedicated FPS or action-adventure players rather than your average MMO crowd. It certainly looks the part, all sleek and deadly, poised and just waiting to strike.  
Additionally, media controls are accessed via using the function key, or rather here, the Mionix action key, instead of having dedicated controls of their own. Is this an oversight? Perhaps. However, it seems like the keyboard's purpose is to keep the keyboard as lean and free from extraneous clutter as possible, which it certainly accomplishes.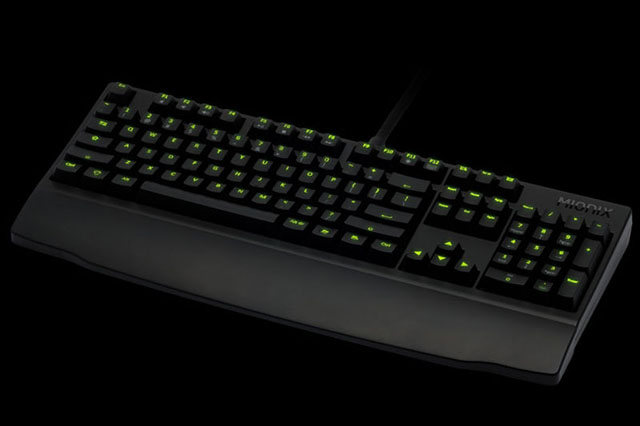 Ready? Set. Go!
What I did appreciate is that the Zibal is fully plug and play; setup was limited to plugging it in and figuring out how to light it up (that Mionix action key comes into play). There is no extra software needed to have it up and running, it worked out of the box.
As much as I can see the benefits of the Zibal's features to gamers, I also found that the keyboard was a pleasure to use for general typing as well. Those who make their living typing documents, articles, or even that novel could do a whole lot worse than investing in one.
Perhaps the biggest stickler on the keyboard is its price – as a premium peripheral, it costs a pricey R1 950. Nonetheless though, for discerning PC players and others who appreciate a premium typing experience, it's a winner. It is available here.
*Full Disclosure: This keyboard was provided as a seeding unit for review purposes.
<< PREVIOUS PAGE
NEXT PAGE >>

Terrific key press, Solidly built, Beautiful backlighting, Comfortable keys

Requires two USB ports, No dedicated media controls, Expensive