There was a time, not too long ago, when projectors were routinely large, loud cumbersome devices, and dragging them from one presentation to the next was literally a pain in the back. A clear indication of how far tech has come is the P3X Pico Projector, which is the exact opposite.
The best indicator of just how portable the projector is comes from laying it side by side with Samsung's latest Galaxy Note 4, which is both wider and taller than the P3X. Although the latter is a bit thicker than today's smartphones, size wise, it's easily the equivalent of a 5" smartphone, and thus all too easy to slip into a notebook bag, messenger bag or, if you are of the female persuasion, your purse.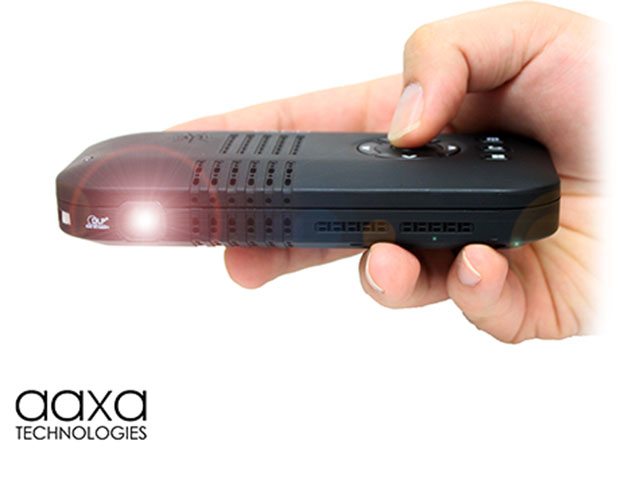 Small and mighty
Its small and convenient dimensions aside, that's not all the P3X has going for it. The projector is also refreshingly straightforward to setup and operate. Navigating through the device's features is accomplished by a directional pad on its top. This use of this carries through from navigating a simple menu to also skipping through and playing back music and movies through the integrated media player
Indeed, the last thing you want before an important presentation is having to fuss with your tech gear, and the P3X certainly seems to have been designed with this in mind.
The projector is, to its credit, rather versatile. Users can project various media – photos (JPEG), 720p movies (mp4) and music (MP3) – from an array of sources. The latter include flash drives, a microSD card as well as devices sporting an HDMI port, as found on notebooks and cameras.
While the projector does have a power cable of its own, it can also operate, for up to two hours, off its built in rechargeable battery alone, which gives just enough time to watch an average movie before you have to plug it in. Granted, it won't last through a single sitting of The Hobbit or Lord of the Rings trilogies, but then again, those kinds of attention-taxers are hardly typical.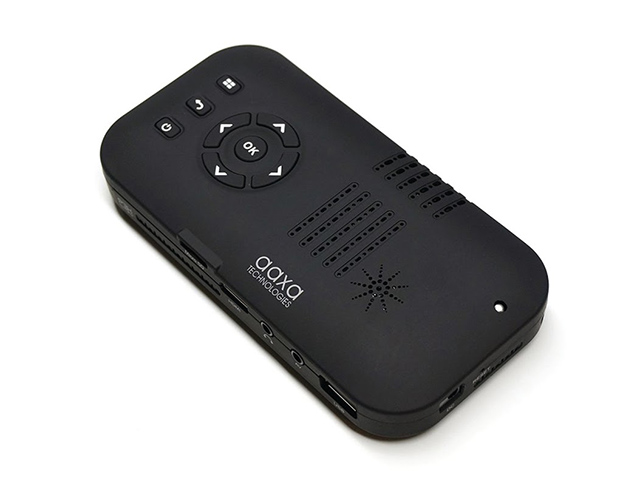 Bearable lightness of being
Features and versatility are all well and good, but when it comes to projectors, the brightness of its beam is paramount. Happily, on this front, the P3X doesn't disappoint. It emits 70 lumens of light, and in testing, was found to be not too shabby at all. When pushed to the max, according to the manufacturers, the projector is capable of producing an 80" image at 854x480, it's far more advisable to keep projected images to a modest size.
Instead, I found the projector dished up a perfectly bright and clear 40"-46" view without complaints or eye strain. Of course, the darker the room the better the results; having said that, even in a moderately ambiently lit room, I was quite impressed.
Speak up
Admittedly, the projector gets a little warm after some use, but not overly so. More importantly, I found it was pleasingly quiet, and certainly won't drown out the sound coming from its own built-in speakers. Don't expect too much from the onboard speakers though, I found music playback at least to be fairly loud but also somewhat tinny. Also appreciated is that one can opt for a more private auditory experience, thanks to the headphone jack. Thankfully, the sound through a decent set is notably better, with the tininess all but disappearing.
Ultimately, there is much to like about the projector, from its portability and ease of use, to its bright beam and rather good images it provides. If there was one standout flaw (no pun intended) I would say it came from the included mini tripod, whose legs were a bit on the finicky, reminding a little of a waiflike supermodel navigating the catwalk in 6" stilettos. Additionally, these made leveling the image a bit more of an inexact science.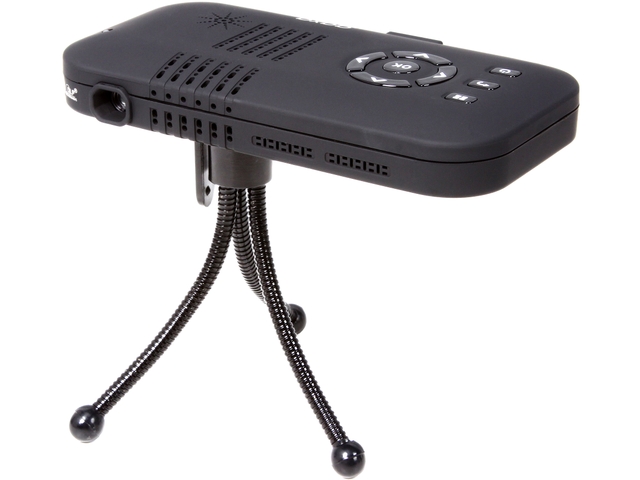 Thankfully, this is a minor, and easily addressed flaw. The legs of the tripod (included in the box) are detachable and thus the projector can be mounted on a sturdier alternative. For road warriors, travel enthusiasts who want an instant projectable media experience wherever they are, or those who need to visit clients and do presentations on the fly, the AAXA P3X Pico Projector is all too easy to recommend.
It has a RRP of R5 500 and is available at iStores, distributed through Above & Beyond.

Portable and compact, Easy to use, Versatile

Tinny onboard speakers, Wobbly mini tripod