Genius brings some added oomph to the desktop sound experience via its GW-G2.1 1250 speaker system. This 2.1 speaker system is aimed at gamers who crave more sound power and deeper bass levels than their standard desktop speakers are capable of delivering, but without forking out too much cash.

Design

The design of the SW-G2.1 system certainly sets it apart from the competition, courtesy of the angular shape of the satellite speakers, as well as the distinctive red and black colour theme used on the control box and satellite speakers. Both the 3" satellite speakers sport a high gloss plastic finish and hook holes at the back, making it possible to hang them on a nail or hook on your wall.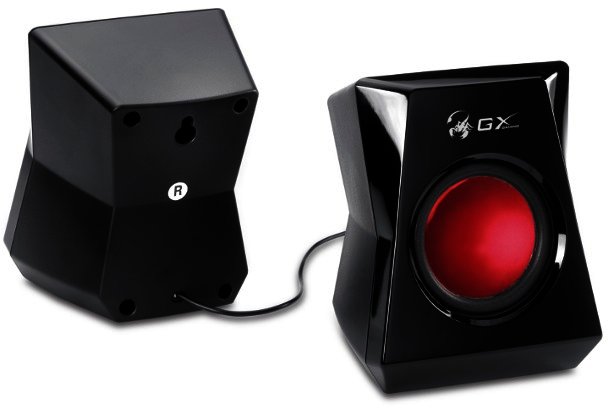 Genius did not utilise the same glossy plastic finish on the 5.25" MDF (medium density fiberboard) wood cabinet subwoofer, which sports rubber feet. These feet assist in holding it in place on your desk or carpet whilst pumping out tunes. They further help keep vibration as well as annoying rattling sounds to a minimum, when the subwoofer is standing on a hard surface, such as a tiled floor.

A design element we don't see very often on the 2.1 speaker systems we review, is the individual control box that features separate control knobs for volume (also used to turn the system on or off) and bass knobs.

Right underneath these knobs, you can find a 3.5 mm audio jack for a headset to enable a more personal listening experience, as well as another port for your mic. At the back of the control box is a third 3.5 mm audio jack that functions as an auxiliary input, allowing users to play sound directly off of their smartphone or MP3 player.

While setting up the speaker system, one needs to connect the subwoofer and satellite speakers to the back of the control box via a multiplicity of wires, but this is relatively easy to do as all the connections, along with the ports they fit into, are colour coded. All these wires do not make for the neatest setup and easily get tangled up in other nearby cabling, such as your PC and monitor's power cords or cellphone charger cable, for instance.
Sound power and quality

As an entry-level gaming sound system the SW-G2.1 speaker system impressed with its booming sound, whilst doing what it was made for - providing a much improved gaming soundtrack. We played Crysis 2 and Sid Meier's Civilization IV, with the Genius speakers providing a balanced- and more detailed sound experience, which featured a deep and rich amount of bass thanks to the subwoofer.

Having the sound turned up to halfway whilst playing games was more than adequate since this results in excellent volume levels, due to the system pushing out an impressive total of 38 watts (RMS) output power.

However, when listening to music or watching a movie, one does on occasion feel like cranking the volume higher. As the volume dial ventures deep beyond the halfway mark, you do start to notice some distortion creeping into the sound, which puts a bit of a damper on the listening experience.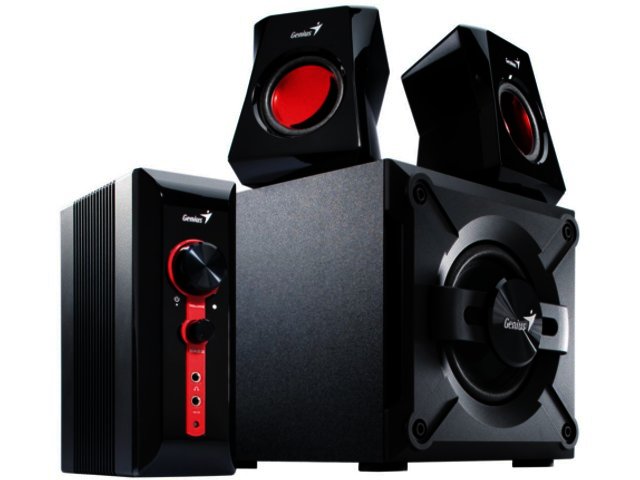 Final word

Genius' speaker system allows gamers on a tight budget to bring a much enhanced sound experience to their PC, compared to your run-of-the-mill desktop speakers. PC users who utilise their computer as a multimedia entertainment hub should be aware of the distortion at the top end of its otherwise impressive volume spectrum. The SW-G2.1 speaker system goes for a recommended retail price of R550 (incl. VAT). Call TVR Computers on 011-807-1390 for more info.

Pros:

Eardrum-damaging volume levels; good bass levels; decent low and mid-range sound quality.

Cons:

All wired setup means cabling can be messy; distortion of sound at the higher volumes.

Eardrum-damaging volume levels; good bass levels; very decent low and mid-range sound quality.

All wired setup means cabling can be messy; and distortion of sound at the higher volumes.