FULL DISCLOSURE: The review shoes were received from Under Armour South Africa and not returned.
We recently reviewed Under Armour's Flow Velocity Wind 2, a shoe meant for runners looking to up the speed. The apparel brand's HOVR Machina 3 on the other hand is aimed at those running longer distances with a more comfortable pace.
Upper and weight
To start, the Machina 3 is solidly built, with everything in place to keep the foot secure, including a redesigned heel support system.
Although tight, my foot did not slip out even without the laces tightened, I did not experience chafing as with the first model, with the Machina 3 running true to size. The tongue stays in place although it could have extended past the four string loops (two on each side) for the laces on the inside of the shoe. These unfortunately form little ridges underneath that need more padding for comfort. With two layers forming the uppers, the shoe could run hot in summer.
The TPU heel cage extends around the bottom of the heel but not all the way to the top, making it firm but not too restrictive. The heel collar curves outwards, making it both a bit easier to slip in your foot and helping to prevent chafing on the Achilles.
As far as weight is concerned, the Machina 3 is definitely on the heavier size, with the size 10 standing at a chunky 354g. It's heftier than Puma's Magnify Nitro (323g) and its trail running Voyage Nitro (345g), also more than the first Machina at 343g (and also more than version 2, although I don't have the exact size 10 weight).
Midsole
The Machina 3's midsole allows very little in terms of flex, both horizontally and vertically, making for a sturdy shoe. For some this might be the shoe's biggest benefit, for others, more of a concern. The consequence of the stiff midsole is that you're in for quite a hard ride.
Under Armour notes the inclusion of dual-density HOVR cushioning, with a firmer forefoot countered by a softer heel (wrapped HOVR as seen in previous versions). During my runs there was little to differentiate between forefoot and heel, which I would imagine is the intended outcome for a smooth transition. But it doesn't escape the fact that in my experience the midsole is hard with not much kick or bounce to help along the way.
To note too is that for this iteration Under Armour dropped the previous versions' Pebax propulsion plate. It's a strange omission seeing how popular carbon plates have become for extra kick, especially on higher-end shoes.
Grip on the outsole was good and abrasion seemed in line with other shoes, if not slightly less. If you are heading off-road, the Machina 3 will definitely manage, although the stiffer midsole will mean a bumpier ride. With an 8mm drop (28mm-20mm forefoot), you're striking on the heel.
Connectivity built in
Under Armour of course has a trump card hidden away in the sole of the shoe - the Bluetooth connected chip which provides analytics and coaching using the Mapmyrun app. It not only provides a summary of your run (distance, duration, pace), but more interestingly, also a form summary. This includes averages of your cadence, stride length, ground contact time and foot strike angle, data that's very much shoe related.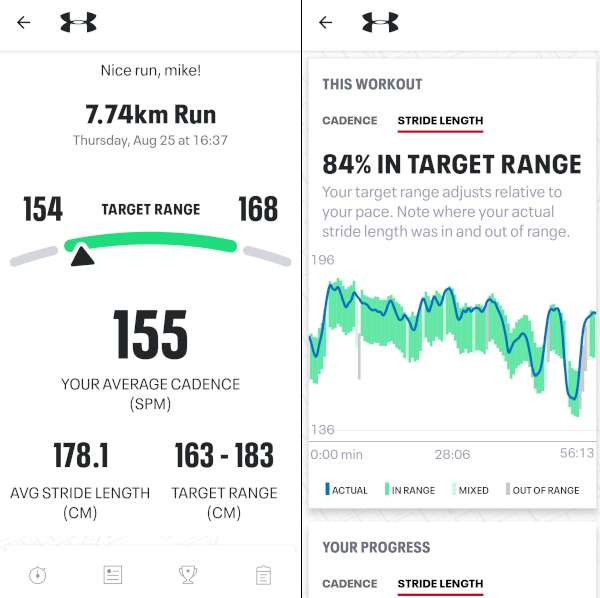 If you run with a smartwatch or your phone, you'll find the Machina 3's summary of your run not all that accurate. It often falls short of the distance measured through GPS and adds on time, but if you are a runner who prefers to run with nothing but the house keys then this will at least keep a log of your runs. However, the form analysis stats are what the shoes measure best and should offer insights on what changes during fast runs and slower ones.
The app also offers coaching tips, which emphasise your average cadence and getting this into a target range, with stride length also important. After your runs there are these coaching tips provided depending on what happened during the run. The one tip provided, for example, was "Aim for a stride length that allows your body to remain in an upright posture, with your feet landing underneath your hips not in front." There's also a data field where you can check your progress over time, showing your cadence and stride length (alongside pace) over the last eight runs.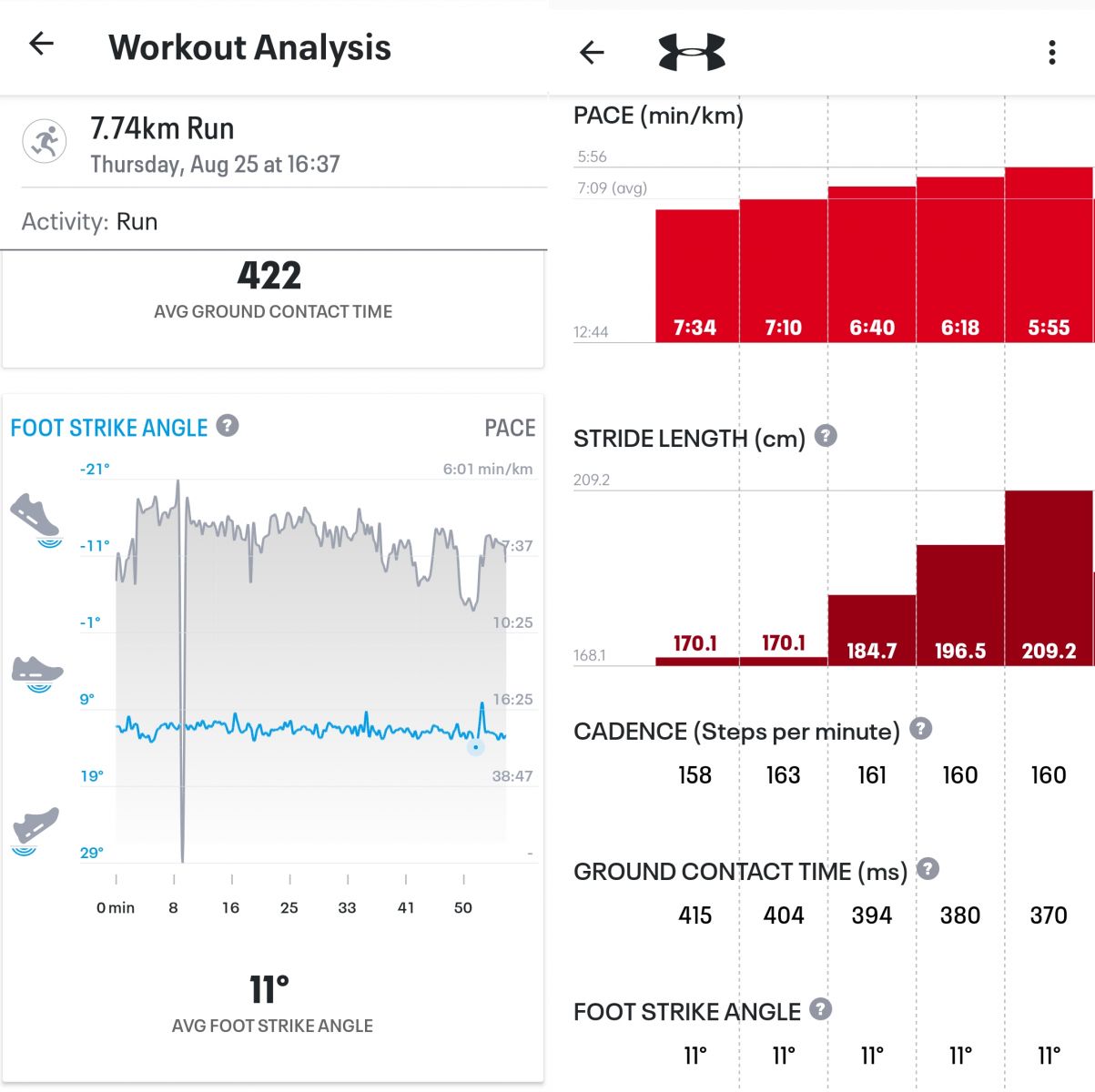 To get the benefit of GPS accuracy alongside the form analysis stats, you should pair the Machina 3 with the Mapmyrun app during runs, which should be okay if you already run with your phone.
Although you have the option of Form Coaching audio during your run (with audio provided either through your phone or connected earbuds), make sure that you manage the intervals this audio feedback is provided for, alongside what type of stats are needed in the feedback, otherwise it might just be too intrusive. I prefer listening to audiobooks and have turned this off, but I would recommend at least trying the coaching to see what you start noticing - it definitely made me more conscious of cadence during runs.
Conclusion
While my 93kg frame appreciated the midsole's ability to take the impact while running hard, the Machina 3's austerity in regards to kick and bounce was less appealing and I realised that I need a more comfortable run.
If you've struggled with running shoes with midsoles that were too soft/bouncy and you are now on the look-out for something firmer, well the Machina 3 is the shoe for you, plus it's also easy to see these doing well in the gym too. Keep in mind that with the Machina 3 being on the heavier side and without a carbon plate, you're not going to break any records when it comes to pace.
The UA Machina 3's asking price of R3 299 is made a tad sweeter with its built-in connectivity features and training options.

Solid construction, built-in connectivity

Stiff midsole makes for a hard ride, heavy