Earlier this year, BlackBerry unveiled its Leap smartphone at MWC 2015. It garnered a somewhat mixed reception, mainly because the company has lost some of its influence in recent years. That said, BlackBerry has made a series of rather strong devices, starting with the Z3 (review), and entry level offering that proved a great foil for the BlackBerry 10 OS. That was followed up by the peculiarly square Passport (review), which truly surprised in terms of its high level of productivity focus.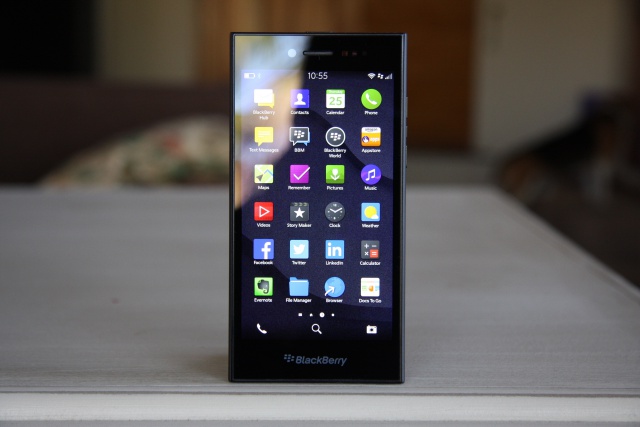 A Bit of Both
Now nestling neatly between the two, is the Leap, which BlackBerry has curiously billed as a device for "Startups", or young entrepreneurial types. Marketing slang aside, the Startups title feels a pretty apt one when you've got the Leap in hand, particularly as it takes care of all the core components a mid-range smartphone user has. Similar in form to the Z3, the Leap is a pretty heavy slab of a device at 170 g. The weight however does not make it unwieldy, as it feels well balanced when handled.
It also looks a step up from the Z3, with the textured plastic back cover of the Leap feeling stronger and more hard wearing. It also houses the Leap's 8 MP primary camera, which does sound a bit underpowered for a mid-range device, but BlackBerry have been able to produce a camera that yields relatively strong images. Shooting outdoors proved a pleasant experience, as the Leap's camera has a quick autofocus and deals with light well. All in all though, the Leap's camera shoots well given its mid-range status.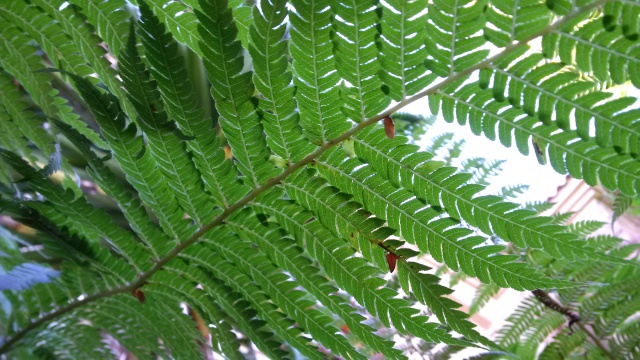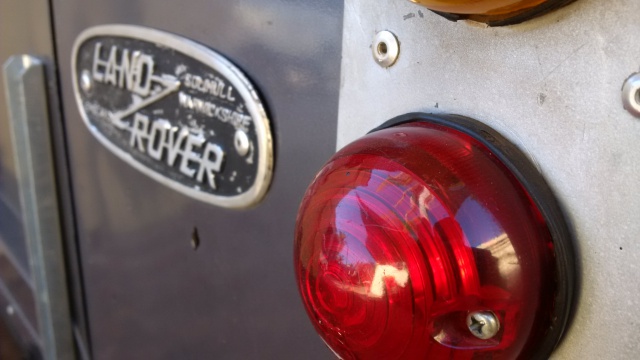 Sample Images.
Front of House
Shifting things back front, the Leap features a 5" (720x1280) display which is quite sharp, registering a 294 ppi pixel density, and proving one of the better screens I've encountered on a mid-range smartphone of late. As such, it serves as a great way to get better accustomed to the world of BlackBerry 10, which still has a few aspects to get use to, with the lack of a conventional back button being one.
Also, switching between apps take some to adapt to, with BB 10's Hub remaining its focal point. Having all one's messages, emails and social media feeds in one seamless view is certainly helpful, but it can look a tad cluttered at times. That said, with greater use BlackBerry Hub becomes a welcome productivity tool.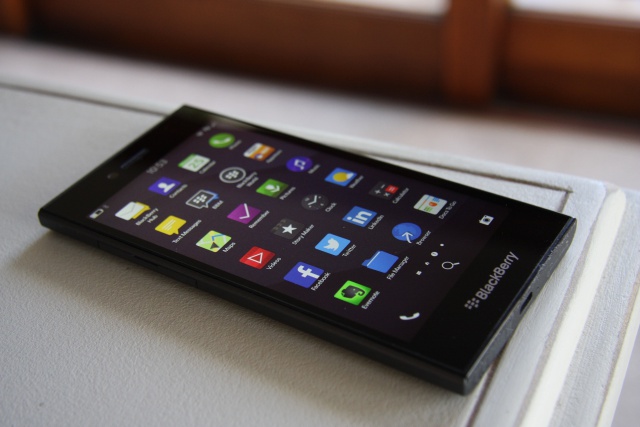 Underneath It All
Bringing BB10 OS to life on the Leap's screen is a solid range of internal specs. The first is a dual-core Qualcomm Snapdragon S4 Plus, which clocks in at 1.5 GHz. A modest mid-range processor, BlackBerry has given 2 GB of RAM to work with, giving the Leap a rather speedy level of performance. This was backed up by the benchmark tests we put the Leap through, scoring a 5007 on 3D Mark's Ice Storm Unlimited. To put that in perspective, it outscores Samsung's Galaxy A5 (review), one of the best mid-range smartphones I've reviewed this year, which registered a 4390.
In terms of onboard storage, the Leap has 16 GB at its disposal, which should prove enough for the contacts, messages and emails of any fledgling "Startup". Should that prove insufficient, there's also a microSD slot for up to 128 GB.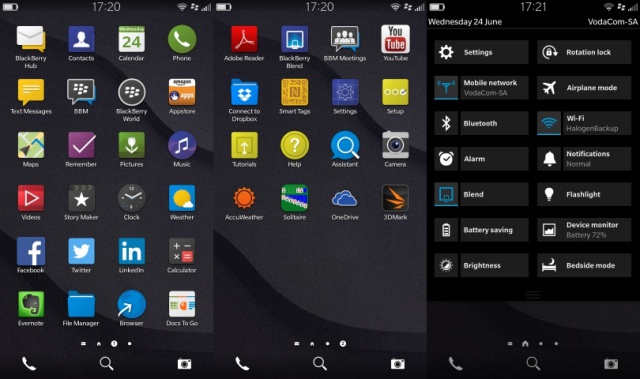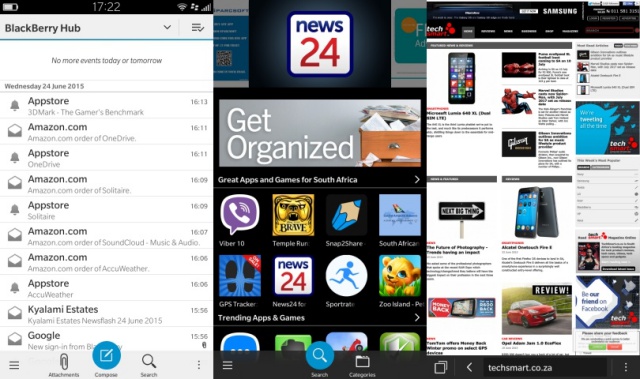 A further look inside the innards of the Leap will reveal a non-removable 2800 mAh battery. Good for a full day's use under a full charge, the Leap's power proves capable of handling heavy duty multitasking, although the device did heat up quite a bit when I downloaded multiple apps or ran benchmark tests. During normal everyday use however, the Leap's back cover remained relatively cool to the touch.
Final Verdict
As an everyday device, the Leap truly thrives, armed with a great screen and strong processing capability, the "Startups" it's intended for will have a solid mid-range smartphone.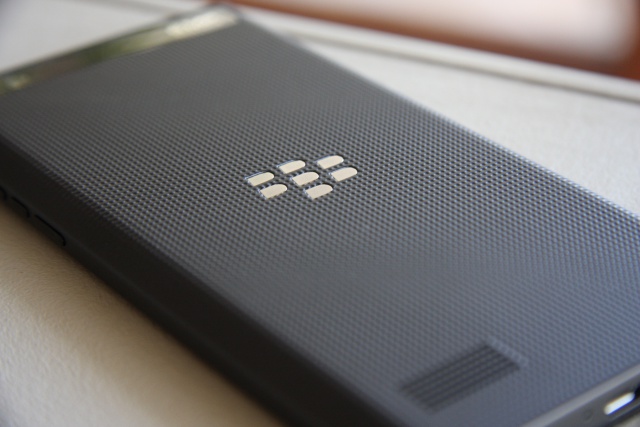 Added to that, BlackBerry has also designed the Leap to thrive in the enterprise space, with embedded encryption software, and anti-malware protocols to keep it well protected. It also has BlackBerry Blend going for it, which I first encountered, and enjoyed for that matter, on the Passport. For those unfamiliar, Blend is a PC/Mac application that allows users to bring all their smartphone notifications to their desktop, and action items remotely in an effort to improve productivity. As such, BlackBerry Blend is a great tool, giving the Leap a strong footing on three different fronts - Social, Enterprise and Productivity.
Available for purchase via Vodacom for R4 000, the Leap is easily one of BlackBerry's best all round performers to date, with its price tag making it even more so.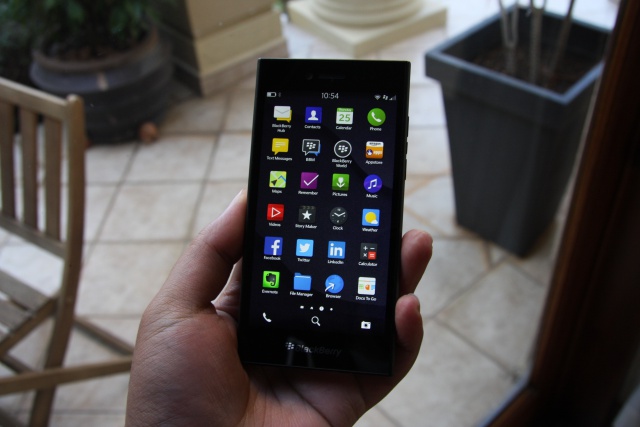 Well built; Solid all round specs; Strong price point; Rich enterprise ecosystem

A tad heavy; Heats up slightly; BB10 OS not for everyone