There are certain things that the South Korean manufacturer always seem to get just right. Screens for one is an area they excel in, as each device we've tested always features a clear and crisp display. Processing power is another, whether it be a flagship like the S5 (review) or Note 4, or a lesser specced option such as the S5 Mini (review).
Conversely however, build quality has proved a particular sticking point, with Samsung's penchant for plastic sometimes marring what is an otherwise great device. This is a big problem that the Galaxy S5 suffered from, as its dimpled plastic rear failed to distract from the overall cheap feel of the device.
Change is afoot
Having sufficiently vented frustrations now, I am glad to see that Samsung is starting to turn the corner. This change first happened with the release of the Note 4, which featured a genuine aluminium frame, which may seem like a small measure, but made a vast difference in the premium feel of the device. Since then, it seems like more Samsung devices will bare the same frame, as evidenced by the Galaxy A5 that landed on my review desk a week ago.
The A5 may not be all metal and glass, but the enhancements in build quality are instantly noticed and equally appreciated, giving this smartphone a foot up on its plastic heavy predecessors.
Billed as a mid-range device, the Galaxy A5 feels anything but, and looks rather handsome with its ultra simplistic design. Indeed, the often overused axiom that less is more certainly applies, and in my opinion the A5 is all the better for it. The review unit is Pearl White (Midnight Black is the other colour option), and I must say that it is one of the better looking Samsung devices I've reviewed in recent months, with the Note 4 only just edging it.
Sharper image
Up front we've got a 5" Super Amoled display (720x1280). As with most Samsung smartphones, the display is vibrant, picking up all the necessary detail and flecks of colour while viewing videos or purusing images. From this standpoint, those highly stylised Galaxy A series ads start to make sense, as the A5 (along with the A3 and soon to be released A7) is designed for users who give multimedia consumption top billing. No idea who I'm talking about? The type of user that will use their smartphone to capture and immortalise a moment or situation, before trying to enjoy it themselves, i.e those constant Twitter updaters, Instagram posters and selfie takers.
This notion of targeting multimedia users extends to the rear of the A5 as well, with a 13 MP primary camera fitted on the back. Speaking of the back cover briefly, it may be plastic, but it feels solid and well constructed, serving as another measure for Samsung learning from its mistakes. Back to imaging now, the A5's 13 MP camera is one the best I've used recently, with the lens capturing all the necessary light and nuances to make photos look truly sharp. It proved equally adept in low light conditions, and features a snappy autofocus. Up front, Samsung has gone for a 5 MP version which too works well, although it does take a while to adjust in darker confines.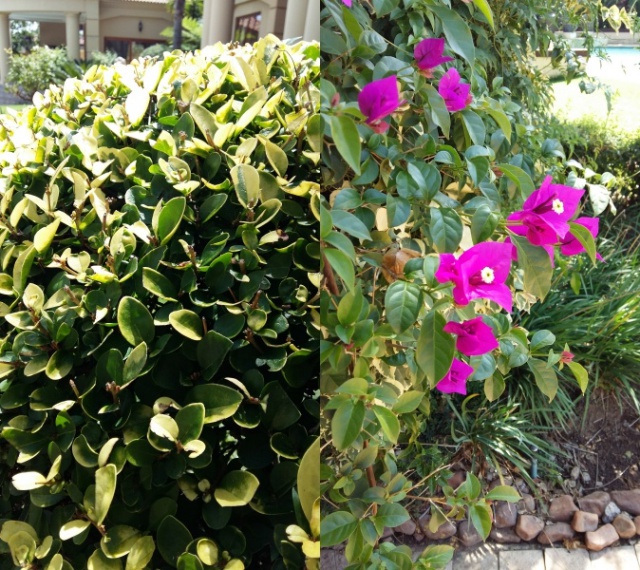 Sample images
It may sound superficial that Samsung has identified a specific demographic of user and designed a device for them, but to my mind, it shows that Samsung is fully aware of its users needs, giving greater thought as to what goes into their devices.
Able performer
On the processing front, the A5 performs ably. Samsung has opted for Qualcomm's quad-core Snapdragon 410 chipset (quite standard for mid-range devices), clocked at a respectable 1.2 GHz. If that seems a little underpowered, Samsung has paired it with 2 GB of RAM to up the processing capability. This setup proved a smart choice while benchmarking, as the A5 outperformed its similarly specced S5 Mini counterpart.
I was also quite pleased to see that some of the excessive Samsung bloatware has been done away with for the A5, with only Samsung Essentials applications being present. Powering up the A5 will reveal Android 4.4.4 (KitKat) running as its native OS, which too performed with welcome fluidity and ease of use. When it comes to battery capacity, a 2300 mAh unit has been fitted to the A5, serving up a solid day's worth of use under when constantly put to work. Also included is 16 GB of onbard storage, with a pin-push microSD slot good for up to 64 GB.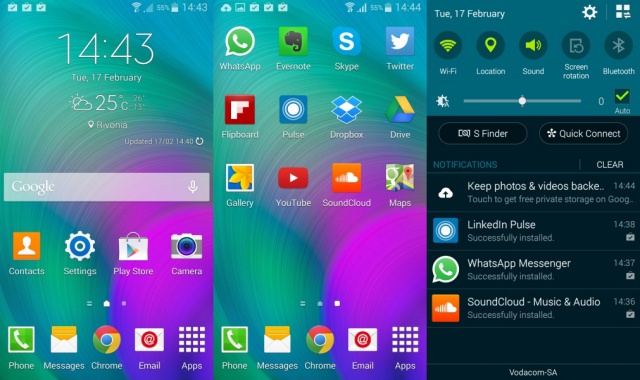 On the whole, the Galaxy A5 has proved to one of the best mid-range Android smartphones out there at the moment, with its solid mix of performance and multimedia functions producing an enticing offering at R6 500.
Whether or not purchasing the A5 is worthwhile is still up for debate, but that is only because the larger 5.5" A7 is expected to land in SA by the end of Q1 2015. If however the 5" form factor is large enough for your needs, the A5 has certainly set the early benchmark to which other mid-range Android smartphones should be measured.

Solid unibody design; Excellent camera for mid-range smartphone

Touch screen unresponsiveness at times