One of the most important features of a touchscreen smartphone is arguably its screen, and LG is hoping that the Optimus Black P970 has what it takes to outshine the competition.
Design Duty

Today's smartphones can no longer just impress performance wise, they have to look the part as well. With its all black front and aluminium back, the Optimus Black gives the impression of being slick, sleek, and stylish. Furthermore, the Optimus Black is thin and remarkably light, considering its large 4" screen, which seems to have become the standard amongst smartphones of this class.

Despite measuring 122 x 64 x 9.2 mm, which is basically the same size as the Samsung Galaxy S, the Optimus Black somehow comes across as a bit more compact. Additionally, its thin frame and gentle curvature of the back, which the company seems to favour on its phones of late, make it comfortable to hold.

Furthermore, the Optimus Black's thin profile, coupled with its low weight, made it easy to tuck into a jeans pocket and forget about, without the uncomfortable bulge that some thicker than average devices brought.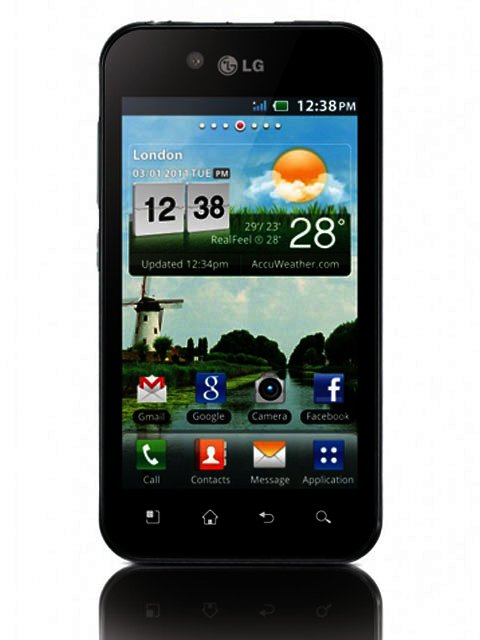 The one feature we appreciated the most was the bright screen
Screen Sheen

The Optimus Black's standout feature is arguably its brilliant NOVA screen. With a screen resolution of 480 x 800 (pretty standard on smartphones these days), LG has asserted that the phone's 700 Nits of brightness (the iPhone 4 is 500 Nits) affords true blacks and whites as well as better performance in sunlight. We certainly found the smartphone's screen to be a pleasure to read off of, offering up vibrant colours, vivid video, and a clear browsing experience both on line and when using the included Facebook for LG and Twitter for LG apps.

While at 4" it is not quite as large as that found on the Samsung S2 (4.2"), this didn't detract from the fact that the screen is both beautiful, sharp and offered pleasing contrast, with vivid and saturated colours.

The biggest problem small mobile devices have is that, depending on the quality of the screen, working on them for long periods tends towards making us feel like we are squinting, or trying to read text that is just a tad too small. While this can be an annoyance to most, for people who have problems with their eyes, this is a considerable concern, and one that is too often overlooked when smartphones are made smaller to be more appealing.

On the Optimus Black, this wasn't an issue at all due to the viewing ease offered by the bright screen, and made us happy to grab our phone for our daily, or more truthfully, hourly, regime of checking our social network feeds and emails. Moreover, the screen performed far above average in bright sunlight, which let's face it, is where you are most likely to need to see your phone's screen clearly.

Performance Power

Of equal importance, and particular interest, is that this mid-range offering matches the Galaxy S (i9003, not i9000 version) performance wise, which came as little surprise, since it packed the same speedy 1 GHz Cortex-A8 processor and PowerVR SGX530 GPU on the TI OMAP 3630 chipset. This also accounted for its almost identical scores when running SmartBench 2011 – the Optimus Black scored 829 and 1922 on the Productivity and Gaming Index respectively.
While the Huawei IDEOS S7 Slim bested the Optimus Black on the Productivity Index, with its score of 1121, the Optimus Black placed well ahead of that smartphone in the Gaming Index, where the IDEOS S7 scored a paltry 848 by comparison.

Additionally worth mentioning is the gigabyte of internal storage, along with an included 2 GB MicroSD card. This could be supplanted by up to 32 GB extra storage with a larger capacity card. Along with the 512 megabytes of memory, this clearly lifted the phone into the upper end of the mid-range. More importantly, this resulted in a smooth, stable and responsive experience of the onboard Android 2.2.2, which offered little to no lag between gestures and their responsiveness. The one curiosity is why - despite the capable processor - the Optimus Black does not come with Android 2.3 (Gingerbread).

Nonetheless, Android 2.2 performed as well as expected. Seven home screens are provided for by default, with no lag experienced when scrolling between them. LG has also opted to provide the stock Android experience, rather than overlay it with their own UI interface as on HTC's and Samsung's smartphones. It provided the interface with a welcome degree of familiarity and a good dollop of ease of use, which was a welcome surprise.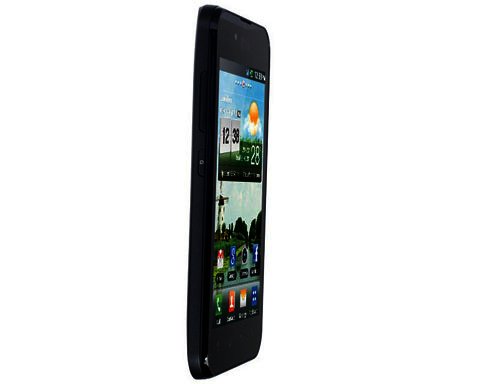 The smartphone offered a familiar Android 2.2 experience
Features Fantastic

While navigating the Optimus Black felt instantly familiar, that did not render it ordinary or boring.
In part, this was due to how well the phone coped with ordinary tasks. Foremost amongst them was the phone's photo capturing capability. The Optimus Black actually has two cameras - a two megapixel front camera for video calls and a five megapixel back camera for photos. Firstly, photos and video displayed on the smartphone looked pleasing to the eye, which is little surprise given the quality of the screen. What was a surprise was how responsive and ably the phone camera performed indoors.

Photographing was a one-touch process, and the resulting images were surprisingly sharp and contrasty. The onboard camera further seemed to cope well with less than ideal light, and most impressive of all, focused quickly and smoothly on our subjects - indoors and out. Furthermore, the integrated LED flash added enough light to an indoor scene without washing out highlights completely.

Additionally, once taken, the photos can be zoomed into using multi-touch, and shared via Bluetooth, Picasa, Messaging and Email (Google Mail receives its own dedicated option). Additionally, photos can be uploaded to YouTube and MySpace as well as to Facebook and Twitter using the Facebook for LG and Twitter for LG apps respectively.

While browsing the internet has never been the ideal experience on a small screen, the Optimus Black performed ably here on the included stock browser. Multi-touch zoom was supported, and the phone provided a fast and stable browsing experience using Wi-Fi.

Small Details

However, it is the small details, the often overlooked features that we liked the most. We were happy to see that the power button - which is the one button that is most frequently pressed - was slightly raised rather than indented, which can quickly become painful for those of us who aren't born with toothpicks for fingers.

A second small touch which we appreciated nonetheless, was the discrete, sliding cover which hid the power jack on the top of the phone. Additionally, removing the back cover to install our SIM card and access the MicroSD card slot took a couple of seconds, and did not entail a wrestling match with our device to grant us access to its innards.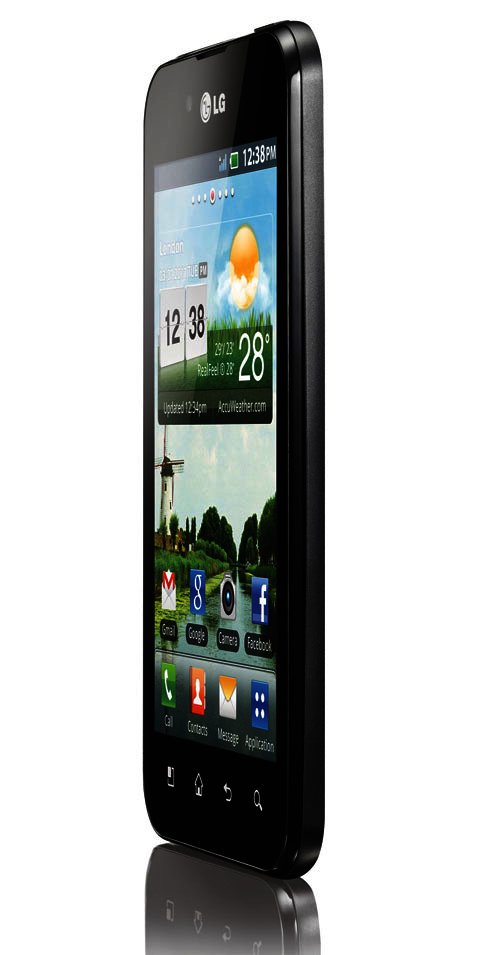 The Optimus Black has a pleasingly thin profile
To the point

At a RRP of R4500, the Optimus Black is neither cheap nor top of the range, but as the saying goes, you get what you pay for, and from beginning to end, the impression it left us with is that you are getting a great deal of smartphone, one that would have been seen as top-end model just a year ago.

Brilliant screen, Above average camera

Expensive