The touch-screen phenomenon has engulfed all facets of tech from smartphones to printers, game consoles to All-in-One PCs. Nokia's N86 however is a throw-back to the days when the Finnish manufacturer ruled the high-end phone scene with its non touch-screen N-series devices like the
N85
and N95. That said it includes functionality that makes it the perfect device for the visually impaired.
Visually impaired functionality
This phone, along with the
Nokia E52
, forms part of Vodacom's range of speaking phones that is aimed at bringing the benefits of mobile phones to the visually impaired.
It comes pre-loaded with text-to-speech software, which converts text-based information displayed on the phone's screen into speech, enabling users to listen to their text messages, contacts, battery strength as well as signal strength.
This useful software will guide users as they navigate their way through the menu system by reading the options available as well as the selections you make. While dialing a number it reads the number as you enter it and again when you hit the call button, but is silent during the call. Messages such as SMS and email will be read back to you as well.
The text-to-speech software works really well, although Nokia could have opted for a more distinctive (and not so annoying) recording voice. The voice supplied with the phone software sounds almost exactly the same as that used in Narrator from Windows 7 which performs a similar function on a PC.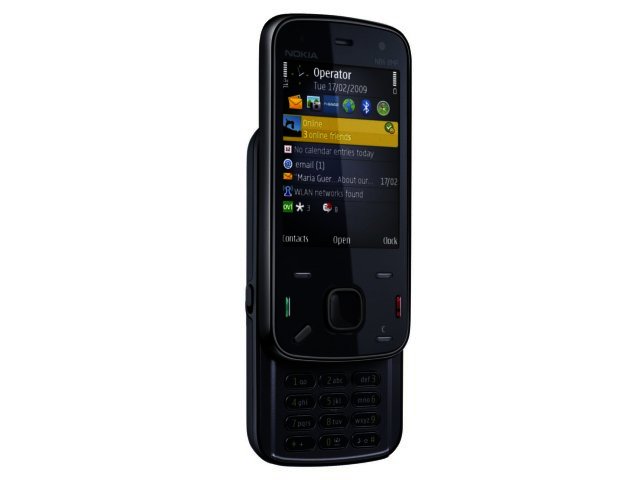 Technological Déjà vu
Like its N-series counterparts the N86 8MP fits snugly in your hand given its compact frame (103.4 x 51.4 x 16.5 mm) and manageable weight (149 g). It also boasts a sturdy build quality.
Nokia's Symbian S60 takes care of the operating system, while the ARM 11 processor running at 434 MHz (which also does duty in a lot of other models from the Finnish manufacturer such as the
N97 mini
), handles the processing. This combination makes for an easy to use phone, although it's not nearly in the same OS league as Apple's iOS or Android. We also experienced some occasional lag as well similar to that found on the
Sony Ericsson Vivaz pro
.
Like the Nokia
N96
the N86 8MP sports a dual-slide form factor, meaning you can slide it up to reveal the keypad or down to use its multimedia keys that allow for a whole host of functions such as controlling the audio and video player or zooming in and out while taking and previewing pictures.
Images and videos appear vividly on the phones 2.6" AMOLED display and we especially liked viewing them in landscape mode, with the phone staying horizontal using the phone's kickstand.
The phone's battery life of two and a half days is good, especially considering that it makes use of text-to-audio software which reads what is displayed on-screen.
Happy Snapper
Besides its text-to-speech functionality, the other standout feature of the phone as its name suggests is its use of an 8 megapixel version of the already capable 5 Megapixel camera that the rest of the mid to top-range phones in the Finnish manufacturer's stable comes equipped with.
It sports Carl Zeiss optics, autofocus, dual LED flash, variable aperture and geotagging, with this package resulting in really good quality pics and video, although not as great as the Sony Ericsson Vivaz pro that records HD ready vids.
Pictures (especially outdoor ones) that are taken during the day come out really well, but even during overcast or low-light conditions the dual LED flash allows for good looking photos to be captured. On these however, the colour will not be as vibrant as in pics taken during favourable conditions.
Final Word
Nokia's N86 8MP is a compact and capable piece of tech sporting a competent camera and crucial accessibility software for its target market. This software ensures that visually impaired users aren't left out when it comes to all the modern conveniences that smartphones allow for.
For more info on the Vodacom SA's specific needs products and services, customers can contact the company's Specific Needs contact centre on 12580 free from a Vodacom cellphone or 12580@vodacom.co.za.
Update (1 Spetember 2010): Cash price of the Nokia N86 speaking handset - R4 589. On Weekend per second the pay in is R1499 and on Weekend per minute the pay in is R819.

Great communication tool for the visually impaired, very decent camera.

Old OS running on an ageing package, no wow factor whatsoever.