Another year, another flagship, as Sony unveiled its larger Xperia Z2 offering for Android-loving smartphone users to fawn over. Apart from its size, we find out what makes the Xperia Z2 better than its predecessor.
We all know that the Samsung Galaxy S5 remains the top Android-powered smartphone to beat, comprising a commanding chipset, brilliant display and lightning fast performance. One issue that has crept up in reviews for the device, is its lack of build quality, with Samsung often favouring a plastic-heavy design that always felt a little cheap, even though its price tag is anything but.
So where is a concerned Android user to turn? The HTC One (M8) is yet to make its way to South Africa, leaving only the Sony Xperia Z2 as a true contender. The Xperia Z2 is Sony's follow-up to last year's predecessor, the Xperia Z1, which we were very impressed by. Apart from its increased display size, now measuring 5.2", a full 0.2" larger than its predecessor, we find out what makes the Xperia Z2 better.
Xperia through and through
It only takes a moment's glance at the Z2 to know that that Sony has kept the Xperia design trend alive and well, as the device features the same aluminium frame and glass backing that we've come to expect from Sony's Xperia lineup. As with previous flagship models, the Z2 is exceedingly beautiful, with very clean lines and a glossy, reflective face and back. The one downside to this however, as we've also experienced with previous iterations, is that this mirrored glass and aluminium combination makes the Z2 highly susceptible to fingerprints and dust. This means time will have to be allocated in cleaning this device.
Moving on from the Z2's natural propensity for smudges, the device itself sits fairly well in hand, measuring 2.88" (73.3 mm) across, which is just wide enough for users to feel comfortable handling it. With that being said, its size (5.2" diagonally) does not lend itself well to single-hand use. Another issue surrounding handling, centres around the lack of traction, as a result of the slippery mirrored glass surface the Xperia Z2 favours. The aluminium frame does offer a certain degree of tactileness, but we were constantly ill at ease when trying to shift the phone from single-handed to dual-handed typing positions less it slips.
In order to better keep users reassured of the Z2's durability, Sony has integrated the usual waterproof (IP55, IP58) and dust-resistant (IP55) features that have become synonymous with its flagship. The glass for the display itself is also shatterproof and scratch-resistant, according to Sony.
Specs Aplenty
The display in question similarly features Sony's Full HD Triluminos with X-Reality technology designed specifically for mobile device use. In this regard, the Z2 performs adequately, as we noticed some very slight dullness around the edges of display, which was slightly disconcerting given the Z2's new larger display. This has in fact led to difference in pixel density between the Z2 and its predecessor, the Z1, with the former registering a density of 424 ppi (pixels per inch) compared to the Z1's higher density of 441 ppi.
As interesting as this aspect may be, it is by no means a deal breaker, as the Xperia Z2 still retains a solid degree of vibrancy and brightness to make watching content enjoyable. The viewing of movies, or playing games is further aided by the increased real estate, and truly enhances the Z2's functionality from an entertainment standpoint. Sony has also incorporated Google's latest mobile OS, Android 4.4.2 (Kit-Kat), all under the guise of the Xperia UI. All in all, Kit-Kat runs very smoothly on the Xperia Z2, with relevant gestures and actions remaining highly responsive throughout. Applications too are quick to launch, and ultimately allow users to flip through various tasks effectively.
With regard to connections, the Z2 still retains a similar setup to the one featured on the previous flagship model. With sealed compartments housing a microSIM and miniUSB charging port on left-hand side, and microSD slot on the right, for up to 128 GB worth of expandable storage. This storage capacity is supported by 16 GB of internal memory incorporated into the Xperia Z2, which leaves one with more than enough space to store all desired content.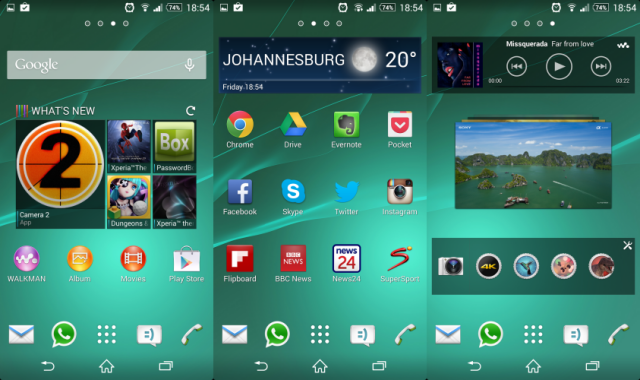 High Resolution
Sony has fitted the Xperia Z2 with a 20.7 megapixel primary on the rear, the same version found on the previous Z1. As a result, the Z2 is also capable of capturing 5248x3936 pixel content, as well as recording 2160p video at 30 fps. The image quality itself is crisp and captures all the nuanced detail that users would wish, this high level of detail is retained in both darker and high light conditions and makes the Z2 a fantastic tool for photographing on the fly.
Sony has also integrated several shooting modes to offer a higher level of functionality than that of most smartphones cameras, including the Background defocus mode, which allows users to blur the background of images mimicking the shallow depth of focus created by DSLR cameras. It also has social media integration in the form of Vine, to record short six second looping films direct to their Vine account. All of which should leave the Instagrammers and selfie takers clamoring for more.
Supercharged Engine
The face is not the only area to receive a redesign, with Sony making some drastic changes to the Z2's chipset and battery setup to ensure that there's no compromise in performance between the two flagship iterations. The Xperia Z2 now boasts a Qualcomm Snapdragon 801 quad-core processor which clocks at 2.3 GHz, which is supported by a very healthy 3 GB of RAM. This makes the Xperia Z2 an supremely powerful device perfectly suited to multitasking.
The battery of benchmark tests we put the Z2 through also seemed to reinforce this belief, scoring 7211 points on the productivity index of Smartbench 2012. To put that in perspective, the Galaxy S5 registered a lower score of 6277 points. The Xperia Z2 scored similarly well on the AnTuTu X 2014 benchmark test, accumulating a total of 34157, with only the HTC One (M8) and Galaxy S5 ranking above it.
The reason for this, is the fact that the Z2 scored rather mediocrely in the gaming aspects, which ultimately dragged down its overall score. In spite of this fact, the graphics quality and gameplay speed on the Z2 was more than adequate, and should prove capable of handling whatever a smartphone gaming fan can throw at it.
Hotting Up
Apart from its chipset, the Xperia Z2 has also been fitted with a new 3200 mAh battery which delivers up to 19 hours worth of talk time, according to Sony. During our time with the Xperia Z2, the device seemed well adept at handling a full day's use without requiring any additional charges. The one downside however, was the unusual amount of time that the smartphone needed to reach full charge, from 5% battery, taking close to five hours to reach maximum capacity. This does not pose any real issue, as long as the Z2 is plugged in every night, but may become an issue over long overseas hauls.
This brings us to another issue we experienced with the Xperia Z2, namely the amount of heat that it emits during heavy use. An example of this was when we were running the benchmark tests, as the device was noticeably hot after the tests completed. This was also the case during the initial setup of the device, and downloading of various applications. The reason for this is unknown and greatly diminished the enjoyable experience we had with the Xperia Z2.
Final Verdict
As far as being a Xperia device, the Z2 delivers we've to expect from Sony range of devices, from a stylistic and performance standpoint, offering a solid mix of premium quality design and strong processing capability. If you're looking for a device that's able to handle a demanding work schedule, the Xperia Z2 is worthy office-going companion. Further added to this, is the Z2's well manufactured construction, which places atop the pile of flagship Android-powered smartphones, from a high quality feel perspective, although its design features a fair amount of glass, it does not suffer from feeling to fragile in hand. This is one aspect that users who remain fixed to their phones will truly appreciate and enjoy about this device.
If there are any strikes against the Z2, it's the mirrored glass display's propensity for picking up fingerprints, smudges and dust. It also seemed to emit a worryingly high amount of heat when performing downloads or taxing processor tasks.
Listed for retail at R9 900, the Sony Xperia Z2 falls in the lower-end of the price range for similarly specced Android flagships such as the Galaxy S5 and HTC One (M8) costing an estimated R10 500 to R11 000 respectively. This makes the Z2 an even more enticing prospect given its premium feel and build quality; well worth considering for users looking for something outside the normal confines of the galaxy.

Premium quality design and feel; Strong processing capability; Solid construction and durability

Smartphone prone to attracting smudges; Emitted a worrying amount of heat during heavy use