When we first glimpsed the trailer for Atomic Blonde in March, our first impression was that it was a John Wick-clone. With Oscar winner Charlize Theron added to the mix for a bit more clout. Having watched the film, however, this initial reaction does not do it justice, as Atomic Blonde proves to be a welcome romp, propelled by a late 80s soundtrack and a few twists and turns along the way.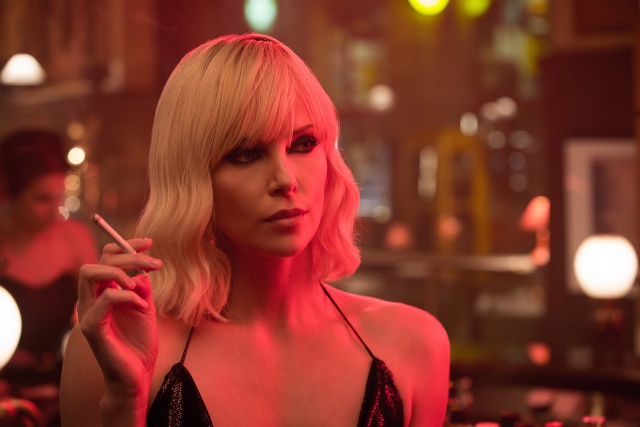 Setting the scene
Atomic Blonde uses Cold War-era Berlin as its backdrop, and more specifically takes place a week before the wall comes crashing down and David Hasselhoff delivers his greatest hits. Naturally things are pretty tense in the German capital, or as Theron's Lorraine Broughton puts it, the place is a "hornet's nest". The result is a city where no one is to be trusted, and nearly everything you say can come back to haunt you.
Even Broughton's British contact in Berlin, David Percival (James McAvoy, X-Men: Apocalypse), doesn't seem to be operating on the straight and narrow, as the pair try to retrieve a list with all the Cold War spies and agents on it.
Helping to set the scene, or perhaps more aptly the decade, is the soundtrack. As such, the likes of Depeche Mode, George Michael (post-Wham!) and David Bowie all lend their respective musical talents to leave no doubt of what era this film exists within. Added to this is the styling of the film itself, with Broughton's sleek monochrome outfits making her stand out from the crowd, and many of the nighttime locales, like her hotel room, tinged with neon light.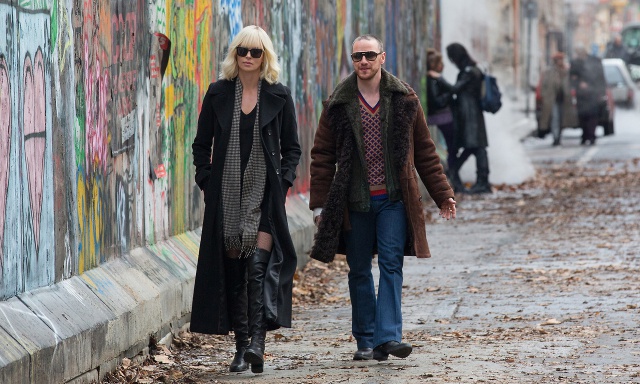 Punch drunk love
Another fixture in this film is action and blood, as expected, since director David Leitch's previous efforts include John Wick and V for Vendetta. We can see an influence from both those films on Atomic Blonde, in terms of tone and combat respectively. V for Vendetta for example, was based on an Alan Moore graphic novel of the same name, and Atomic Blonde is adapted from an Antony Johnston book titled The Coldest City. To that end, Leitch tries to juxtapose the sleek stylings of Broughton against the gritty feel of Berlin, particular the eastern communist side of the city.
As far as action goes, John Wick's impact is clear. The fight scenes are often in close quarters, with Broughton using all manner of object that's within arms reach in order to deliver telling blows to her Soviet counterparts. While it could have been easy to simply do a copy and paste job for the fight scenes, credit must go to Leitch for keeping the action intense and varied. The result is each fight sequence looking and feeling unique, while still keeping things in tone with Broughton's fighting style, which is more akin to a back alley brawler than precise assassin.
With blood, guts and guns taking up a fair amount of time in Atomic Blonde, if you were hoping for a slick Cold War-era espionage flick in the guise of Tinker Tailor Soldier Spy, you may be disappointed. If, however, you just want to see Theron kick ass as an ultra cool spy, then this one's for you.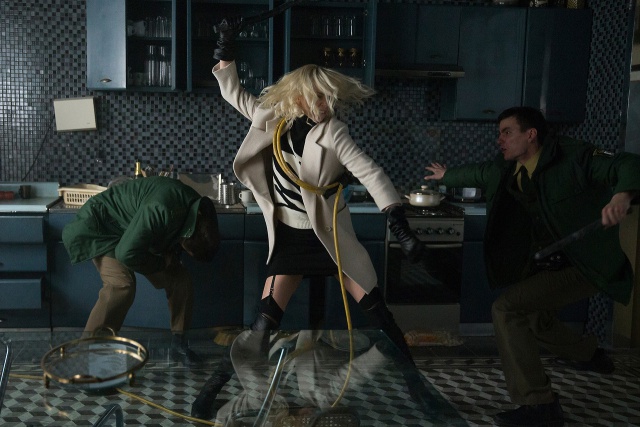 Missing piece
It's not all happy days though, particularly in the final few acts, as all the twists and turns try to line up with a suitable ending. Unfortunately, despite trying to lay out what's truly been afoot in the background, the finale of this plot leaves a little to be desired, and could be a tad confusing if you weren't paying proper attention throughout. Perhaps one less fight scene in lieu of trying to wrap up the story a bit more neatly may have been in order.
Final verdict
What Atomic Blonde may lack in a clear cut storyline is more than made up for when it comes to action. Just like John Wick, Taken, or indeed any of the recent grittier action films, Atomic Blonde offers a feast for the eyes, provided you can stomach all the blood Broughton loses in the process.
Is Atomic Blonde the female John Wick? Nope, not at all. It stands on its own with the action it delivers and gives audiences a protagonist they can get behind.
SCORE: 7.5 out of 10.

Brutally choreographed fight scenes; A superb supporting soundtrack; A couple nice twists and turns

Not an out and out espionage film; Ending a tad muddled