Dell's recent Innovation Day, held in Copenhagen, Denmark, lived up to its name, while proving to be both informative and inspiring.
Rather than confining itself to only delivering formal announcements, the event took a different, more informal and often inspiring tack.
What this meant, at least from our perspective, is that while the major news announcements were the same, participants could enjoy their own version of Innovation Day, that catered to their interests to one degree or another; with this innovative approach generating a relaxed but very informative day. Adding to this informal approach were evident splashes of creativity – each session, for example, ended up being colourfully illustrated on posterboards, which served as welcome reminders that innovation was often accompanied by a good dose of creativity and imagination.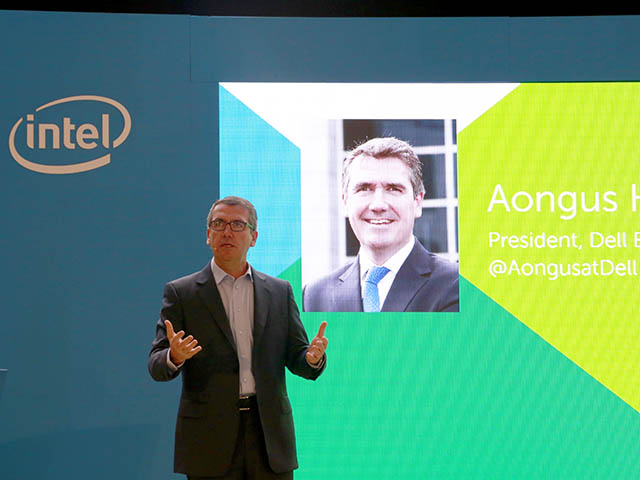 Aongus Hegarty, president of Dell EMEA.
So it begins
Aongus Hegarty, the president of Dell EMEA, started the proceedings by referencing two important quotes – firstly noting that innovation was not a solo pursuit and by echoing founder and CEO Michael Dell's sentiment that technology has always been about unleashing human potential.
He added that innovation begins at the top, and that it is about creating an environment and culture in the company that fosters innovation across the board, from technology to processes and business models. Hegarty added that part of innovation entails supporting entrepreneurship and startups. This, he pointed out, was the company's roots, with Michael Dell taking technology and making it more affordable to consumers and businesses.
John Swainson, the president of Dell Software, added that innovation takes many forms, with there being innovation around logistics, business models and social initiatives. However, what quickly became apparent is that innovation is not just an inventive way of doing things, or a creative approach for its own sake.
"All these forms of innovation come together to create a society of innovation. Yet underlying all of them we believe is technology. Technology has become a catalyst that is fueling incredible change in the way we think about the world, business, the way we communicate with people and even influences the evolution of our planet going forward," he asserted.
Swainson pointed out that it used to be that technology really meant offering the automation of current business processes. "Now we are talking about new ways of delivering virtually every product and service you can think of, in ways that are faster, easier and more responsive to the needs of their end customers," he enthused.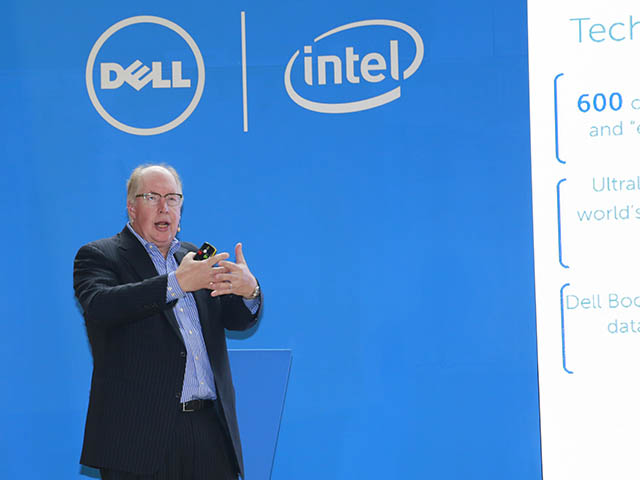 John Swainson, president of Dell Software.
Setting the stage
Swainson continued by adding context to the past 45 years of where technology had come from. "In the 70s, technology was extremely expensive, it was quite limited in its capability to reach people and it was essentially automating processes that had historically been done by people with pencils and paper," he said.
"Then the great innovation of the personal computer made technology available to everyone, it became personal and was now able to deliver incredible power to millions of people," he continued. This though, merely set the dominoes in motion, as Swainson continued that the PC led to incredible innovations around communication, which in turn led to the internet and all of the things which can now be done by bringing people, computers and data together.
"Now though it is about fundamentally connecting every individual aspect of business back together, and being able to use information gleaned from that in incredibly innovative and interesting ways," he noted
Swainson continued that what was particularly fascinating about this transition is that the technology industry has moved from doing existing processes better to now being able to do new processes which could never have been imagined before. "The ability to now rethink businesses and rethink business models gives us incredible capabilities as we go forward," he enthused. A prime example was that disruption darling, Uber. The company, he pointed out, had simply figured out a way to access and use information to meet customers' needs for on-demand transport in a way that was faster and easier than before.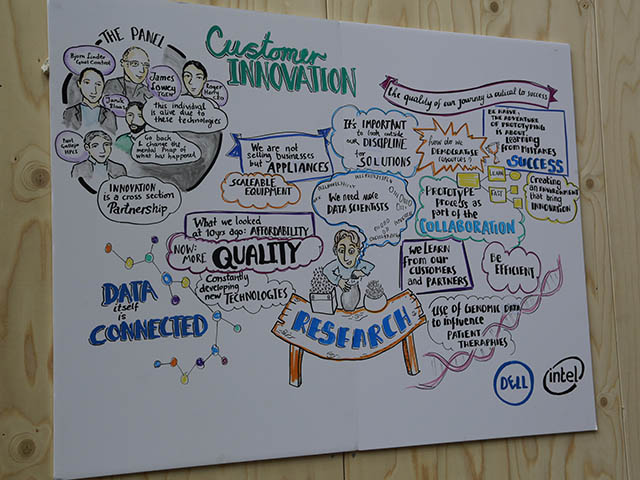 One of several posterboards summarizing the sessions taking place at Dell Innovation Day in Copenhagen.
And now the news
With this setting the stage for Innovation Day, the focus shifted to one of the news highlights, with Hegarty announcing the launch of its first European Internet of Things (IoT) lab and gateways to accelerate industry transformation. The IoT Lab, based in Limerick, Ireland, is intended to help customers create their own innovative solutions. The Lab is intended to serve as one of the bases for the new IoT division, focused on bringing together end-to-end IoT solutions that span hardware, software and services. The announcement cemented how seriously the company is taking IoT, as far more than a pie in the sky trend, but rather as a very real potential force that it expects to shape many industries moving forward.
Beyond this affirmation, Dell also announced its IoT division's first product release, a gateway designed to help customers kick-start their solution development and begin realising the value of IoT immediately rather than in a nebulous 'someday'. The gateway is apparently intended fill a gap in the market by providing customers with a flexible and scalable foundation for IoT development, both for current projects and for proof-of-concept scenarios.
More specifically, these gateways are the most recent addition to Dell's IoT solution stack. These small, wireless or connected devices collect, help secure and process sensor data at the edge of a network. Equipped with processing power, they provide customers with flexibility to perform analytics at the edge, reducing latency for data-based decisions such as managing energy consumption or triggering a call for proactive equipment maintenance.
This reduces the time and cost associated with transferring data to the cloud or data center. While the gateways are currently available in North America, they are also being launched in across the Europe, Middle East and Africa region as of this writing.
IoT in motion
Harkening back to Hegarty's earlier comment about innovation being a team effort, the IoT Lab apparently carries this ethos forward. Thus, at the Lab, customers will be able to meet with a team of highly-skilled solution centre technicians and IoT specialists to discuss their ideas and collaborate to develop robust proof of concepts and innovative solutions.
"As a global end-to-end solutions provider, Dell can support OEMs throughout their entire product lifecycle, from endpoints, networking, compute, and storage to large scale data management, analytics software and services," commented Dermot O'Connell, executive director and general manager, OEM Solutions, Dell EMEA. "In Limerick, customers will have a flexible and scalable foundation for developing market-ready solutions with a trusted, reliable partner. Our specialists in the Lab can reduce the complexity of IT and help customers to bring their ideas to life."
That would have been enough to already make Innovation Day exciting in its own right, but it was just the beginning. In part 2, James Stikeleather delves into the topic of innovation itself, discusses the three types of personas needed for innovation and the pitfalls companies hoping to innovate need to watch out for.