I have four hands, each ending in long slender fingers and sharp looking nails. My hands seem to be constantly busy, fidgeting; at times my fingers swirl around my palms to conjure a spell. My physical movements are no less frenetic, as I quickly scurry and race across the battlefield, occasionally cackling as I go.
This was my sneak peak taste of playing a bit of Battleborn, enough of a taste to know that I wanted more - a lot more.
……
Battle background
Battleborn, the forthcoming title from Gearbox Software and 2K Games, is a mash up of different genres, as apparently the developers have picked and chosen from a variety of games and attempted to fuse them together.
The first, strongest influence that I saw was of course, the developers' previous long running franchise, Borderlands. However, in Battleborn you are not limited to just wielding guns, more guns, bigger guns, or stranger guns. You can instead opt for swords, axes, a bow (which unfortunately was not part of this preview), or dispatching foes with an array of magical effects. Also on offer is a more strategic approach, as you can play as the altruist Healer in your party, restoring your allies' health as well as buffing your party at opportune times.
The story's premise is that the universe is on the brink of collapse, with all but one world having already been snuffed out. It is onto this last remaining star that you, either in single player or with your co-op team of up to five players converge for the campaign. Your mission is straightforward enough: fight off The Big Bad who wants to bring about something yet worse than e-tolls, perpetual load-shedding or a Donald Trump presidency - The End of All Things, and Solus is next in his sights.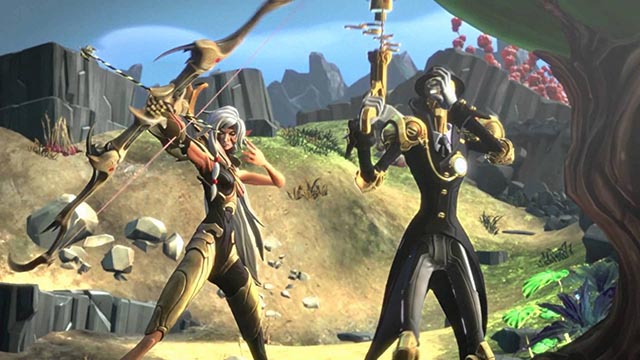 Choice, choice and more choice
The game's main selling point is its raft of twenty five characters, each with their own distinct play styles, abilities, powers and weapons. As such, the most difficult part of the game is deciding who to choose to play as.
Do you opt for the dual sword wielding Verod Rath, who slices and dices foes more efficiently than a blender on steroids, or is Peacekeeper Oscar Mike your man, who wields an assault rifle and will be familiar to FPS fans? Perhaps you like to keep enemy dispatch at a distance, and thus step into the shoes of Marquis, who brings a sniper rifle, and the ability to slow time, to the party? Alternatively, you could just do what I did, and pick Orendi, the rogue (aka chaos witch) and try on four arms for size, with magic - and fast in and out attacks - as your modus operandi.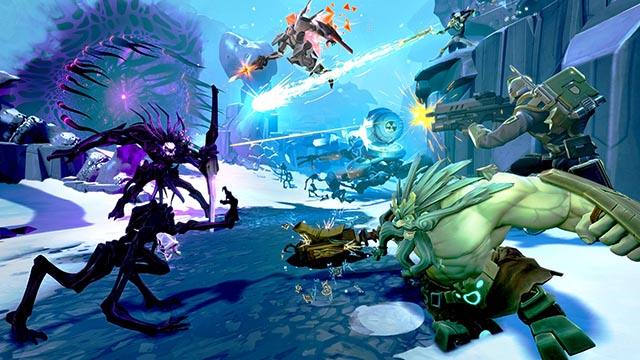 Orendi (my first introduction to the game) reminded me a bit of Helena Bonham Carter's depiction of Bellatrix Lestrange in the Harry Potter franchise, occasionally maniacally jabbering and somewhat, well, unhinged. That though, only made her more compelling to play. Whether it is unleashing a volley of chaos bolts, calling down a dark pillar of flame to obliterate foes, or summoning chaos magic to augment damage the rest of the team deals, she is terrifically fun.
If you think that choosing from amongst these aforementioned characters poses a dilemma, consider this - that is just a few of the characters that were on offer for our preview, there are another 21 in the main game at launch. What's more, it looks like there is a strong possibility that yet more destruction dealers could be added to the game at a later date via DLC. You definitely won't have any shortage of play styles, that's for sure.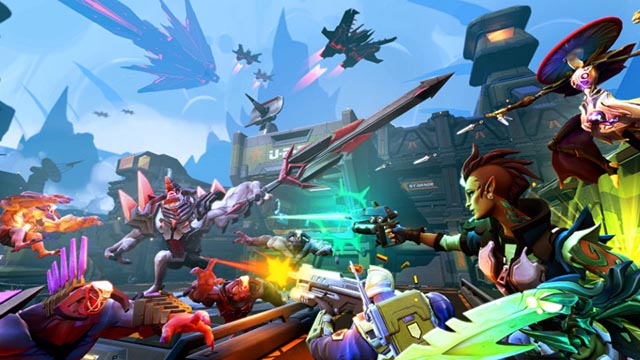 Play your way
Added to this is the Helix, a novel take on the skill tree, from which you can choose one or another abilities/upgrades. I found this a pleasure to quickly bring up mid game as I was able to level up. The Helix serves an important purpose beyond catering to compulsive leveling, as it enables you to fine tune your play style for each character even more.
With all this taken into account, it is clear that the amount of choice (each player has its own Helix or tree to follow) on offer is incredible.
How, you may be wondering, does the game look? Well, distinctive, to say the least. It is cell-shaded, so quite reminiscent of Borderlands, but the level I played through was actually very striking; certainly attractive enough to ditch my companions for a bit to try explore more of it.
……
With a checkpoint reached, signaling the end of the playable demo portion, I next try Caldarius. There can be no doubt he is more effective up close and personal, thanks to his super powered armour, which he uses as a very effective weapon, boosting himself to a good height before slamming down to devastating effect.
His energy blade is a terrifically efficient weapon too, but to tell the truth, I am already missing Orendi's speed and strangeness.
While my time on Solus was relatively brief, I thoroughly enjoyed my Battleborn hands-on preview - all four of them - and I suspect you will enjoying playing it just as much as I did when the game releases on the PC, PS4 and Xbox One later this year.

Loads of variety, Compelling characters, Fun gameplay, Terrific abilities, Innovative Helix skill tree

Perhaps too much to choose from