Asus launched its new Intel Sandy Bridge equipped notebook range last year, with the N43SL delivering an impressive performance. The company is pushing the envelope even further with the new N53 range, of which the Core i7 N53SV is one of the most capable.
Design

The notebook sports Asus' trademark sleek design, with a silver finish present on the lid and a black layout bordering the display and palmrest. This gives the notebook an aura of style and sophistication which makes it the perfect business companion.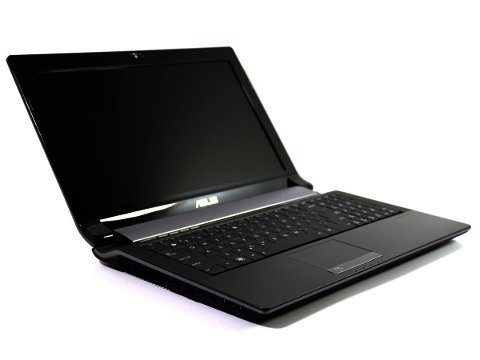 The multi-touch enabled touchpad on the device worked wonders, and the keyboard didn't fare too badly either. We especially like the audible 'click' sounds emitted by every keystroke, and the addition of a numpad was also welcomed. We felt that a chiclet style layout with some more spacing between the keys would've been preferable though, as there is still some finger overlapping present. Luckily the touchpad is positioned in such a way as to not impede the typing experience.

A strip located above the keyboard houses the power button alongside a collection of media controls, including volume and play/pause options. The arrow keys also double as media controls to be used in conjunction with the function key.

Another aspect to note on the Asus is its ice cool palm rest, something which has become a staple in recent Asus notebooks. Throughout use the palm rest remained relatively cool, helping to minimise stickiness and sweat build-up, and in turn helping to keep your device clean and devoid of unsightly fingerprints, which is a big plus especially during heavy use.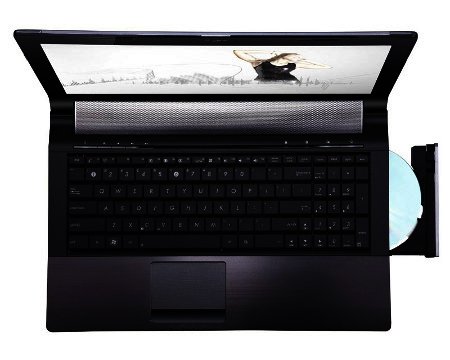 Performance

Just because the N53SV sports sleek business looks doesn't mean it's a machine only aimed at the serious. Indeed this powerful beast will make a great desktop replacement and thanks to Bang & Olufsen sound and an Nvidia GT 540M GPU it can even be used as an entertainment or gaming hub.

The device sports a Sandy Bridge Intel Core i7 2630QM CPU rated at 2.0 GHz which enables the notebook to pump out oodles of processor performance. Also on board is 4 GB of DDR3 RAM, a 500 GB HDD (other sizes available), and even a Blu-ray drive.

During benchmarking the N53SV stood up to its Sandy Bridge (Intel's 2nd generation Core-I processors) reputation, scoring an excellent 9433 on 3DMark06, a score surpassed only by dedicated performance notebooks such as the Toshiba Qosmio X500 and the Alienware MX17, which scored 9590 and 10874 respectively. This allows the device to support a reasonably high level of gaming, and during testing Starcraft II ran smoothly even with graphics set to 'ultra'.

During intensive CPU testing in Passmark the processor once again proved it's worthy of the hype, scoring a CPU rating of 6118 compared to the Qosmio X500's 2958. This beautifully demonstrates the massive difference in pure processing muscle between the Sandy Bridge Core i7 and the old i7 CPU (which is present on the X500).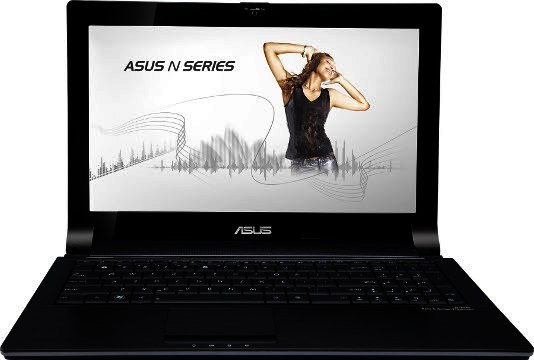 Display and extras

The N53SV sports a 15.6" backlit LCD display with a native resolution of 1366 x 768 pixels. This is the standard in 15" notebooks at the moment, but we would have liked to see a full HD resolution of 1920 x 1080 being supported.

In spite of this the display still performed well, providing a bright viewing experience, granted one not as sharp as what we've seen on some other recent displays, such as the Sony Vaio CB15.

The notebook sports an HDMI out so it can display full HD content on an attached display. Audio on the device definitely impressed, with the Bang & Olufsen speakers blasting out considerable decibels. This allows the notebook to be comfortably used for enjoying movies and other content.

Our test device also came equipped with a Blu-ray drive, allowing users to enjoy movies in the latest format. As previously mentioned though, you won't be able to enjoy pixel-by-pixel HD quality on the device (only when connected via HDMI to a Full HD TV), but supporting new formats is always a good thing, and allows for considerable future-proofing.

As far as ports are concerned the N53SV sports one zippy USB 3.0 port alongside three USB 2.0 ports, a VGA port, headphone and microphone jacks as well as a standard ethernet LAN port. Wireless connectivity is delivered in the form of Wi-Fi 802.11n and Bluetooth connectivity is available as an optional extra.

When it came to the battery the N53SV delivered a decent performance, with us squeezing out roughly three hours of operations while browsing over Wi-Fi and utilising a few basic programs. Spartan power saver options might see the battery stretched to close to four hours.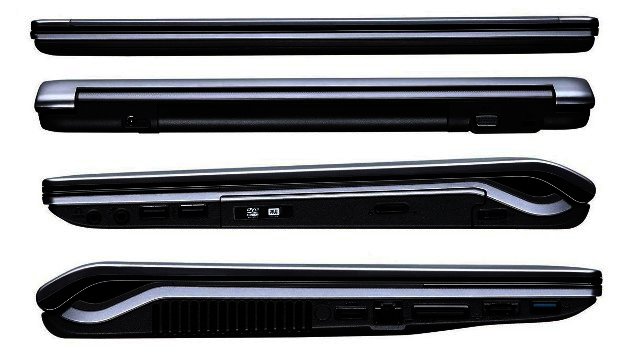 Conclusion

It's not difficult to see that the N53SV's speedy i7 processor and excellent sound combines to make this stylish Asus as comfortable in the office as it is at home. It retails for a recommended R10 999.

Awesome performance, especially in the CPU departement along with suprisingly loud sound thanks to Bang & Olufsen speakers.

It would''ve been nice to see a more ergonomically designed keyboard, and full HD resolution would also have made a nice addition.