Innovation is an ever present facet of the tech scene, but rarely seen on projectors. Epson bucks this trend by releasing the first 3LCD HD-Ready home cinema projector that sports an iPod docking station.

Press the panel at the back of the projector (291 x 340 x 115 mm; 3.9 kg) and an iPhone dock will pop out. Users are then able to connect their iPhone, iPod, or iPad to this dock to display photo slideshows, listen to music or watch movies stored on these mobile devices. The dock will also charge devices whilst they are connected to the projector.

Beyond the iPhone dock, you are spoiled for choice in terms of connectivity, with composite audio and video connectors, HDMI slot, microphone input connector, RCA and USB ports available on the right side as well as the back of the projector. The latter enables users to access music, movies and TV series stored on the USB. In addition, audio files can be played without the projector lamp having to be turned on (device functions as speaker dock), which should help boost lamp life. On the whole, the design comes across as very functional, but not as stylish as that of the LG BX32C DLP.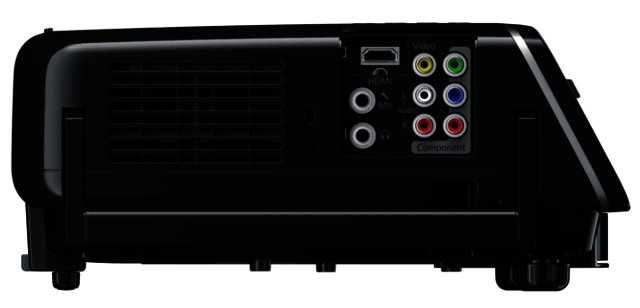 Audio visual experience

Thanks to the HD-Ready (720p, 1280 x 720) resolution, 3000: 1 contrast ratio, as well an above average 2800 lumens output, pictures and video remain crisp even in the presence of ambient light sources, such as open curtains letting in the morning light. You do notice the colours fade though in the presence of ambient light, as they look considerably duller compared to viewing content in a dark room.

As with the LG BX327C DLP projector, there is a fair amount of potentially distracting fan noise (up to 35 dB) when you are just viewing images, but unlike the BX327C, this is not an issue whilst listening to music or watching movies, thanks to the capable speakers onboard the MG-850HD.

In terms of sound power, the MG-850HD packs two 10 W speakers, which offer a surprisingly good sound experience. The speakers may lack some bass oomph, but the sound quality remains fairly decent and clear, even at the highest volumes (which are fairly loud).
To the point

Additionally, this projector comes with a remote control and carry handle making it easy to move or transport. The recommended retail price of Epson's MG-850HD is a steep R10 009, which could also afford a 1080p-class projector. You do get a very decent lamp life of up to 5 000, which should ensure a long movie viewing experience.

Great sound; multiplicity of connectivity ports; above average lumens output; handy carry handle and remote control.

Expensive for a 720p projector; and not as stylish as some of its competitors.