Samsung's latest smartphone, the S10 Plus is quite easily a pinnacle device – a smartphone that shows the category in its finest form as yet. Indeed, in many ways the phone gets a number of things right, which would be great on their own, but together create a whole that is greater than the sum of its parts.
What are those parts, you may wonder? Performance, features and functionality, camera and an interface that is both easy to use, with plenty of depth for those who want to customise the device and personalise it precisely to their liking.
You could argue that form factor should be in there as well, but it very much feels like a Samsung device, if you have an older S9, then the build will be very familiar. Certainly, it gives the impression of being a quality product in the hand, which it is, and it not too smooth to the extent that you feel like it may slip out your hands at the slightest provocation. One noticeable tactile difference is that the fingerprint reader is no longer on the back, but rather integrated into the screen. At 7.9mm, it's thin, and while it's 6.4", it fits into a jean pocket neatly. That being said, at 175 g, it is surprisingly light, lighter than you might expect.
As for how it looks, that depends on which of the four colours you choose (prism white,black, green or ceramic black) – our unit is white and certainly looks sharp, reminding a bit of a shiny piano key on a Baby Grand.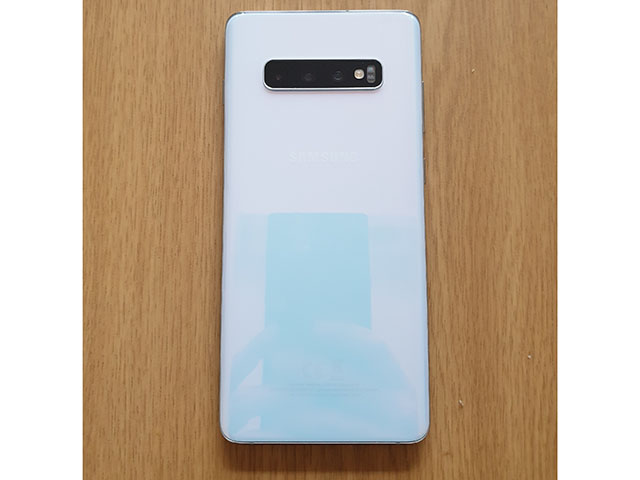 Expectations fulfilled
More importantly, the S10 Plus' performance is superb. There is nothing I have been able to throw at it that the phone couldn't handle with grace, from the usual internet browsing, YouTube watching and communicating fare to photo and even light video editing. This doesn't surprise – with an Exynos 9820 processor and 8 GB of RAM there's plenty of power onboard while 128 GB storage should keep you happy. If not, you can always expand that with a microSD card as well.
As well, the AMOLED Infinity-O screen looks stunning, as you would expect from Samsung, boasting a top resolution of 3040x1440 pixels. And, bezels are razer thin, meaning you get more screen than border. But it is also brighter than average which means it holds up very well outdoors in direct sunlight, and colour saturation is superb.
Speaking of power, battery life is also impressive. I've been able to get through at least a day on a full charge from the 4100 mAh battery, sometimes up to a day and half or almost two with some careful battery management. It's one device that I haven't found myself having to curb my usage of it for fear that the battery will run down on me at a critical time.
The current spate of load shedding, and the tendency for the power to go off at times that's aren't always specified in the released schedules, makes that only more important. This is especially relevant when mobile data becomes your only way to connect when fibre is down due to power interruptions, or your modem has become a temporary plastic brick.
As we noted at the launch, the phone does have reverse charging, which Samsung calls Wireless PowerShare, with it requiring 30% power at least to function. If you are planning on using it to prop up a compatible device, you are going to want to remember that it charges on a 1:1 ratio – for every 1% battery life you charge another device with, you lose 1% on the S10 Plus.
However, it's not a feature I have really found myself using so far. It's nice to have, but the as to whether it will become something that really requires usage still remains to be seen. Perhaps now with the Galaxy Watch on hand I will find occasion to put that into use. Far more relevant has been the fast charging with the charger for that included in the box.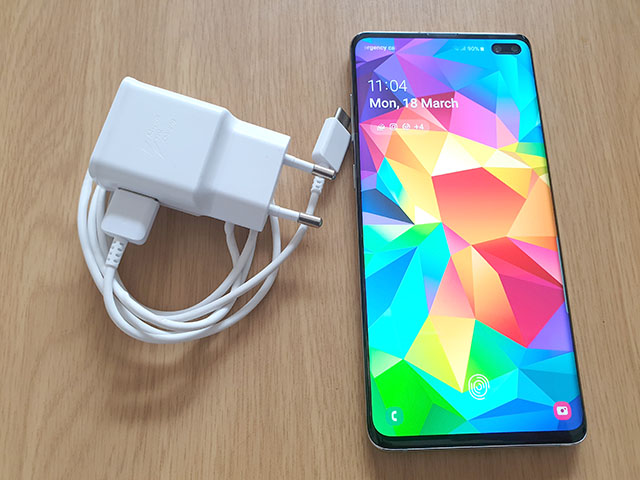 Take your best shot
The feature that has really impressed though, and which has received plenty of usage is the camera – or rather, cameras. You get three rear cameras on the S10 Plus, ranging from a 16 megapixel ultrawide, 12 megapixel wide to 12 megapixel telephoto. It is when used together, particularly when filming video, that these come into their own. Establishing shot, general shot and then closeup are a pleasure to flip through at the touch of an on-screen button, and if you plan your shots out right, you can get pretty seamless transitions between three focal lengths while shooting video.
What has really won me over and made the S10 Plus my go to video camera of convenience at the moment is the image stabilization – that is very noticeable when shooting with the device. No, I wouldn't suggest filming a thirty minute short handheld, but for a few minutes of video, it gets the job done remarkably well.
As for picture quality, it is, in a word, superb. Colour reproduction is excellent, as is sharpness, but what is really noticeable is how well the camera handled trickier subjects – photographing a cake display through glass, for example, or in less than ideal lit interiors, koi fish in a pond, even taking a photograph of a backlit screen fared much better than expected. For more samples of those, head over to our photo speed test of the device here.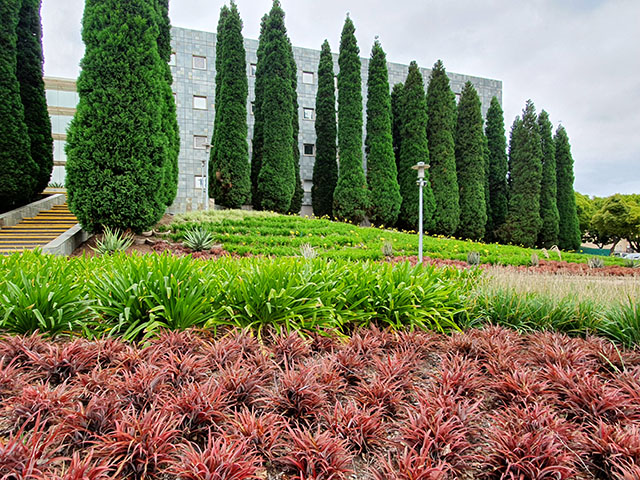 Go wide
I am not going to attempt to lay out every feature that the cameras boast, because just a few of then merit posts of their own, but I would be remiss not to talk about a particularly standout one.
Whereas the Huawei Mate 20 Pro, arguably the S10 Plus's biggest rival, distinguished itself with a macro camera, the smartphone does so with an ultrawide offering. As expected, you have to use it judiciously.
On architecture it does produce a lot of noticeable curvature and distortion at maximum, but this can be managed to a certain extent by choosing your subject carefully and focusing in a little from maximum. Also, I was very happy to note that macro on the device is very good in its own right, enabling me to shoot about 8 cm from my notebook key. Rather than a distracting notch, the two front facing cameras are more discreetly placed on the far right. If selfies are your thing, you will be happy to hear that the dual 10 megapixel and 8 megapixel are no less exemplary than the rear cameras, enabling you to shoot yourself and your friends to your heart's content.
It's the little things too
It is bizarre to consider whether a manufacturer keeps the headphone jack or not as a feature, but Samsung have opted to forego "courage" for common sense, retaining the port that we know and love, and that those who don't have wireless headphones actually need.
Speaking of features, the ultrasonic fingerprint sensor is located within the screen, and uses sound waves to scan your fingerprint. This works well for the most part although I did have a few instances where I had to try again and remember to push harder than I ordinarily would. My experience has been that it is not quite as quick as in-screen sensor on the Mate 20 Pro, but it's certainly not a dealbreaking feature that would deter me from the device by any stretch. Another nice touch is that the Bixby button, found on the left of the device, can now be mapped to an app of your choosing.
And finally, I love the fact that along with earbuds the company includes a little adapter in the box that enables you to plug USB sticks into the device and open them on the phone. As a journalist we receive plenty of them all the time, it's a pleasure to view their contents without resorting to a laptop, which is not always on hand.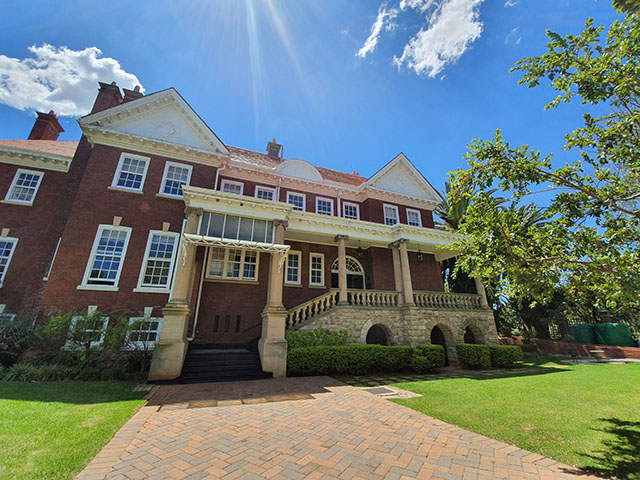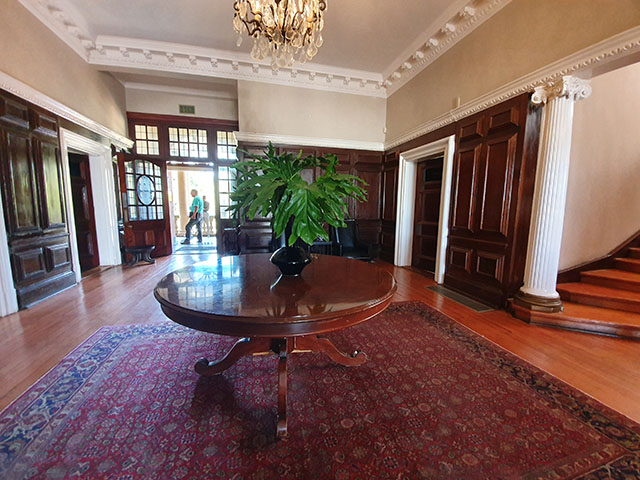 Comparisons, comparisons
And how does it stack up to its closest competitor, the Mate 20 Pro, and should you buy it? Certainly the latter is a terrific device. It is similar in the sense that both are laden with sophisticated features, boast excellent screens and terrific cameras. However, where I give the S10 Plus the edge is in its Samsung One interface, which I found considerably easier and more intuitive to use.
As well the body is less slippery and you aren't going to need a headphone adapter to use your wired headphones. Furthermore, for me the Samsung ecosystem has to be taken into account – the phone, newly released LTE Galaxy Watch and Uflex headphones work together like a charm, so if you are already invested with another Samsung wearable, for example, I doubt you would be disappointed with the S10 Plus
Instead, I would consider a more difficult choice if you are intending to upgrade to be between the Samsung S10 Plus and the Samsung Note 9. Whereas the former has more cameras and the newest AI technology integrated, the Note 9 is slightly wider, is an artist's and notetaker's dream with its pressure sensitive stylus and several unique features that the stylus brings to the fore.
As of quite recently, both run on Android Nougat, and both devices boast identical, intuitive interfaces that make navigating them a joy.
If there is one caveat to the phone it would be the price. At R21 000 for the 128 GB model it's not cheap, and that climbs to R26 000 and R36 999 for the 512 GB and 1 TB models respectively. However, if you have your heart set on the latest and greatest Samsung device, if you absolutely need to show your iPhone-toting friends what photos and video from a brilliant smartphone looks like, or if you are on a contract and can spread out the payments, then it is easily one of the best phones you can buy in its price class at present.
FULL DISCLOSURE: The Samsung S10 Plus was seeded for review purposes from Samsung. This review is not sponsored.

Excellent cameras and video, Terrific Performance, Beautiful screen

Expensive