The die is cast as Nokia will be employing
Microsoft's Windows Phone 7.5 Mango
operating system (OS) as its primary smartphone OS, having recently unveiled its
Lumia 800 and Lumia 710 smartphones
. Regardless, the Finnish phone giant managed to produce its first (and probably only)
MeeGo
-operating smartphone in the
N9
(video posted below).
Design
Measuring 116.5 x 61.2 x 12.1 mm, the stylish N9 polycarbonate body flows seamlessly into its curved 3.9" AMOLED (480 x 854, 251 ppi pixel density) ClearBlack display. This screen might not match the pixel density of the
iPhone 4
's Retina Display (326 ppi) or that of the
Nokia E6
(328 ppi), but matches Samsung's excellent
Super AMOLED screens
in terms of its colour saturation, while it's also effective at reducing glare when employed in direct sunlight.
There are no buttons present on the front of this smartphone, but there a volume rocker and lock/power button located on the right. On top of the phone, you'll find the 3.5 mm audio jack and a microSIM card slot as well as the hinged micro USB cover. Both of these aren't the easiest to access, but unlike the
iPhone 4
, you can insert your microSIM without the need for any special tools. The fact that the N9 utilises a microSIM means that most users upgrading to the N9 probably won't be able to do so by employing their old SIM.
As there aren't any buttons on the front of the smartphone, you are completely dependent on the touchscreen for navigate the mobile OS.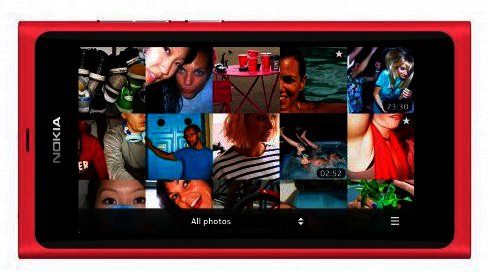 MeeGo takes a swipe at UI convention
Luckily the MeeGo 1.2 Harmattan OS, co-developed by Intel, makes it easy to do so, since you can swipe your way through three home-screens from the edges of the display. The first will be familiar to all Nokia users as it is dedicated to applications. On the second screen one finds social networking feeds including Facebook and Twitter, as well as notifications for calls, messages (SMS and MMS) and the like. The final home-screen is for open applications and allows users to easily switch in between all live apps opened.
As within
Apple's iOS 5
, notifications, such as an email received or missed calls, also appear on the lock screen. If you swipe these, it will not only unlock the device (unless you have a password setup), but also take you to the app that sent the notification. There's also a pull down status bar as is the case with
Android
-running mobile devices that enables you to access notifications and also fiddle with the phone's connectivity and sound profile settings.
MeeGo does an excellent job of bringing Nokia in-line with Android and iOS, and it's actually far more intuitive to use than both its OS rivals. A big drawback is that the Nokia Store only contains a few MeeGo supported apps such as Need For Speed Shift and Angry birds.
Features
Ensuring that you have a smooth experience whilst navigating the OS is the 1 GB of RAM as well as the N9's ARM Cortex-A8 OMAP3630 running at 1 GHz, with graphics being handled by a PowerVR SGX530 GPU. Although this might not be on par with the dual-core chips in the
Galaxy SII
and
iPhone 4S
, it still allows for a smooth and speedy user experience.
The N9's 8 MP Carl Zeiss auto-focus camera enables you to capture some beautiful photos, whilst also enabling the recording of HD-Ready videos (720p @ 30 fps). In order to store all your apps, photos, videos and the likes you get either 16 GB of 64 GB of internal storage with the N9, but unfortunately there's no expanding on this via a microSD card since the phone, just like the iPhone, doesn't boast such as slot.
Sound quality is also excellent thanks to the inclusion of Dolby Mobile sound enhancement, with the speaker also being capable of delivering a high volume, but not nearly as loud as that emanating from Sony Ericsson's Live with Walkman. Nokia's Maps, their free turn-by-turn drive and walk navigation with voice guidance, also makes an appearance, and so too some handy pre-loaded apps including Facebook and Twitter.
Conclusion
Nokia's N9 is the most exciting and coolest smartphone that the company has produced for a while, sporting a beautiful design, a very intuitive UI and excellent features. The only question that concerns us is whether users will have access to firmware updates and a multitude of apps in the future, and even though
Nokia has indicated
that this will be the case, we are not so sure.
For this reason it's hard to recommend the N9 even though we feel owners will love the device itself. If you do like the look of the N9, but are concerned about the OS, wait for the similar looking
Nokia Lumia 800
running Windows Phone.
The N9 goes for an RRP of R5999, which makes it more expensive than similarly specced devices the likes of
HTC's Desire S
and the
LG Optimus Black P970
.
Pros
Stylish design, compact, very intuitive UI, capable snapper and excellent speakers.
Cons
Not that cheap, questionable amount of firmware updates in future, meagre amount of apps.

Stylish design, compact, very intuitive UI, capable snapper and excellent speakers.

Not that cheap, questionable amount of firmware updates in future, meagre amount of apps.