Remember the good old days of flip phones? When the Motorola Razr set the benchmark as far as style and functionality went? Nearly a decade after the flip phone was laid to rest, candy bar shaped capacitive touchscreens are the order of the day, and Motorola's powers have waned dramatically. It's 2015, and the second generation Moto X has graced my review desk. I'm intensely intrigued by this device, as it's the reference model for the Nexus 6, which is designed to be an unadulterated version of Android.
Pure Android
The same can be said of the Moto X, as a thorough inspection of its UI revealed no frustrating bloatware to speak of, unlike the Samsung Galaxy S5 (review) and Sony Xperia Z3. Its design too is a welcome surprise, with a distinctly styled aluminium frame that features an accentuated downward curve located just above its 13 MP camera. The back cover is a soft-to-the-touch matte grey, and makes the Moto X one of the better looking devices I've tested in recent months.
Up front, the Moto X is equally well adorned, with a 5.2" Amoled display (1080x1920) that produces a 424 ppi pixel density, exactly the same ppi as found on the Z3. The Moto X's native Android OS is 4.4.2 (KitKat), however an upgrade to 5.0 (Lollipop) is readily available. It also happens to be my first encounter with Google's interface design (flatter icons and bolder colours for more modern OS design aesthetic), which feels like an expanded version of Google Now in many respects. Overall the UI feels sharp and intuitive, giving Android fanboys the ultimate mobile OS experience. That being said, Lollipop did not serve up anything unfamiliar, as controls and gestures remain mainly the same.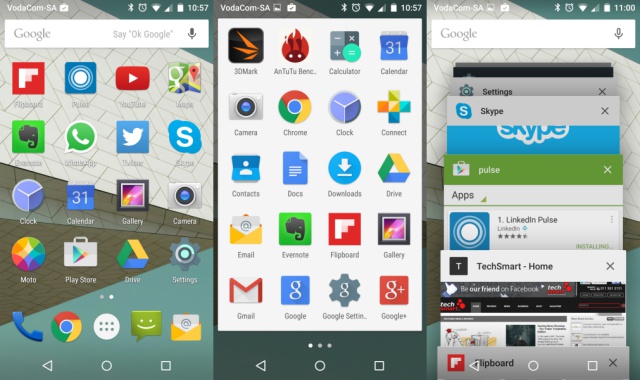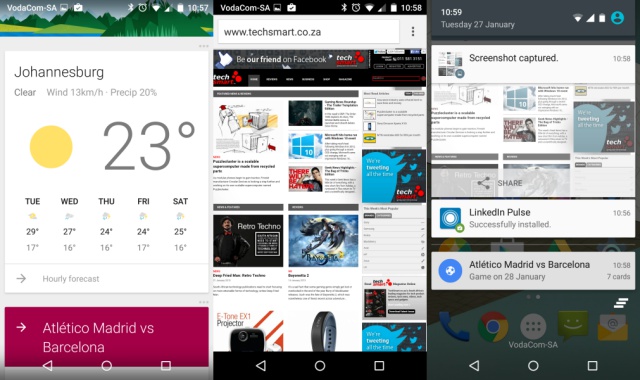 Well composed
Internally, Motorola has made every effort to ensure the Moto X stays technologically relevant for the next 12 months. Doing the hard graft is a quad-core Qualcomm Snapdragon 801 processor, clocked at a quick 2.5 GHz. Added to this is 2 GB of RAM to provide a snappy experience while multitasking and switching between apps. On the whole, most Android users will be left more than satisfied by the Moto X's processing performance.
As far as extra features go, the Moto X features a few mid-range offerings, the most evident of which is a 13 MP camera that captures solid images, although highly nuanced detail is sometimes missed. Overall however, the Moto X is well positioned within the lower end of the flagship smartphone bracket, especially given its R6 600 (16 GB) price tag. Retailing for a good R1 500 less than its rivals, the Moto X will give its user plenty of joy until that two year upgrade rolls by. The Moto X is currently available locally at Orange Store here - http://oran.ge/1zvQZ6o.

Beautifully designed with solid construction; Fast and responsive UI; Frustrating bloatware kept at bay

Limited local availability at this stage; Slightly sub par camera for flagship smartphone