Sony Ericsson's Vivaz pro might be making use of a past-its-prime operating system (OS) in the form of Symbian S60 (OS), but it boasts some fantastic features and a stylish design. The most prominent of these features is its ability to record HD-ready (720p) video.
Camera and HD-ready recording
By employing a 5.1 megapixel camera featuring all the extras we came to expect from SE - autofocus, LED flash, geo-tagging, face and smile detection as well as image stabiliser, the phone produces really good quality images.
It's the phone's 720p video recording ability however that steals the show. The Vivaz pro records 720p video at 24 fps with continuous auto-focus and a video light for darker conditions. These videos look excellent when recorded in normal light, but can be a little grainy when light conditions aren't optimal.
QWERTY keyboard
One of the phone's biggest benefits is its slide-out QWERTY keyboard that is easy and convenient to use. We had no issues with the keyboard and it worked well during extended MXit sessions. The spacebar is located in the normal middle position on the keyboard, as opposed to Nokia's odd placing of their one (aligned on the right side) on the likes of the
Nokia N97 mini
, although the raised keys on that device make it slightly more finger friendly.
Curves in all the right places
The Vivaz pro fits comfortably in the hand, thanks to its purposefully designed and stylishly curved back cover. It measures in at a compact 109 x 52 x 15 mm and weighs a mere 117 g, but it still does not beat the miniature size of the
X10 mini pro
.
On the left side of the Vivaz pro you will find the microUSB port that is used to charge the device and connect it to your PC, as well as a 3.5 mm audio jack. The right side is populated by the volume rocker and shortcut keys to record videos and capture images.
The power button is positioned at the back of the phone, which is the only design aspect that we didn't like as it makes it awkward to switch the phone on or off.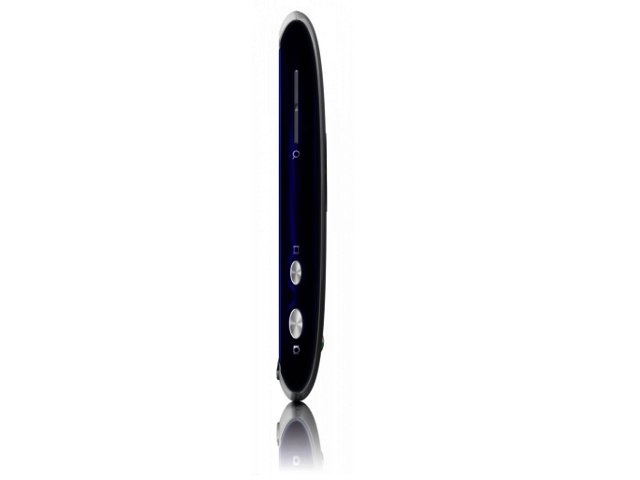 Screen
Images and videos display vividly on the phone's 3.2" TFT resistive touch-screen (360 x 640 pixels), but we found it to be a bit of a fingerprint magnet. Other mid-range phones have started coming out with more responsive multi-touch enabled capacitive touch-screens, although Samsung's outstanding
Wave
can be seen as a bit of an anomaly with its impressive 480 x 800 AMOLED capacitive screen.
Symbian-licious or -vicious?
In the face of more modern smartphone operating sytems such as Apple's iOS and Android, Sony Ericsson has done an admirable job with S60. Overall the phone is easy to use, albeit with some noticeable lag every now and then, even though its equipped with a 720 MHz Cortex A8 central processor and a PowerVR SGX graphics processor.
There are five home-screens to make your way through by sliding your finger across the display. These included favourite contacts, Twitter, an animation screen (featuring a cool looking accelerometer-enabled wave graphic but which seem to hold no real function), camera gallery and shortcuts.
The only customisable home-screen is the last one (shortcuts), which allows you to put in your own shortcuts to widgets and apps. Social networking is also catered for in the form of Twitter and Facebook apps.
Other noteworthy features
The Vivaz pro also features 802.11 b/g Wi-Fi, HSDPA, Bluetooth v2.1 with A2DP, microSD support for cards up to 16 GB in size, and sports stereo FM radio with RDS, a QuickOffice document reader, GPS with A-GPS support and SE's useful TrackID music recognition feature. We appreciated the 8 GB microSD card that was included in the box.
Accessing the net using the phone's standard browser is not a pleasant affair since the screen size isn't well optimised for webpages, resulting in a lot of scrolling that needs to be done. The phone's resistive touch display doesn't assist matters when tapping links on a page either. Its lack of sensitivity means that you have to zoom in on links to ensure that you tap on the correct one.
Final Word
SE's Vivaz pro offers users a stylish, grip-friendly design, auto-focus 720p video recording and great photo capturing together with the company's custom user-friendly media playback interface. But ultimately the Symbian OS is passed its prime, and we would have loved to have seen Android on this beauty as SE did with their
X10i
and
X10 mini pro
.
Ultimately we would however still recommend the
Samsung Wave
as our pic for the best mid-range smartphone on the market. The Vivaz pro comes with a RRP of R4 299.

HD video recording, excellent camera, grip-friendly and funky styling.

Old OS in the form of Symbian S60 and noticeable lag on occasion.