PREVIOUS ARTICLE
NEXT ARTICLE
NEWS
Qbox causes a stir at Computex
By
Ryan Noik
6 June 2014
|
Categories:

news
One of the new innovations gathering a bit of a crowd on the Computex floor is the Qbox – a name that may raise a couple of eyebrows, but it is not related to the Xbox. Instead, this desktop TV box from Qno is a bit more of potential competition for the Apple TV.
The company explained to us that while most TV boxes can enable their users to push content – typically from smartphones and tablets to to their large screen TV, the Miracast enabled Qbox differentiates itself by being bi-rectional and supporting 'one-to-many'.
In other words rather than just pushing content to the TV screen, it can also push it from one central screen to multiple devices, such as smartphones and tablets.
This could be useful if for example, if you are watching something on TV but need to leave the room, such as to attend to dinner in the kitchen, and want to view the content on a mobile device.
The Qbox currently supports Android, iOS and Windows 8.1 devices, and has a very familiar, Android 4.4.2 interface. Although the Google Play store – and thus Android apps and games - aren't yet natively available via the tiny and inconspicuous device, but this is apparently in the works as well.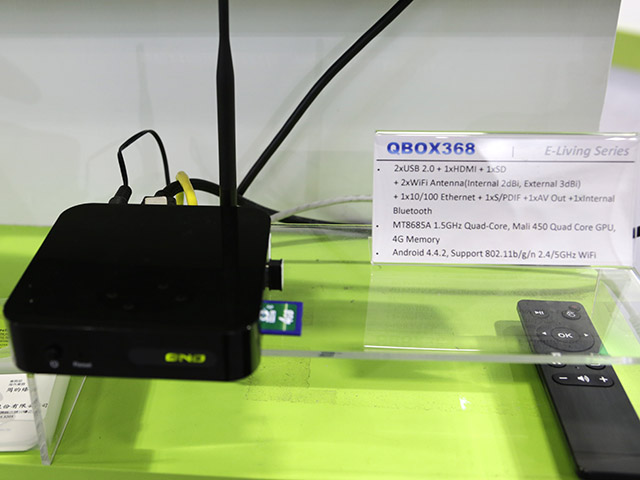 The Qbox is actually tiny, given its rich functionality, certainly no bigger - if quite a bit thicker - than a portable hard drive.
Happy to play, but ready for work
While entertainment may be the first use that comes to mind, we were told that the Qbox could easily fit right in when used in businesses (for example, to send presentations to attendees' mobile or tablet devices) or education as well. Additionally, its backchannel facility means that those viewing the content being sent out from the central source, could make notes or offer feedback, and this would become instantly visible to all those experiencing the Qbox's broadcast. This, apparently, could offer some interesting scenarios for brainstorming sessions.
Furthermore, the Qbox can also be used for surveillance and home security, as it can be connected to wireless IP cameras and then send the resulting video to multiple smart devices simultaneously. Another feature that we quite liked is that the device caters to USB flashdrives and SD cards, which should make getting content onto one's screen(s) that much easier.
Although we asked, the company has not yet explored whether the Qbox would accommodate streaming gaming from consoles as well; but it was something we were told could well be considered down the line.
Hope and plans
At present, the device is quite impressive and feature packed considering its small footprint, and only slated for release in Taiwan in the third quarter of the year. However, the company is apparently looking for distributors worldwide, which means it may well make its way to our shores at some point. Its pricing too is not yet confirmed.
USER COMMENTS
Read

Magazine Online

TechSmart.co.za is South Africa's leading magazine for tech product reviews, tech news, videos, tech specs and gadgets.
Start reading now >
Download latest issue

Have Your Say
---
What are your plans for the holiday season?
A beach, working on my suntan and relaxing (

3

votes)
Working through my gaming backlog (

1

votes)
Having a staycation and catching up with all the things that need to be done in my house or apartment (

1

votes)
Travelling internationally (

1

votes)
Spending time with friends and family (

2

votes)
Holiday? What's that? I'm working throughout (

4

votes)
Getting reacquainted with my bed, sleeping late and binging Netflix (

2

votes)