Since the dawn of modern football games a rivalry has existed between EA's FIFA series and Konami's Pro Evolution Soccer range. On the one side, you have the ultra realistic PES range which could on many occasions run circles round FIFA in terms of gameplay and graphics, but unlike FIFA, would fall prey to the red card known as the lack of licenced teams.
EA Sports has been hard at work with the last few iterations of FIFA (FIFA 12 review
here
) to slow down its gameplay and become more realistic, in order to match its true-to-life roster of players, clubs and leagues. PES on the other hand, continued to build upon what already was a solid gameplay foundation, spending time on the practice pitch so that each new edition could sport even slicker moves than its predecessor.
A new position for PES
For the most part PES 2012 ticks all the boxes you look for in a football game - excellent graphics, challenging and authentic gameplay, as well as impressive player and stadium models.
It must be noted though that, as is the case between
FIFA 11
and
FIFA 12
, the graphical leap forward between
PES 2011
and 2012 is more like a short skip. PES 2012 is lagging a few paces behind FIFA 12 when it comes to player animation, due to FIFA 12's new player impact engine that makes collisions and interactions between players as well as players with the ball and the referee come off as a lot more genuine. As PES 2012 doesn't have these elements and its gameplay feels a lot more arcade-like when compared to the simulation gameplay within FIFA 12. This is especially evident when taking PES's fast-pace gameplay and fighting-game inspired button combos for special trick moves into consideration.
There's no I in team
The new Teammate Control system is one of our favourite new additions to PES 2012. This allows you to take control of one of your AI-controlled teammates within a given gameplay situation.
For instance, whilst you are taking a free-kick or corner kick, you not only control the player making the kick, but by moving the right analogue stick on your joypad, you can also move a teammate into the space where you are kicking to. This also works great whilst you are trying to make your way through the opposition's defence. If you are being hassled by a defender you can run a teammate into space and pass to him, or if you find the angle too tight to score, run one of your other players into space for a quick one-two.
You won't have to employ the Teammate Control system too often outside of dead-ball situations, since the AI (artificial intelligence) enhancements mean your team is a more close-knit unit when it comes to attacking and defending. Your AI-controlled teammate will get himself into space whilst you are making a run so that you can make a perfectly weighted pass for example.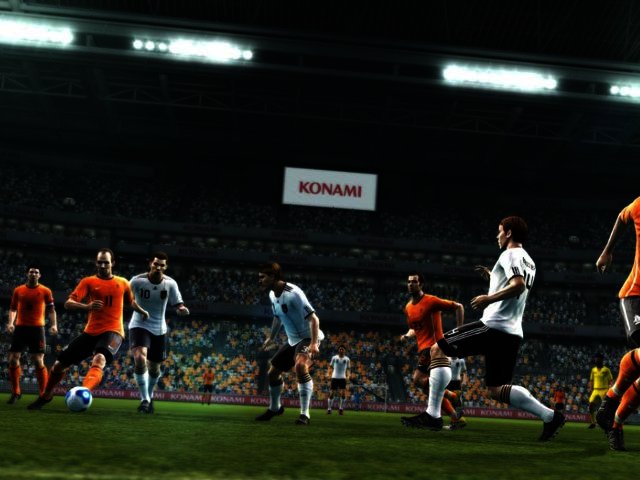 Fantasy football league - less authentic, but does it matter?
The biggest issue that most gamers will have with PES 2012, is one that the franchise has experienced from the very beginning and that is lack of licensing. If you find yourself nailed to the TV whenever there's a
Barclay's Premier League
match on and now wish to guide your team, be it
Manchester City
,
Liverpool
or
Chelsea
to success on the virtual pitch, then you would probably consider
FIFA 12
ahead of PES 2012.
Within PES 2012 only
Manchester United
and
Tottenham Hotspur
are represented within the Barclay's Premier League, which is called the English League. The other teams all feature fictitious names and emblems, the likes of London FC (Chelsea) and Man Blue (Manchester City), even though the team rosters feature the real life football stars such as Ivorian
Yaya Toure
and
David Silva
of Manchester City.
Other leagues such as the Liga BBVA of Spain fare much better in terms of the representation of real world clubs with most of the clubs including
Real Madrid
and
Barcelona
included. Just like last year's game, both the
UEFA Champions League
and
Copa Libertadores
are fully licenced.
The life of a footballer
If you're looking for a more engaging mode than simply playing in a league or tournament, then Football Life is for you. Within this mode there are two avenues open - Master League and Become a Legend.
The latter is similar to the Be a pro career mode in
FIFA
, since it enables you to create your own virtual football avatar using the comprehensive editing tools and guide their careers from zero to a hero. Master League, like the Player Manager mode in
FIFA 12
, allows you to manage all aspects of the club including hiring staff, sending scout for negotiations to loan or buy players and managing the youth squad. Both of these highly enjoyable modes are better presented than they are in FIFA, sporting aspects such as photo ops at press conferences and story-driven cut scenes which aren't prevalent in EA's games.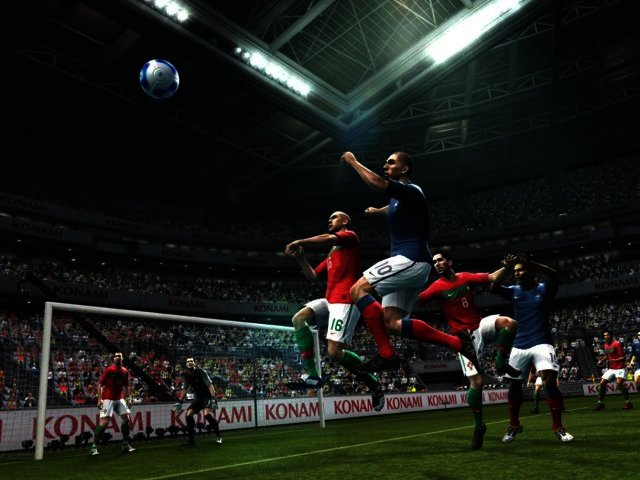 Final word
PES 2012 boasts excellent graphics and arcade gameplay, but it misses out on most of the licence fanfare and simulation style gameplay of FIFA. PES makes up for it to a large extent with fast-paced arcade fun that will have you controlling the ball as skillfully as
Ronaldinho
did in the equally unrealistic but jaw-droppingly awesome
golden boots advertisement
. It goes for a recommended retail price of R269 for the Windows PC version, which is cheaper than the R399 you have to fork out for FIFA 12. The game is also available on the PlayStation 3, Xbox 360 and Nintendo Wii.
Pros:
Great graphics, Teammate Control system, enjoyable and fast-paced arcade gameplay, entertaining football journey from zero all the way through to retirement in Football Life mode.
Cons:
Still lacks licenced teams, FIFA 12 now has better player animation and more realistic gameplay.

Great graphics, Teammate Control system, enjoyable and fast-paced arcade gameplay, entertaining football journey from zero all the way through to retirement in Football Life mode.

Still lacks licenced teams, FIFA 12 now has better player animation and more realistic gameplay.