Ultimate Ears is a speaker brand relatively unknown to most South Africans. The company recently made its debut in the country, with three of its latest models in tow. Sitting in the middle of the pack is the UE Boom 2, a cylindrical speaker that delivers 360-degree sound and prides itself on being highly portable. With the number of great portable speakers available at the moment, the UE Boom 2 has its work cut out if it aims to make an impression with the festive season around the corner.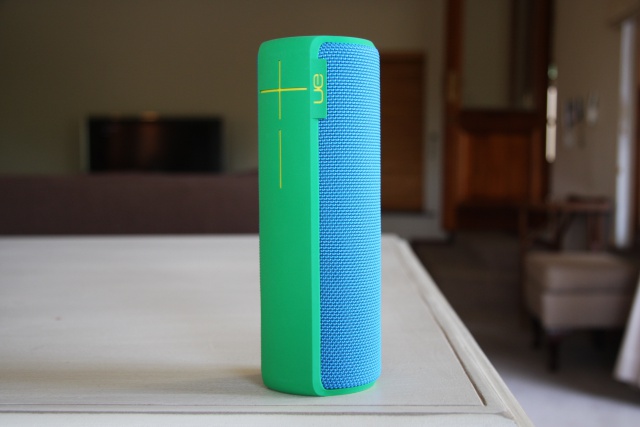 Hard knocks
The first aspect Ultimate Ears has taken care of is the UE Boom 2's look. This cylindrical speaker is 67 mm wide, and stands 180 mm tall, a little bigger than a 500 ml Coke bottle. It does however weigh only slightly more, tipping the scales at 548 g. While it is heavier than other portable speakers with similar dimensions, the UE Boom 2 feels sturdy, and fears of it toppling over are quickly abated. If it does take a tumble though, it feels strong enough to cope with a few knocks.
Ultimate Ears has also made it waterproof, IPX7 rated to be more precise. This translates into the ability to be submerged in water up to one metre for approximately 30 minutes. While we would never advise doing so, Ultimate Ears also states that the UE Boom 2 is operational underwater as well, should be truly a feature you're keen on. I am a little intrigued to see what would happen after being placed in water, as the UE Boom 2 has a textured fabric covering the speaker portion of device, with soft plastic over the buttons and controls.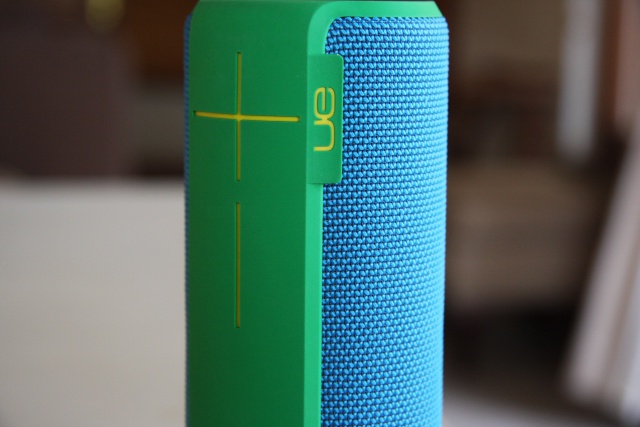 A little extra
Along with ensuring its harder wearing than other portable speakers, Ultimate Ears has integrated a range of gestures and controls for the UE Boom. Most of these can be facilitated via a Bluetooth-enabled UE Boom app (iOS and Android only). Another unique selling point is the ability to pair multiple UE Boom 2 speakers together. This is a nice feature to have, particularly if you have a friend with the same device, or you want to up the volume for larger venues.
That said, the UE Boom 2 gets pretty loud itself, hitting a maximum of 90 dBA. While that ensures even those that are extremely hard of hearing make out the sound emanating from the UE Boom 2, it comes at the cost of some distortion. This can be forgiven when the volume if turned all the way up, but distortion did creep up every now and then when the volume was at the midway point.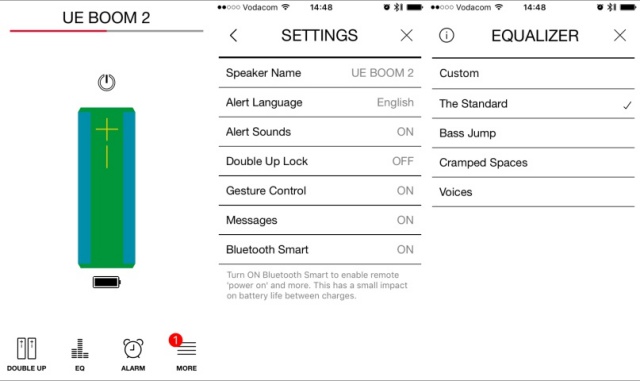 Listen carefully
As such, it seems the UE Boom 2 can handle some music better than others. While listening to Kanye West's On Sight for example, which features plenty of synth, a crackling sound was instantly noticeable from the UE Boom 2. As such, to combat this problem, I had to access the in-app equaliser to balance things out a little. This is perhaps not a major deal breaker for some, but when you're spending R3 500 for it, a better performance is expected.
Indeed, greater balance from the speakers would have been appreciated, but Ultimate Ears has a few more tricks up the UE Boom 2's sleeves to tempt consumers. Unlike other portable speakers which deliver a 10 metre range for use, the UE Boom 2 triples that to offer up to 30 metres. Added to this is up to 15 hours of battery life, with a full charge requiring 2.5 hours to complete. True to their word, the UE Boom 2 went the distance, and if you're spending a day away from a power source this portable speaker is a worthwhile choice.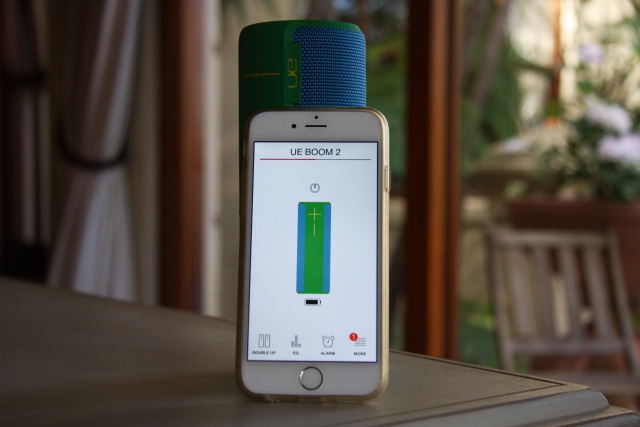 Final verdict
It appears then that there is some give and take when it comes to the UE Boom 2. Its R3 500 price tag is a tad too much, but it feels well constructed, can last a full day and works from a fair distance away. As such, the actual speaker performance is a little sub par when compared to the likes of the Beats Pill XL (review). That said, the Pill XL is nearly R1000 more expensive and cannot go the same places the UE Boom 2 can.

Well constructed; Great device range; Excellent battery life

Too expensive; Sound a little sub par