Acer recently released a fairly unique new product onto the market, the dual-screen Acer Iconia, what they call, "the world's most advanced touchbook."
While it remains to be seen if the term will stick, a 'touchbook' is basically a melding between a notebook and a tablet. You see, while the Iconia outwardly resembles any normal notebook, its differences become apparent once you open the lid for the first time. Instead of boasting a keyboard, the Iconia features two 14" touch-enabled displays, one in the traditional spot and the other taking over for the button laden keyboard.

Design

Outwardly the Iconia looks much like a standard modern notebook, with an attractive silver design expanding over the outside of the top and bottom lids. Acer logos are emblazoned on both outer sides, just in case you forgot what notebook you were using.

Opening up the lid reveals sleek black accents bordering the dual displays, giving the Iconia a very attractive, minimalistic look. Even the main power button is situated to the side so as not to trespass on the displays' clean open area.

The Iconia isn't the lightest device around though, weighing in at a slightly bulky 2.8 kg. It's still a highly portable device, just don't expect to be browsing through articles while holding it with one hand.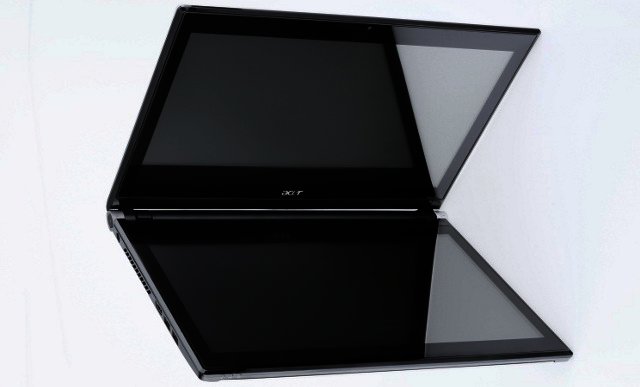 The future is touch

Acer claims that the Iconia delivers the "absolute touch experience" by giving users new and intuitive ways to interact with their computer using no external peripherals. We found this claim to be quite close to the truth, not missing mouse control once during our time with the notebook.

The dual screens are useful for multi-tasking as you can simply drop windows from the top to the bottom, and vice versa. We also greatly enjoyed Acer's included dual-screen 'Touch Browser', which enables you to display a single webpage across both screens creating a very comfortable, tablet-like viewing experience.

And while we're usually not too fond of touch-based experiences in Windows 7, we were pleasantly surprised in the Iconia's case. Acer has included a full set of software with the notebook all aimed to make your touch experience as seamless as possible, with the most prominent of these being the Acer Ring.

The Acer Ring is activated when users place all five fingers on the bottom display, opening up an attractive ring interface. By using this touch-based start menu, users can navigate through all the Iconia-centric features Acer has included on the notebook: accessing the TouchBrowser, SocialJogger, Scrapbook, My Journal as well as touch-based music, video and photo viewing applications.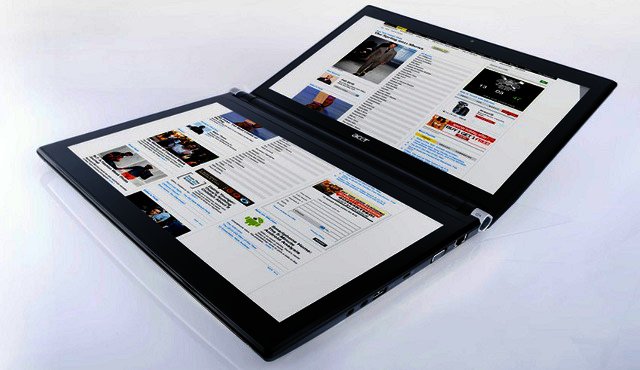 Virtual keyboard

Before we get to the fancy applications, let's review the thing you're most likely to use on the bottom display, the virtual keyboard. Users simply have to place both palms on the bottom of the device and the virtual keyboard will open automatically, the keyboard can also be accessed from the Acer Ring, and anytime you need to enter text online (in Google's search bar for example), you'll be prompted if you want to open the keyboard.

The virtual keyboard on the Iconia sports a full-sized QWERTY layout, with a couple of additional media buttons situated in the top right corner. Now seeing as it is virtual, the keyboard does take some getting used to, you'll be surprised at how much your fingers respond to the familiar feel of the spacebar or shift keys for example, a textile feeling which is missing here.

Once you start getting used to not feeling any buttons underneath your fingers though, the Iconia's virtual keyboard is actually quite nice. The keyboard's touch interface is extremely smooth and sensitive, registering keystrokes without problems every time. You can also activate sounds to play each time you hit a key (similar to the sounds touch-screen smartphones make), to help you know when you've pressed something. Users can also apply a number of different skins to the keyboard, making it look however they want. And while it does have a few niggles, like the caps lock key activating incessantly as we tried pressing shift, it was actually highly useful.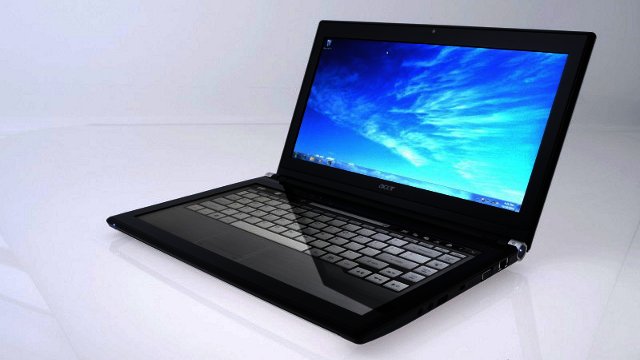 Iconia applications

So what makes the Iconia that unique? It's just a notebook with a virtual keyboard right? Well, while that sentiment may be felt when evaluating the Iconia from a glance, when you delve into its features you'll find a touch-based interface with a ton of extra functionalities.

First off is the Gesture Editor, allowing users to create custom gestures which they can then use to open their application of choice. The Gesture Editor is accessed via the Acer Ring, and users can then draw almost any kind of gesture with their finger on the touch-screen, tying that command to open any file, menu, URL, application or even Windows shutdown features. Gestures can range from letters to basic shapes to anything you can draw without removing your finger from the screen.

Users can also access all their media via the Acer Ring, with the TouchMusic, TouchPhoto and TouchVideo applications. These open touch-based windows, similar to the Windows media panels, from which users can access their media or browse the PC to find additional files. We found these apps very comfortable to use as you can, for example, watch videos on the top screen while simultaneously browsing through your playlist on the bottom screen.

Another interesting application is SocialJogger, an applicaton similar to TweetDeck, which allows you to follow you Facebook, YouTube and Flicker feeds from a single application. Signing in and using the service is extremely easy, and it simply allows you to check up on several sites at a glance.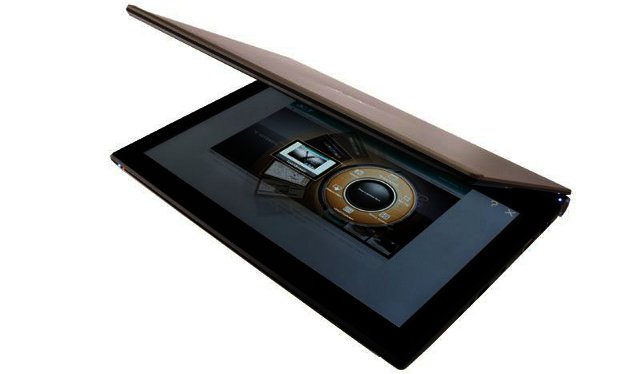 Scrapbook & My Journal

Two of the features we most enjoyed on the Iconia is the Scrapbook and My Journal applications, also accessed via the Acer Ring. These allows you to simply select any part of a website you like, let's say a funny picture or enticing quote, and then place it in your scrapbook or journal. This is done via a handy tool, found in the TouchBrowser and both applications, which functions much like a cutting tool. Users simply draw an outline over a webpage and can then snatch the desired content.

If placed in the Scrapbook, images will stay as they are, with users able to resize them with pinching gestures or rotate them around. The Scrapbook usually ends up being a collage of funny or interesting things you've found on the web, or if you're a bit more artistic, you can simply use it as a canvas.

The really impressive app is My Journal though. When an image is placed in here it will dynamically update itself on a constant basis. This means you can "cut out" the news feeds of your favourite websites, place them in your journal, and they will always be kept up to date, allowing you to view all you favourite news without opening multiple webpages. We tested this feature to great success, placing the TechSmart newsfeed next to a couple of our favourite sites and watching them all update themselves throughout the day.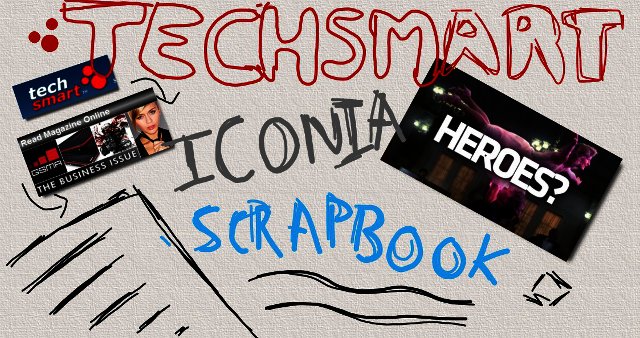 Features
While it doesn't sport
Alienware
or
Qosmio
beating specs, the Iconia is still quite the capable machine. On the CPU side we find an Intel Core i5 M480 beating along at 2.67 GHz, while 4 GB of DDR3 RAM and Intel integrated graphics finishes out the performance specs.
When it comes to data storage, a 640 GB internal HDD does duty, ensuring decent space, while the Iconia has sacrificed an optical drive in its touch focused quest. On the port side (no, not the left side), the Iconia is well equipped, with two USB 2.0 ports, a new USB 3.0 port and an HDMI and VGA port doing duty. Our test version ran the Home Premium edition of Windows 7.
The Iconia doesn't sport the greatest battery life though, with a four-cell battery supplying only around three hours of battery life. However, the Iconia's true beauty isn't found under the skin, but rather in its dual 14" 1366 x 768 multi-touch displays.
Conclusion
When the Acer Iconia first arrived at the office we weren't sure what to think of the notebook-tablet hybrid. But after spending some time with the device and seeing firsthand just how nice it is to use its dual-touch interface, we're staunch converts of the 'touchbook'. You pay a bit extra for the luxury though, with the Acer Iconia retailing for a recommended R14 999.

Beautiful and easy to use interface, great extra applications.

Some features take a while to load, keyboard takes getting used to.