I must admit, when I first saw curved TVs, I wasn't overly enamoured. It was a nice development, but not something I would quickly favour over the tried and true, and very familiar, flat panels. It seemed odd, and curved pictures were always, in my mind, associated with distortion.
Some extensive hands on time with Samsung's 55" Quantum Dot SUHD TV KS9500 Series 9 though has changed my opinion entirely. The 4K screen itself is not just brilliant (more about that in a moment), its subtle curvature does in fact make for a more gently immersive experience, as the picture, whether it is being rendered from TV shows, movies or games, seems to fold in towards one's eye. The impact of this only becomes really noticeable after several days or weeks of watching/playing. However, after spending a good amount of time with KS9500, moving back to a flat panel has been disconcerting. Yes, the picture is still good, but something more intimate in the experience now feels missing.
I do have to add though, that curved TVs seem to be even more sensitive to the prevailing wisdom that the size of a screen needs to suit the room in which it is intended to be used. There is definitely a sweet spot in terms of distance from screen where the curvature enhances the viewing experience. It also means that a bigger set is not always better. I found, for example, in a living room of approximately 20 square metres, 55" was a perfect fit. In a smaller room, it may have been overwhelming, whereas a 65" or larger screen in the same space, I suspect, could have been reminiscent of sitting too close for comfort in a cinema.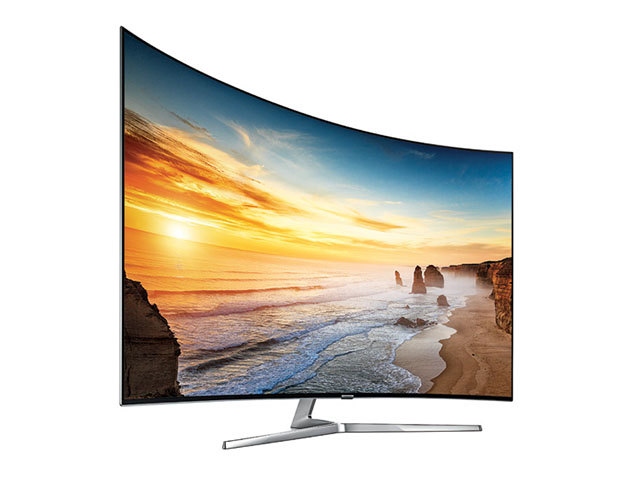 It's showtime!
Curvature is not the only feature of the KS9500 that impressed though. As previously mentioned, the 4K (3840 x 2160) display is brilliant, boasting deep, rich, saturated colours, thanks to its Quantum Dot colour technology, along with terrific clarity and great contrast.
Uncharted 4, on the PS4, one of the main games that I played while reviewing the set, looked heavenly, as did a slew of others, including The Witcher 3, The Last of Us, and Rise of the Tomb Raider (review), all games that have been lauded, and rightly so, for the complexity of their graphics. On the KS9500 set, I found this was more fully done justice, and the experience, at least from a graphical point of view, was chalk and cheese when the same games were viewed on an older, non-Quantum Dot set.
My initial concern though, was how older games would fare, and whether remastered versions of classics such The Uncharted Collection (review), Darksiders, DMC: Devil May Cry and Dishonored would more clearly show their age. I expected that their flaws would be more pronounced on a set that is designed for high definition graphics. What if the enjoyment of some perennial favourites would actually be diminished by the larger, more cutting edge screen that wasn't available when those classics were released?
I need not have worried. If anything, their experience was enhanced. This was due, I suspect, in part to the firmware upgrade which was released, offering High Definition Range Plus (HDR+) which is intended to boost Standard Dynamic Range (SDR) content to HDR-like picture quality. According to Samsung, the update further bought an enhancement to native high definition content, uncovering previously hidden images from darker scenes, and supplementing the level of brightness to express objects distorted by shadows. For brighter scenes, HDR+ increases the level of contrast ratio to differentiate objects from the background.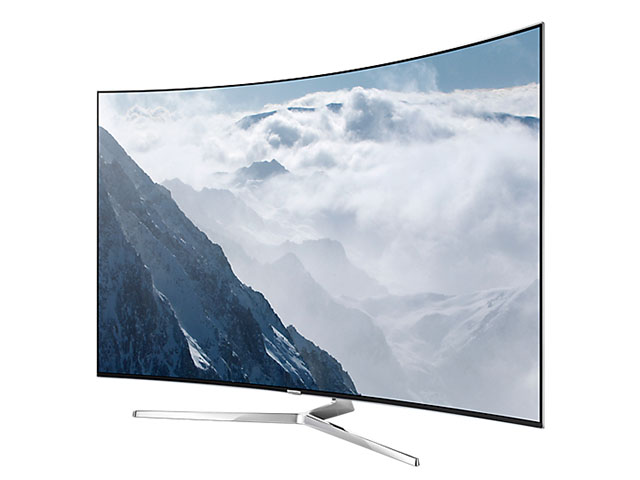 See it your way
Either way, the picture looked fantastic. Another feature worth mentioning is that you can adjust the image rendition quite substantially to your liking, the various modes on offer. These include Standard, Natural Picture Mode and Dynamic Picture Mode, which increased the picture contrast and made the pictures even more striking. Also available is the Movie Picture mode, which is considerably less bright than the others, certainly watchable but without the harshness of looking into a screen for an extended period. At times, when my eyes felt more sensitive to glare than I would have liked, Movie Picture Mode offered an ideal compromise.
My personal preference most of the time in fact, wavered between Standard Mode when watching TV, with the colour rendition still being as vivid and saturated as I like without being overwhelmingly so, and Natural Picture Mode, which increased saturation and contrast a bit more, without being quite as striking as Dynamic Picture mode.
Having said that, each mode seemed to have its place. When watching TV for example, where the scenes vary wildly depending on the programmes on offer, Standard Mode worked very well. I also found that the best results came from choosing between Natural Picture mode and Dynamic Mode. However, it seemed to me that the extra oomph that Dynamic Picture adds was more appropriate in some titles over others.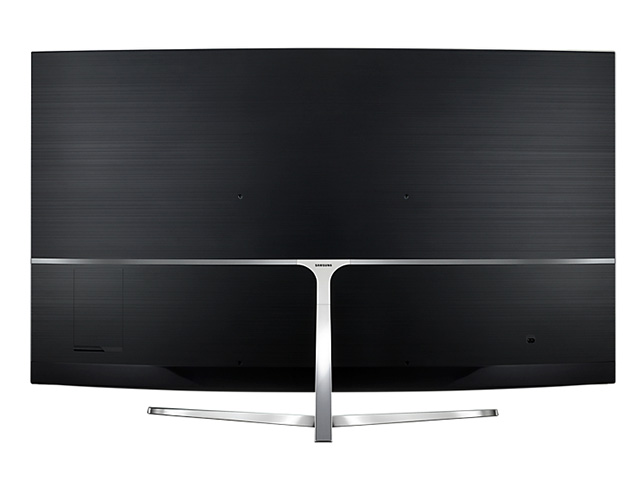 Easy on the hands
It is a good thing then, that switching between modes is so simple. In fact, also scoring high marks was the easily accessible and uncomplicated interface. One of the niftiest features was when turning on a connected peripheral (console or DVD player) the TV automatically switched to the appropriate input. Furthermore, changing between connected, and powered on devices, and swapping between the four HDMI inputs, was also a pleasure.
Granted, watching movies, and playing games was where the TV excelled, but like all Smart TVs, it is not limited strictly to this either. The KS9500 has a lot more to offer once it is connected to an network including browsing the internet (a decent experience, although doing so via tablet or notebook is still preferable) and access an array of services, including Netflix, Showmax, YouTube and AccuWeather. Since I am not subscribed to the first two, I can't comment on those, but I found AccuWeather was the most useful service, enabling me to use the TV as my personal weather station.
Beyond that, there are of course an array of apps that can be installed, including Amazon Video, TEDTalks, Vimeo and the Weather Network, to name a few, with a not-too-shabby 2.5 GB of space available for just that purpose if you are so inclined.
On the downside
While these features are nice to have, I was too taken with enjoying the luscious picture from conventional content (movies, games, TV) to spend much time playing around with apps.
So what is not to like with the Quantum Dot SUHD TV? That question is a considerably more difficult one to answer, as finding fault here proved to be a challenge. If, however, I had to nitpick, I believe the greatest room for improvement lies not so much with the set itself but with the remote.
It's small and stylish alright, but the singular annoyance was the black scrolling wheel, and a small deep red small power switch at the top of the remote. This meant that I often found myself fumbling to find the right directional key to push, particularly at night in a darkened room, and ditto with locating the power switch to turn the TV on or off. Additionally, smaller, lettering on a few of the buttons made me reach for my glasses, if I wanted to access anything other than the home button.
These are admittedly minor flaws, but for a TV set as outstanding as the KS9500, I do feel the remote could be improved upon to meet the exceedingly high standard already set.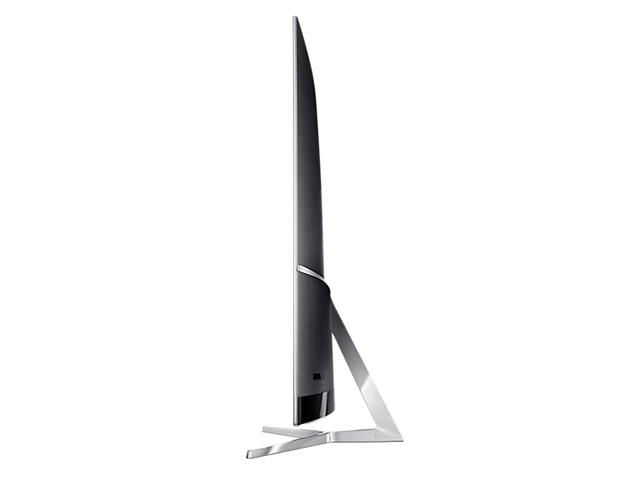 Getting everything set up
Generally installations of large TVs can be a headache. First, the set in question is rarely small, making it a two man job. However, at least for the purposes of this review, the installation was deftly handled by Samsung's contractor Blingstallation. This is part and parcel of the purchase of a Signature range TV set, and made getting the screen working a matter of sitting back and letting technicians do the heavy lifting. In total, installation and removal took about thirty minutes, with the technicians not just installing the hardware and walking aware, but tuning the channels, and ensuring that all the connected devices - including the sound system - worked as it should.
The downfall with a set of this calibre is usually its cost. However, there is good news there too - although the price tag is high, it's not unreasonably or unattainably so, as bringing this beauty into your living room will cost approximately R30 000.
Buyer beware though, although the likes of Dion Wired and TVandappliances.co.za price it just below R30k, prices do vary wildly, with it also showing up for R34 000 at one source and as high as R45 000 from another. So my strong suggestion is to shop around before you buy. If, however, you are fortunate enough to be able to consider adding this to your personal entertainment setup, I'm quite certain you will not be sorry, as it takes TV viewing to another level.

Outstanding image quality, Deep, rich colours, Gentle curve enhances experience, Easy to navigate interface

Remote could be improved, Only way to power on TV is via remote