Now just past the halfway point of 2014, we've seen a slew of devices debuting locally, making the choice for everyday South Africans that much greater. One smartphone manufacturer that has been uncharacteristically silent in recent months, is BlackBerry with its previous locally released device being the Z30 (review) late last year.
Welcome back
The beginning of July however changed all that, as BlackBerry unveiled its first smartphone for 2014, the entry-level Z3. We were on hand during the device's launch in SA, with BlackBerry earmarking the Z3 for three main objectives. One, to reaffirm its local commitment, secondly, to give BlackBerry a strong competitor within the entry-level smartphone stakes, and finally to convert some of its QWERTY keyboard users to a full touch device. Added to this, is the Z3's R3 000 price tag, which may not seem entry-level to some, but puts the Z3 on a relative par with other similarly specced Android and Windows devices.
When it comes to looks, the Z3 is by no means a stunner, as BlackBerry has adopted a fairly utilitarian approach to its overall design, with the only flourish being the textured plastic back cover (thankfully not dimpled). This is pleasant enough, but does little to add any increased degree of tactileness. On the front, the Z3 is also fairly innocuous, and does not draw as much attention as one might hope. The device itself measures 72.8 mm wide, sitting well in one's palm and makes one handed use relatively easy to manage.
Class average
In terms of its display, BlackBerry has integrated a 5" capacitive touchscreen (540x960) that registers a rather modest 220 ppi pixel density. Numbers like that may not blow any user away, but prove more than adequate to meet one's daily needs, with content displaying well enough while web browsing and using applications, but perhaps not quite strong enough for those who enjoy watching videos on their smartphones. All things considered, as a value for money proposition, the screen fitted onto the Z3 is on a relative par with other smartphones falling under the same price bracket.
The rest of the Z3 has been given a very similar treatment, with BlackBerry incorporating solid performing elements throughout. Internally BlackBerry has opted for dual-core Qualcomm Snapdragon 400 processor which clocks in at a respectable 1.2 GHz. Added to the modest processor is 1.5 GB of RAM and 8 GB worth of internal memory, with an added microSD slot for up to 32 GB of expandable storage. This affords users a smartphone that may not be a processing powerhouse, but performs one's daily tasks with a certain amount of ease. There is a limit however, as a user can only use up to four different applications at one time within the multiview screen.
The multitasking functionality is courtesy of BlackBerry 10 OS (BB10), which has an additional screen to display four open applications at once. This feature comes in handy while switching between multiple applications, but is ultimately limited as users cannot pick and choose which of the four applications are. It is simple down to whichever are the four most recently used apps. The speed and responsiveness of BB10 was also pleasantly surprising, but ultimately feels a little behind the times when compared to the OS' from Apple, Android and Windows Phone. It's hard to hold this against the Z3 though, which on the whole performed as one would expect from a R3 000 smartphone.
One of the other key features of BB10, is the BlackBerry Hub, which collates all users' emails, text messages and social media notifications into one seamless view, ordered by date. Added to this users can also access messages and notifications directly from their lock screen. Furthermore the BlackBerry Hub allows one to compose and send messages directly, bypassing the use of multiple modes. If there is one drawback to the BlackBerry Hub, it's the cluttered look and feel it presents, with all content stacked atop one another.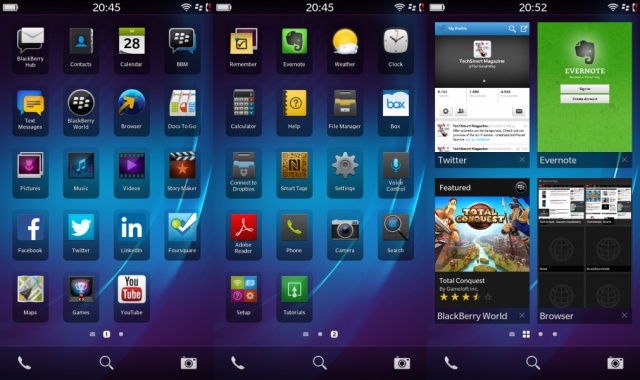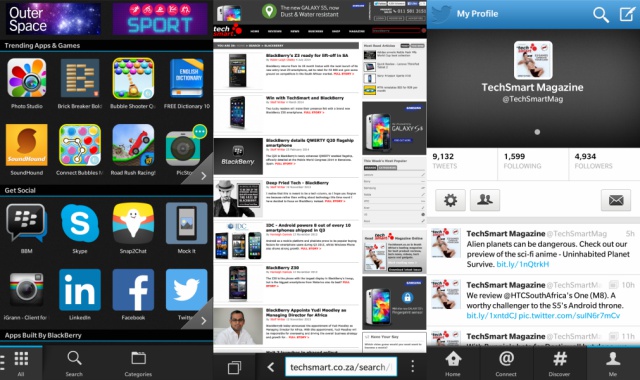 Nine to five
The range of solid offerings for the BlackBerry Z3 is further evidenced by its battery and camera setup, with the former being a 2500 mAh lithium-ion cell capable of providing up to 15.5 hours of talktime and a full working day worth of use without needing a trip to the power outlet. Considering the fact that many entry-level smartphones often struggle to get through a demanding day's use, the Z3 will definitely hold sway with users that demand strong battery life.
The camera setup on the other hand is a little less impressive, with BlackBerry fitting a 5 megapixel lens on the rear and 1.1 megapixel version in the front. This is one area that the Z3 loses points, especially for those users who value imaging capability. The primary 5 megapixel camera's main flaw lies in the grainy level of images it produces while zoomed in and in darker environments, an issue that's often prevalent in low quality smartphone cameras. If a strong camera ranks high on your list of wants, look elsewhere, but if a solid unit capable of getting the job done suits you, then the Z3 is a solid option.
The amount of options available to smartphone users within the entry-level market is truly vast nowadays, with manufacturers identifying the value of having an attractive value for money device in the lower end of the price spectrum becoming evermore important in penetrating untapped markets.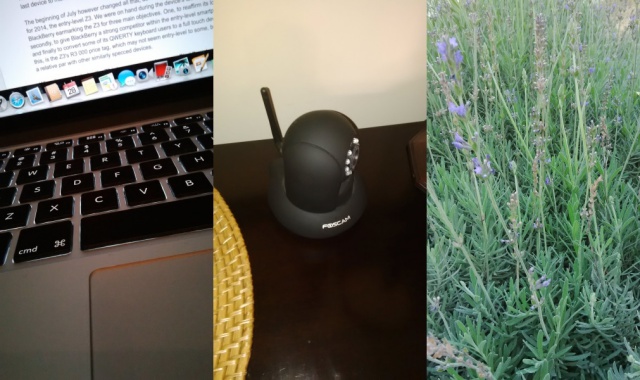 Final say
All things considered, the BlackBerry Z3 certainly feels deserving of a place among the top entry level smartphones around, with its solid combination of processing capability, utilitarian design and an enticing price point adding up to an well thought out device. Whether or not it can recapture some of those users BlackBerry lost during its BIS fallout still remains to be seen, but the Z3 is a step in the right direction.
When you factor in the 5" display touted by the Z3, a feature very few entry-level devices deliver, as well as its solid multitasking performance and clean aesthetic, BlackBerry could have a real winner on its hands. If you're looking to give BlackBerry another go, or make the move the move to a better specced entry-level device, the Z3 is well worth considering at R3 000.

Large 5

Back cover slightly hot under heavy use; BB10 OS feels dated