Research In Motion's (RIM's) BlackBerry Curve 9380 smartphone has the distinct honour of being the first touch-only smartphone to fall under the company's Curve range.
Compared to devices within the
Bold
- and
Torch
ranges, the 9380 is RIM's effort to bring a scaled down (in regards to CPU, screen resolution, etc.), but more affordable, touch experience to users within the Curve series. As such, the Curve 9380 can be viewed almost as a budget version of the
BlackBerry Torch 9850/60
, which sports a very similar touch-only form factor.
New form factor, new design
With its new design the BlackBerry Curve 9380 measures in at 109 x 60 x 11.2 mm and barely tips the scales at 98 g.
Since it forgoes the usual physical QWERTY keyboard, the Curve 9380 can offer screen real estate amounting to 3.2", compared to the 2.44" you get on the
Curve 9360
. This TFT capacitive display is quite responsive and offers a good resolution (360 x 480 pixels, 188 pixels per inch) for a budget-friendly device (competitors such as the
Samsung Galaxy Ace
only offers 165 ppi). It also boasts excellent viewing angles and can be used outdoors with little glare visible from direct sunlight.
With only 3.2" to work with, we found the on-screen QWERTY keyboard a bit cramped within portrait mode, influencing typing speed. The small keys on the portrait QWERTY will take some getting used to for anyone switching from a
Curve 9300
, but typing in landscape mode might help, seeing that the size of the individual keys and the space between keys are more. We would have been happier if RIM added a bit more screen real-estate in the next version of the Curve, much like the 3.7" on offer with the Torch 9860.
By comparison, the
BlackBerry Torch 9810
also sports a 3.2" display (though with a higher 480 x 640 resolution), but offers an enhanced typing experience thanks to a slide-out keyboard.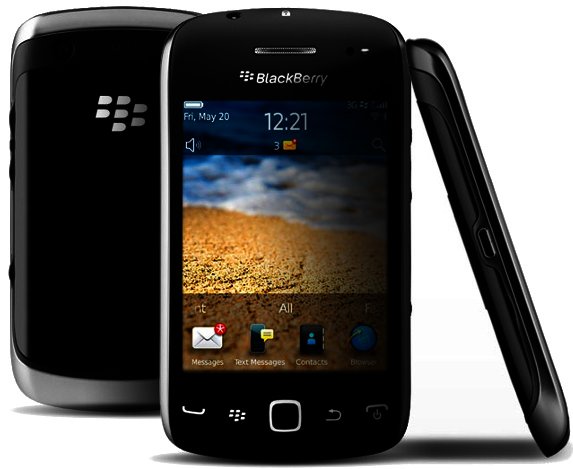 Processor and camera
Powering the new Curve is a Marvel Tavor MG1 processor running at 806 MHz, which enables smooth and fast navigation of the BlackBerry 7 OS. That said, there is a fair amounts of lag when running multiple apps simultaneously though, for example listening to music through your headset, whilst chatting on BBM and intermittently checking Facebook for updates.
RIM equipped the Curve 9380 with a 5 MP fixed-focus camera with LED flash that captures decent looking photos, offering vivid colours and an accurate level of detail. Unlike many of its Android competitors, HD-ready (720p) video-recording isn't available here, with the Curve 9380 opting for old-school VGA video recording (640 x 480). The video might be lag-free at 30 fps, but surely VGA recording belongs back in 2009?
BlackBerry 7 OS handles the operating
As is the case on the
Torch 9810
and
Bold 9900
, the Curve 9380 operates on RIM's BlackBerry 7 OS. According to the Canadian firm, OS 7 is 40% quicker than OS 6, due to Liquid Graphics, which combines a dedicated graphics processor with the speedy CPU and capacitive display, to deliver a highly responsive touch-friendly user interface. We found it noticeably quicker than the user interface of BlackBerry 6-operating
smartphones
, although it looks virtually the same.
Other new functionality included with BlackBerry 7 OS is the BlackBerry browser, that, like Apple's Safari, doesn't support flash, but renders pages quickly and offers seamless pinch-to-zoom. Also onboard is tabbed browsing for viewing more than one webpage, as well as visualised bookmarks, which are basically snapshots of your frequently visited pages.
Voice-activated search functionality has been included and as is the case with Google's search functionality in Android, it's a bit of a hit and miss affair. Luckily it is pretty snappy and when it works it offers a much more convenient way to search for content on the smartphone or web.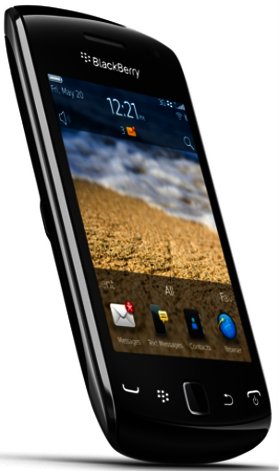 Other features
Besides voice-based input for web searches, the Curve 9380 features Documents To Go, enabling you to open and create documents, spreadsheets and presentation documents. Additionally, users are able to view PDF documents.
You receive a small 512 MB worth of internal storage that can be expanded upon via the hotswoppable microSD slot, supporting cards up to 32 GB in size. A 2 GB card was included with our test unit. Also onboard is a fair bit of RAM (512 MB), Wi-Fi 802.11 n, integrated GPS with a-GPS assistance and 3G HSDPA connectivity.
Like the
Bold 9900
, the Curve 9380 sports built-in NFC (near field communications) support, which enables functionality the likes of
BlackBerry Tag
. In theory this allows users to share contact information, documents, URLs, photos and other multimedia content by simply tapping their BlackBerry smartphones together. Since we didn't have access to another NFC-capable BlackBerry, we didn't test any NFC functionality.
Finally, the Curve 9380's lithium-ion (JM-1) battery enables it to last well past a full working day, as we managed a good 1½ days from a single charge.
Final word
RIM's BlackBerry Curve 9380 smartphone brings a fast and smooth touch-only experience to the Curve range, thanks to BlackBerry 7 OS and its snappy CPU.
It is a bit pricier than similarly specced Android-running devices at R3799. For R800 less you can get a
Samsung Galaxy Ace
that offers an 800 MHz processor, a slightly bigger capacitive touchscreen, and runs on a better OS in Android 2.3.3 (Gingerbread). We did find that the Curve 9380 is a lighter and more stylish device compared to Samsung's offering.
Of course the draw card for BlackBerry devices is RIM's BIS (BlackBerry Internet Service) and BBM (BlackBerry Messenger) - a big reason why BlackBerry devices remains so
popular in SA
even while taking a bit of
a dive
in certain other markets.
If you are using an older generation Curve and must now decide between the new touch-only Curve 9380 and more conventional Curve 9360 that couples a non touch-enabled 2.44" HVGA (360 x 480 pixels, 246 ppi) Transmissive TFT LCD with RIM's brilliant physical QWERTY keyboard, we'd still recommend going for the 9360. This is mainly due to the 9380's cramped portrait QWERTY keyboard.
We would however, recommend the Curve 9380 to users that are done with physical keyboards and simply want an easy to use, compact, feature rich and touch-only device that is a lot more affordable than the Torch 9860.
Pros:
Very nice display for budget device; excellent size and weight; comes with Documents To Go; capable camera.
Cons:
Noticeable dip in performance whilst multi-tasking; only VGA video-recording; portrait QWERTY keyboard a bit cramped.

Very nice display for budget device excellent size and weight comes with Documents To Go capable camera.

Noticeable dip in performance whilst multi-tasking only VGA video-recording portrait QWERTY keyboard a bit cramped.