LG unveiled its new L-style smartphone design identity at the beginning of the year, during the 2012 Mobile World Congress in Barcelona. Although it was the Samsung Galaxy Note challenging Optimus Vu and Tegra 3-powered Optimus 4X that grabbed the most headlines, the budget conscious Optimus L3 is the mobile device that will slide its way into the pockets of most local users.

Not L[acking]-Style

According to LG, the core essence of its L-Style philosophy involves a timeless design with finer details that further differentiates its smartphones from the competition. L-Style is meant to incorporate five aesthetic elements, which include a modern square style for a comfortable grip and sensuous slim shape that naturally draws one's attention.

In the flesh though, the Optimus L3 doesn't really stand out from the rest of the budget crowd in terms of design. The sturdily constructed, square-shaped device is comfortable to hold in hand thanks to the rounded plastic back cover. Unfortunately that same back cover isn't the easiest to remove when you want to access the memory card slot, which supports cards up to 32 GB in size.

Another design element we quite liked on the L3 is its size (102.6 x 61.6 x 11.9 mm; 110 g), as users won't have any trouble sliding it down the back pocket of their skinniest pair of jeans.

Displaying a clear sign of a budget device

Besides a compact form factor, the Optimus L3 also offers a decent amount of screen real estate, which measures in at 3.2". Four inches and up might be in vogue nowadays for the top-end and mid-range, but we feel that this size is still quite adequate for an entry level device.

However, the paltry 240 x 320 pixel resolution that this LCD TFT capacitive touchscreen offers users, amounting to a low pixel density of just 125 ppi, is really below par. This resolution compares unfavourably to other budget devices such as the Samsung Galaxy Gio (runner-up in our Top 5 Entry-Level Smartphone round-up for 2011, 320 x 480 pixels; 180 ppi) and HTC's ChaCha (480 x 320; 222 ppi).

When you're viewing photos, the colours tend to look really washed out and faded on this touchscreen, whilst there is often a noticeable amount of pixelation as soon as you employ pinch-to-zoom. This is also probably one of the worst display we have used outdoors, since it presents you with such a high amount of glare in direct sunlight that the display becomes virtually unusable.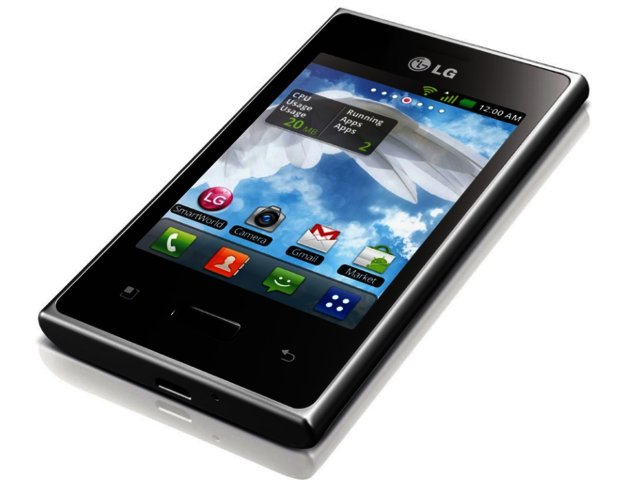 Processor and camera

LG might have tried to save money on the display, but the firm didn't compromise when it came to the processor powering the L3. The baby Optimus is powered by an zippy 800 MHz single-core Qualcomm MSM7225A system-on-a-chip that easily copes with opening, running and closing apps and ensures that everything remains speedy whilst navigating the Android 2.3.6 operating system (OS).

This CPU delivered a respectable Productivity Index score of 540 within Smartbench 2012 and good Gaming Index score of 2004. On the AnTuTu Benchmark test the L3 managed a total score 2491.

LG's L3 is not so competent on the snapper side though, since LG equipped it with a 3 MP fixed focus camera, which captures unimpressive stills. The quality case for these aren't assisted by the low-res display of the L3. That said, you are able to tinker with the snapper's settings by doing things like setting the ISO and white balance, or adding a colour effect such as negative or sepia.

On the video side, the L3 can record lag-free (24 fps; 30 fps for QVGA) videos at an underwhelming VGA (640 x 480) resolution. The HD-ready (720p) video recording capability wasn't invited to this entry-level smartphone party.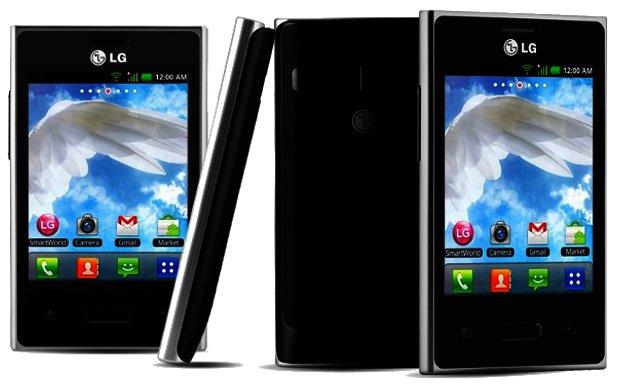 Other features

As slick as the frame rate on these videos is the battery performance of the L3. Its 1500 mAh battery lasted about a day and a half, which is good for a modern smartphone. Also onboard is a mere 1 GB of storage, which won't be enough for all your multimedia content as well as apps, but it is more than the usual 256 MB or less one gets with other entry-level devices.

This smartphone also sports Bluetooth v2.1 with A2DP, as well as Wi-Fi 802.11 n, along with the always handy Wi-Fi hotspot functionality. The inclusion of the Polaris Document viewer, means that you'll be able to view Microsoft Office (Word, Excel and PowerPoint) files, whilst GPS with a-GPS assistance, Stereo FM radio and 3G HSDPA connectivity (although at a much slower 3.6 Mbps speed) all feature.

Final word

LG's Optimus L3 is a very capable budget performer that boasts a snappy CPU, extremely compact design that won't let it stand out, but does serve to make it feel a bit more premium than its recommended retail price of just R1499 would have you expecting.

Its below par display and camera do put a damper on the mobile experience that the L3 serves up, but this should not act as a deterrent to users looking for a very budget-friendly, capable entry-level smartphone. This is because you do get a lot of spec bang for your sub-R15k price, with a lot of the specifications such as onboard storage and speedy 800 MHz CPU being on par or better than its much pricier rivals like the HTC ChaCha (R2350), Samsung Galaxy Gio (R1999) and HTC Wildfire S (R2888).

Pros

Really affordable; budget friendly pricetag; spec bang for your bucks; sturdy build quality; and pocket-friendly dimensions.

Cons

Crappy display; below par camera; and back cover is a bit of a schlep to remove.

Really affordable budget-friendly pricetag; spec bang for your bucks; sturdy build quality and pocket-friendly dimensions.

Crappy display; below par camera; and back cover is a bit of a schlep to remove.