Cell C has teamed up with
Red Bull Mobile
, making a few Red Bull branded devices, including the Red Bull Mobile HD, available to its subscribers. The latter is available on a RBM 200 contract (R249 x 24 months), giving you 200 minutes of talk time, 100 messages (SMS/MMS), as well as 500 MB of data p/m.
Branding the smartphone bull
A good contract offer then, but what is the phone like? In reality this smartphone is a
Huawei U8800 IDEOS X5
simply wearing a Red Bull suit. The only physical indication that it's not the former can be found on the back cover, which boasts a stylish white Red Bull insignia edged onto the back along with the Red Bull Mobile logo.
The smartphone sports pocket-friendly dimensions (120 x 62 x 11.6 mm, around 130 g) and a large 3.8" (480 x 800 pixels) TFT capacitive touch-screen. This touch-enabled display makes photos, videos and websites appear vivid and is very responsive. Good as the touch-screen is, it isn't quite up to the cream of the display crop (that being Apple's
iPhone 4 Retina display
at 640 x 960 pixels), but compares very favourably with other price friendly Android devices, the likes of the
LG Optimus One
's (320 x 480).
Mechanical bull ridden by Android
The outer shell of this device might have donned an elegant Red Bull suit, but the operating system is Google's stock standard Android 2.2 (aka Froyo). It has no prominent skin (the likes of Samsung's TouchWiz or HTC's Sense) layered on top of it, but there are certain adjusted elements such as Red Bull wallpaper.
As you scroll through the app menu, apps down the list as well as at the top, appear to be moving far off in the distance, which looks (dare we say) cool. As with other Android Froyo-running devices such as
HTC's Desire Z
, aspects such as voice search is offered. This is a bit of a hit-or-miss affair, but when it does work though, it is a great deal quicker than having to type in whatever you're looking for.
Standard as the mobile OS is, it's very user-friendly and still looks modern despite
Android 2.3
(Gingerbread) having been released already.
Home-screens
There are five home-screens for you to populate with an assortment of your chosen widgets and shortcuts. You can swipe your way through these or hold the on-screen menu button to bring up miniature versions of all five your home-screen panes and tapping one will take you to that particular home-screen.
To add a widget you simply hold your finger on a home-screen and this will bring up the "Add to Home screen" submenu, enabling you to add shortcuts, widgets and folders (useful if you have too many apps and you want to group them) or change the wallpaper. Live (animated) wallpapers are also offered, allowing you to interact with the animated background which although having been available even on Android 2.1-running devices, is still very amusing.
Bundled apps
RBM might not have tinkered with the Android OS much, but it did manage to add to the devices' functionality by including a collection of its own apps. This, as current F1 champion
Sebastian Vettel
(in his thick German accent) reminds us during the TV advertisement for the company's smartphones, provides you with access to "The World of Red Bull" or at least the Red Bull Mobile portal.
You can download wallpapers, apps, videos, as well as news, and even get access to Red Bull TV to watch pre-recorded sports video content (hence the half a GB of data on offer from Cell C). The latter features global sporting footage from the Red Bull archive, such as Motorbike rider Robbie Maddison's two-wheel escapades during
Red Bull X-Fighters
in Egypt.
Also included is a motocross game Red Bull X Fighters and Red Bull Radio.
Active users will also enjoy Red Bull Mobile Coach that log your workout data (map, time, speed etc.), assisting you in cataloguing your sessions for activities the likes of hiking and jogging, even though a number of similiar apps, such as
SmartRunner
, is available to download from Android Market.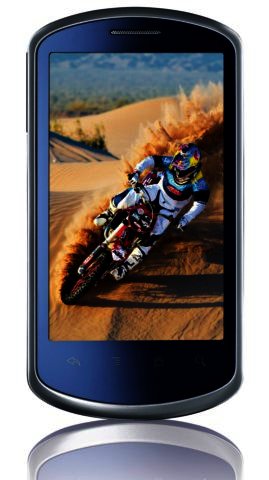 Powering the bull
The heart of the Red Bull Mobile HD is its Qualcomm MSM 7230 chipset with an 800 MHz Scorpion CPU handling the processing, as well as an Adreno 205 GPU taking care of the graphics. This combination allows for a smooth performance, with no signs of lag when navigating the OS or viewing your media (pics, web, videos).
Other features
As trouble free as it is to navigate the OS and media content, so easy is it to capture photos via the RBM HD's 5 MP camera with auto-focus and LED flash. It might not be in the same league as the 12 MP mega-snapper utilised on the Nokia N8, but the picture quality is very good none-the-less.
The only issue is that the LED flash doesn't adequately light up areas when natural light is lacking. As is the case with the N8, 720p HD-ready video recording (@30 fps) can be done by using the RBM HD's camera.
Also on-board is easy-to-configure Wi-Fi 802.11 n, Bluetooth 2.1 with A2DP and a 3.5 mm audio jack. When you're not using the Wi-Fi connection to view the latest sporting videos via the Red Bull Mobile portal, then your battery should last you over a day - basically standard for a smartphone.
Final word
A healthy dose of Android power and some decent specs has given the Red Bull Mobile HD enough go-juice for a quick lap around the smartphone track. This smartphone sports a compact and chic look and feel, is easy to use and boast a lot of value-added Red Bull apps for the sport-inclined users.
For R249 per month you get the smartphone, along with plenty of talktime and free messages as well as data. The latter is a great inclusion in our opinion, since you need around
R150 of airtime on your smartphone
just to be able to purchase a 500 MB prepaid data bundle alone.
Pro
Nice design at the back, plethora of Red Bull apps, Android's user-friendliness
Con
Low-light performance of the camera

Nice design at the back, plethora of Red Bull apps, Android???s user-friendliness

Low-light performance of the camera