Sony Ericsson (SE) smartphones became cool again after adopting Android as its smartphone OS of choice, resulting in the
Xperia X10
, as well as the
Xperia mini and mini pro
.
The latest device emanating from SE's stable is the Xperia X8, which is a budget-conscious Android-operating smartphone that isn't as upscale as the
X10
, but a bigger brother to the Xperia mini.
Xperia mini-me
This stylish smartphone looks like a mini version of the X10 (measures 99 x 54 x 15 mm, weighs 104 g) and is customisable to suit your mood thanks to four additional back covers in the box. Although it has a 3" capacitive touch-screen it unfortunately does not employ any multi-touch functionality such as pinch-to-zoom, which we know and love.
It's a frustration, most prominent while you are browsing the web, since you can't employ pinch-to-zoom or even the double-tap zooming ability. It makes navigation very awkward, since you have to utilise the Android browser's on-screen zoom keys to zoom in and out of wepages.
The X8 runs on a 600 MHz processor and boasts 168 MB of RAM so things aren't particularly speedy, there isn't really any noticeable signs of lag when navigating the OS or viewing your photos in the gallery, and so forth.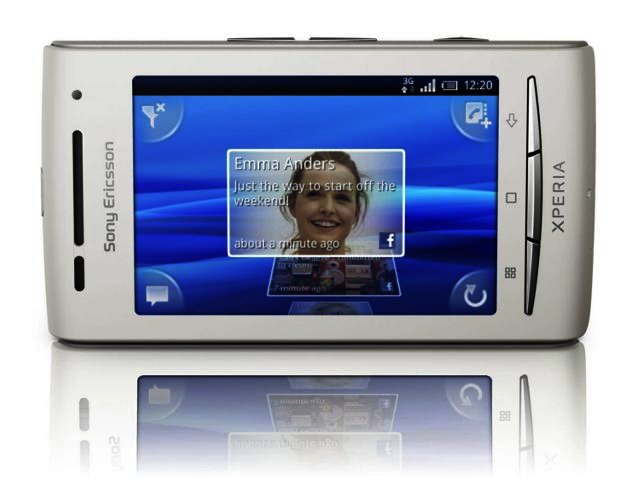 Android
Speaking of the OS, the X8 operates on Google's Android 2.1 (aka Éclair), which is outdated and two versions behind, as Éclair was succeeded by Android 2.2 (Froyo) and then
Android 2.3
(Gingerbread). SE has
also stated
that although it will be upgrading the
X10
to Gingerbread (featured on the forthcoming
Xperia arc
,
pro and neo
), but not the X8 or the Xperia mini and mini pro.
As outdated as the OS is, SE has complimented this version of Android with its Timescape UI, which integrates well with Android and links contact details across a number of social networks the likes of Facebook and Twitter.
It is very intuitive to use, sporting numerous home-screens to swipe your way through (from left to right) and populate with widgets (one per screen). There are also four shortcuts in the four corners of the display for the dialler, phonebook, messages and media player, much like the mini.
You can also swipe your finger up to gain access to the main menu, which itself is constituted by multiple home-screens (four in this case), providing you with access to all the phone's functionality such as the setup guide, settings and calculator.
Camera
The intuitive but outdated feel of the OS is carried through to the smartphone's camera. Unlike the capable 5 MP camera with auto-focus and LED flash employed on the
Xperia mini pro
, the Xperia X8 sports a 3.2 MP camera without auto-focus or flash. This results in the quality of the photos being adequate (if sufficient natural light is available), but not nearly as good as we came to expect of Sony Ericsson, thanks to other smartphones such as the
X10
or the Symbian-running
Sony Ericsson Vivaz pro
.
This is also the case with the video recording ability of this device (VGA@30fps), which although decent quality doesn't put it in the modern HD-ready league along with other smartphones the likes of the
Nokia N8
,
E7
and
HTC Desire Z
.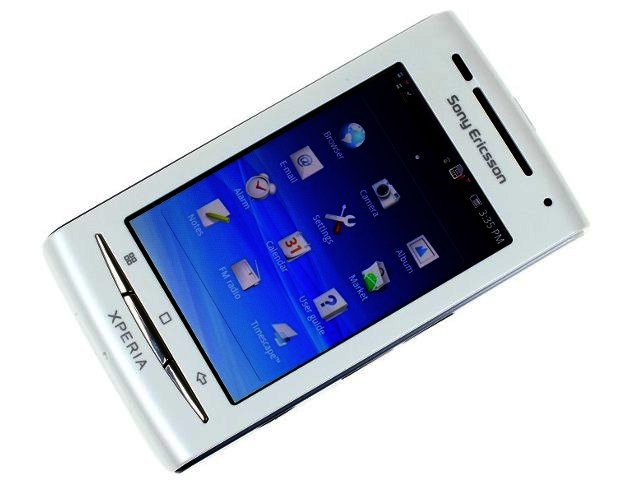 Other features
This smartphone also incorporates an accelerometer to easily and promptly switch between portrait and landscape when you tilt the device.
A microSD card slot with support for up to 16 GB cards (with 2 GB included in the box), ensures that you are capable of adding onto the paltry 128 MB of on-board storage that the phone has.
Wi-Fi 802.11 b/g is easy to set up, and the mobile also offers 3G HSDPA, Bluetooth 2.1 with A2DP, GPS and Stereo FM radio with RDS.
Final Word
SE's Xperia X8 is a stylish and compact smartphone boasting decent hardware (for a budget device) and functional software. Its Achilles' heel though is its lack of multi-touch, a big let-down for a modern smartphone, even on a budget.
It goes for a recommended retail price of R3999, which is somewhat expensive in our opinion. We feel the Froyo-running
LG Optimus One
is by far a better bet if you're in the market for a Android-operating device that won't burn a hole in your pocket. It costs R1500 less and does boast pinch-to-zoom.
Pro
Really compact, easy-to-use interface.
Con
No multi-touch capabilities, outdated OS, simply good-enough camera.

Really compact, easy-to-use interface.

No multi-touch capabilities, outdated OS, simply good-enough camera.