The world of soccer has many great rivalries, whether it's Real Madrid vs Barcelona, Manchester United vs Manchester City, or here at home, Orlando Pirates vs Kaizer Chiefs. On the virtual football pitch though there is only one clash that sees two competitors vie for sales and accolades, EA Sport's FIFA vs Konami's Pro Evolution Soccer (PES).

The latest iteration in the series, PES 2013, has Konami placing a heavy emphasis on the individual skills of some of the world's best players including the game's cover star Cristiano Ronaldo. Will this be enough to see it dripple circles around FIFA 13 though?

Gameplay on control steroids

The first ingredient for Konami's recipe for more football realism is FullControl. This consists of a mixture of several elements including Dynamic First Touch, which introduces subtle new ways to receive the ball; and Player ID that focuses on the individual attributes and panache that each prominent player boasts.

That is the theory at least, but it also works in practice, enabling gamers to employ dynamic first touches such as trapping the ball or scooping it past a defender. You can then go on to make the most of the star player's attributes to score, such as the heading skills of Sweden's towering striker Zlatan Ibrahimovic or Lionel Messi's pinpoint finishing.

Unlike FIFA 13 though, players do not need to contend with controlling bad passes or physically contending with defenders, whose sole aim is to knock you off the ball or force you to make a mistake. So PES 2013 takes a less realistic, more arcade approach, but by no means is the attacking part of the gameplay any less entertaining or rewarding when you score.

On the opposite side of the gameplay coin is defence, and here Konami's changes are less obvious compared to the attacking alterations. The first change is response defending, whereby players are able to slow down an attack while defending. However, ProActive AI is supposed to improve the defensive capabilities of the AI-controlled opposition.

While we do appreciate the added level of defender control by being able to dispossess attackers more effectively with a simple double tap of the tackle button, the overall AI is not really that much of an improvement over PES 2012.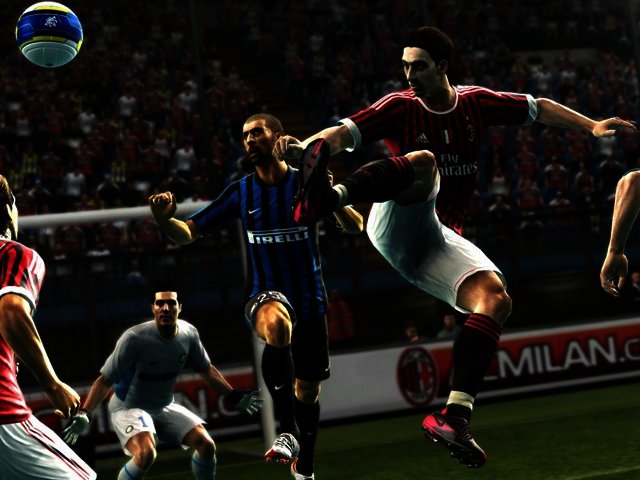 Here we see a footballer who can rises to the goal scoring occasion in style.

Graphics and presentation

Graphically, PES 2013 boasts well detailed stadium and player models and movement animations that (like the gameplay) can go toe-to-toe with FIFA 13 on the pitch. The crowd models are not as lively as FIFA 13's though, but at least they are not as pixelated either.

As with last year's title, PES 2013 main tournament attractions are the European Champions League and South American Copa Santander Libertadores. Both of these regional club tournaments are extensively covered with detailed presentations, featuring stadium fly-over shots and the official UEFA Champions League anthem for instance.

Outside of these tournaments though is where PES 2013 loses a lot of its sparkle. That old licensing thorn rears its ugly head once more. The Barclays Premier League (English League in PES) features Manchester United, but then a whole lot of fictitious names and emblems for the likes of Chelsea (London FC) and Manchester City (Man Blue).

However, there are a few leagues such as Spain's Primera División that are well covered from the giants that are Barcelona and Real Madrid through to less notable clubs including Valencia.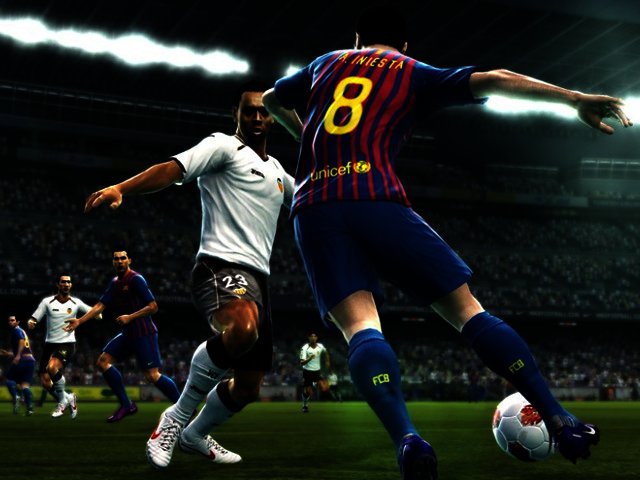 Iniesta dances his way around the opposition.
Living the life of a footballer

Adding onto PES' less authentic and engaging presentation burden is the game's career mode dubbed Football life. It enables gamers to guide their created player (Become a Legend) from obscurity to superstardom or manage their favourite club (Master League) to success. The game utilised cutscenes to drive the story along, but you have to read through a lot of subtitles as these scenes do not feature any vocal recordings. This provides them with about as much appeal of a black and white silent film, as you skip through to get back onto the virtual pitch.

By contrast, FIFA 13 boasts a much more polished career mode. One that features newspaper articles that preview and review matches. Furthermore, players make requests such as more game time and then responding to your handling of their request later on. The commentating is also nicely attuned to the off the field action, which is not the case within PES. Overall PES 2013's career mode feels bolted on and simply not as detailed, or involving as what's on offer in FIFA 13.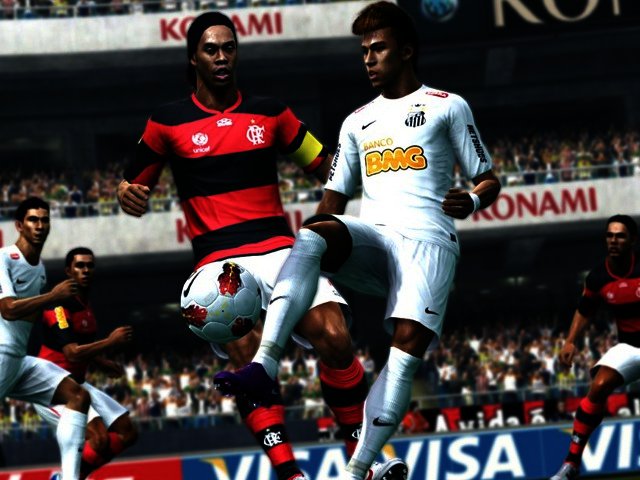 Brazil's new school (Neymar) teaches the old guard (Ronaldinho) a few new tricks.
To the point

Just like their respective cover stars, Cristiano Ronaldo (PES 2013) and Lionel Messi (FIFA 13), PES 2013 is a real match for FIFA 13 in terms of graphics and gameplay. However, it is let down by (once again) a lack of official licensing as well as a ho-hum career mode that left us cold as to the career fate of our virtual pro. A ticket to this virtual soccer extravaganza will cost you R300 for Windows PC version, and R600 for Xbox 360 and PS3 iterations.

Pros:

Excellent graphics; and the under the hood gameplay changes helps add a new layer of depth to the game.

Cons:

Uninspired career mode; so-so presentation; and lack of official licensing.

Excellent graphics; and the under the hood gameplay changes helps add a new layer of depth to the game.

Uninspired career mode; so-so presentation; and lack of official licensing.